MARYLAND: Open for Business
31 May, 2019
The entire state of Maryland seems full of pro-business assets including abundant educational opportunities, advanced transportation infrastructure, an enviable quality of life and all in a desirable location.
Advantageously located next to the nation's capital, Maryland businesses have an undeniable edge in federal funding and research. Workers benefit from federal government contracts and the state is home to more than 60 federal agencies and twice as many federal laboratories (74) as any other state.
Ranked by Bloomberg as the 5th most innovative state, Maryland provides a business-friendly culture that works for companies of all sizes and types. Top industry sectors within the state include bio health, IT and cybersecurity, advanced manufacturing, aerospace and defense, financial services, energy and agribusiness. And the Port of Baltimore is one of America's top deepwater ports. It ranks number one in the nation in handling cars and trucks, and in Roll On/Roll Off cargo. Served by two Class I rail carrier, there is easy access to major interstates.
Not only does Chesapeake Bay provide endless boating, swimming, and fishing chance, it's a perfect location for sports fans. MLB's Orioles, NFL's Ravens, and MLS' Blast all call Baltimore home. And the Preakness Stakes, the second leg in horse racing's Triple Crown, is a Maryland tradition. And with top level college athletics available all across the state there is always a game to watch.
On top of all this, Maryland offers a reasonable cost of living and boasts the highest median household income of any state. There are outstanding healthcare resources and top-ranked schools across the state. Maryland also enjoys a physically diverse environment from mountains and beaches, to big cities and small towns, family-friendly suburbs and farms—there are many options for living well.
Maryland: Caroline County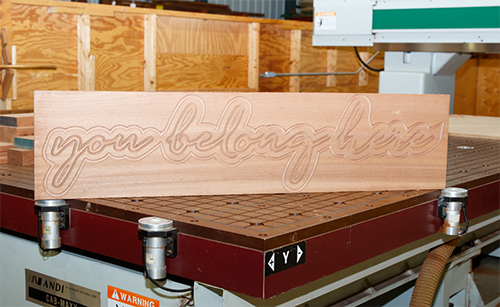 "That's the Caroline County way." It's a phrase one hears about dairy farming or daycare, specialty manufacturing or cutting hair, workforce initiatives and economic development. "The solution to any problem in Caroline County starts with collaboration," notes Debbie Bowden, Director of Economic Development.
It is building those partnerships that draws businesses to the County. A prime example is Tanglewood Conservatories, a specialty manufacturer of high-end conservatories, greenhouses, and atriums. Founder Alan Stein moved to Caroline County 20 years ago when labor was readily available. As economic conditions changed, and the labor market became tighter, Alan partnered with the high school technical program to develop an Advanced Manufacturing and Production Program (AMP Program). The purpose is to teach 10th and 11th graders the science and art of manufacturing, but the real goal was to create a ready workforce pipeline for Tanglewood Conservatories and other manufacturers in the area. The first cohort completed the AMP program with a 72% hire rate.
Caroline County's legacy is agriculture; production ag has been happening in the county continually for over 350 years. The location is the best possible spot for agricultural based business. The surrounding area is rural – we are farmers after all – yet so close to universities and research institutes. The research services for USDA, FDA, NIH are within an hour's drive, as are University of Maryland and Delaware State University. In fact, ag is weaved into economic development so tightly, that the offices are in the same building complex. Just another example of partnerships in bringing vitality and stability to the folks in Caroline County.
Collaboration is at the heart of every business growth plan. Bowden and her team provide individualized customer service to help business through the development process. It is all about partnerships. Building a network of supporters to help the citizen get jobs and the business fill jobs is what Caroline County is all about – community. The brand You Belong Here reflects the message 'live and work here, send your kids to school here, start your business here.' "At the end of the day," says Bowden, "that is the mission – to foster a diversified local economy that leads to business retention and attraction, job creation and workforce development, and a robust quality of life for the citizens of Caroline County."
MARYLAND: CALVERT COUNTY
Calvert County is southeast of Washington, D.C., located between the Patuxent River and Chesapeake Bay. It is Maryland's smallest county by land mass, but is home to the state's only nuclear power plant and Dominion Energy's Cove Point liquefied natural gas (LNG) plant. Dominion recently invested roughly $4 billion to add the capacity to export LNG at the facility and the project was completed in 2018.
"We are also proud of our Patuxent Business Park (PBP), home of a Dominion warehouse and offices and one of our three Opportunity Zones," says Kelly Robertson-Slagle, director of the Calvert County Department of Economic Development. The park is also the county's only designated commerce zone and offers a number of tax credits and incentives for qualified projects. "We are actively and aggressively seeking tenants for PBP," Robertson-Slagle says, "and have shovel-ready options available. With fast-track permitting, we can also help get projects started as quickly as possible by accelerating the development process and reducing the county's turnaround time for development approval."
Because PBP is close to both Dominion and Exelon's Calvert Cliffs Nuclear Power Plant, any business looking to serve either of them would be in a prime location. Naval Air Systems Command is just south of Calvert County across the Patuxent River and many of the county's defense contractors work in support of this federal facility. Target industries include information technology, unmanned air vehicles, advanced manufacturing, energy and tourism, says Robertson-Slagle.
Calvert County enjoys an excellent quality of life and is an extremely attractive region for tourists. "We're so close to the nation's capital, but we're a world away," says Robertson-Slagle. "With the Chesapeake Bay, museums, friendly people and a variety of outdoor activities, Calvert County is the ideal place to work, live and visit."
Featured Sites Listing
Calvert County offers businesses proximity to the Washington, D.C., metropolitan area in a small-town package. With outstanding incentive and loan programs, abundantly available properties and access to airports, an educated workforce, excellent educational facilities and a responsive and accommodating economic development team, Calvert County is Maryland's best option for business relocation and expansion.
Their Department of Economic Development is poised to support your business relocation and expansion efforts with personalized service, innovative incentive and loan programs, online resources and a welcoming community.
Patuxent Business Park
Their premier business location, Patuxent Business Park, is Southern Maryland's first comprehensively planned business campus designed to match Calvert County's much sought after quality of life. It is also a federal Opportunity Zone, and a Calvert County Commerce Zone, extending additional tax credits to qualifying new and expanding businesses. For more information, visit online at patuxentbusinesspark.com.
MARYLAND: CECIL COUNTY
Strong business locations are all about access. Companies focus primarily on access to major markets, a skilled workforce, highways, and land. Cecil County is a strong location option because it rates highly in all of these factors. Perfectly positioned halfway between Washington, DC and New York, Cecil County offers the highest manufacturing job concentration along I-95 between New York and North Carolina, and nine business parks, making it one of the best industrial markets on the East Coast. The county is tucked along the upper banks of the Chesapeake Bay with two hundred miles of waterfront, open space, eight inviting towns, wonderful rural attractions, and great access to world-class cities such as Washington, DC, Philadelphia, and New York.
With I-95 and passenger and freight rail lines all running through the county, two international airports, and three deep-water ports all within 50 miles, Cecil County has great connectivity to the country's largest market. Ninety million people and nearly half of the country's effective buying power reside within a 24-hour drive of the county.
On a more local level, Cecil County is part of the Philadelphia metro area, yet also sits just 30 miles from Baltimore. Being part of two major markets makes the county a strong business location for its diversified access to suppliers, customers, and employees.
Cecil County has one of the largest industrial parks in the Mid-Atlantic – Principio Business Park. This complex currently has 6 million square feet occupied by companies such as Amazon, General Electric, Smithfield, Restoration Hardware, Lidl, and Medline. In the future, Principio could see an additional 14 million square feet, making it a $2.5 billion project with 20 million square feet total. In 2018, Cecil County received a $20 million federal grant to construct a new interchange that will provide Principio Business Park direct access to I-95, which serves 110 million people and facilitates 40% of the country's gross domestic product.
With recent projects by Northrop Grumman, WL Gore, Amazon, Smithfield, Terumo, and Great Wolf Resorts, the County's job base has grown by ten percent. These positions require a diverse mix of skills, including engineers, management, and production laborers. There are three Opportunity Zones encompassing 19,000 acres and an innovative mix of incentives, such as tax credits tied to manufacturing, real property, and employment, Cecil County's economy isn't just poised for growth, it is growing rapidly.
MARYLAND: DORCHESTER COUNTY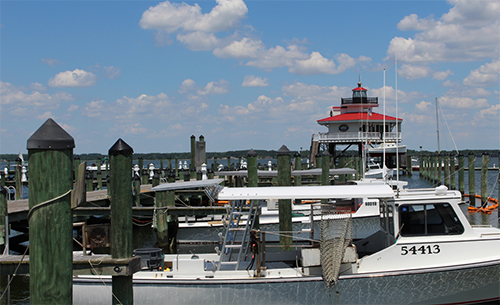 Discover an authentic Chesapeake lifestyle on Maryland's Eastern Shore. Home to industrious, innovative and creative individuals, Dorchester County's landscape defines not only where – but who they are. Shaped and surrounded by water, the community reflects the character and culture of all who live, work and are lured to this place of incomparable beauty. Dorchester County boasts attractive and affordable housing options from waterfront estates to rural developments and city condos, townhouses and apartments. Local amenities include shops, restaurants, parks, marinas, and public entertainment venues within walking or biking distance.
Cambridge – Dorchester's County seat – is an authentic seaport community on the shores of the Choptank River. The city's rich maritime heritage and working waterfront are on display along the shores where watermen, sail makers, ship chandlers and boat captains make their living among the museums, restaurants and attractions.
Dorchester County boasts more than 1,700 miles of shoreline, world-renowned manufacturing pioneers, and an entrepreneurial culture drawn by the waterfront 'way of life.' Its close proximity to the Washington D.C. – Baltimore corridor, coupled with affordable real estate and lower cost of living, has put Dorchester on the map as a prime location for companies from a variety of industries. Competitive cost advantages, excellent quality of life and affordable housing options are but a few of the location attributes the county offers.
Dorchester is a welcoming community ready to offer a helping hand to businesses looking to locate or grow here. City leaders are committed to building a strong infrastructure for businesses and entrepreneurs to thrive.
As economic development ombudsmen, the Dorchester County Economic Development team, piloted by Director Susan Banks, will facilitate introductions, identify appropriate resources and assist you in navigating local, state or federal opportunities. Familiar with the county's commercial real estate landscape, the team will help you locate property to start or expand your business. They also offer site tours and will consult on finance opportunities and permitting processes. Bottom line: Dorchester is dedicated to creating an environment where businesses succeed. Learn more: choosedorchester.org
MARYLAND: FREDERICK COUNTY AND THE CITY OF FREDERICK
Nestled in the Catoctin Mountains of northern Maryland, less than an hour's drive from the nation's capital, historic Frederick County and its charming and hip county seat, the City of Frederick, offer impressive advantages to businesses and people alike. And its strategic position as the northern tip of the nation's sixth largest metropolitan area is just the tip of the iceberg.
Perhaps best known for its largest employer, the United States Army Medical Command installation at Fort Detrick, Frederick is also home to the Frederick National Laboratory for Cancer Research, and a massive AstraZeneca biologics manufacturing center. In all, a total of 80 biotech or biotech related companies have made their home in Frederick. Yes, biotech is big here.
One thing that's also big—and that sets Frederick apart from other communities—is its emphasis on and investment in business development at all levels of government, and especially the coordination and cooperation between those levels. "We really do work as a team," says Helen Propheter, Director of Business Development for Frederick County, a theme that is echoed by Richard Griffin, her counterpart with the City: "We really pride ourselves on a highly coordinated and collaborative approach." And it's paying off.
In Fiscal 2018 alone, the County DED worked with 184 companies who relocated to or expanded in the county. Those success stories include Kite Pharma, a California-based cancer research company that brought 900 jobs to Urbana; Indivumed Gmbh, an integrated oncology company that moved its U.S. headquarters to Frederick; and Wilcoxon Sensing Technologies, a supplier of high performance vibration monitoring solutions that located an assembly facility in the city. "It all adds up to one of the fastest growing economies in the state of Maryland," says Propheter, "with business growth and job growth hitting record highs."
All those high-tech jobs naturally require a highly-educated workforce, which Frederick has thanks to an award-winning public school system and highly acclaimed postsecondary institutions, including prestigious Hood College. In all, over 41 percent of the population has an advanced degree.
Also key in attracting highly-educated talent, Frederick consistently rates as one of the most livable communities in the nation, having ranked #24 in Livability.com's Top 100 Places to Live; #8 of the 40 Most Vibrant Art Communities by National Center for Arts Research; and #16 of the World's Best Craft Beer Cities by The Matador Network, just to name a few. Even Frederick's historic downtown district was #6 on Livability's Top 10 Best Downtowns. Frederick is such a special place blending history, the arts and, yes, beer in such a unique and exciting way, it actually demanded its own new word: hip-storic. Which says a lot. And may explain why the population growth among millennials is so high.
MARYLAND: KENT COUNTY
Kent County is a scenic peninsula on Maryland's Eastern Shore, less than a two-hour drive from Philadelphia, Baltimore, Washington D.C., Annapolis, Dover, and Northern Virginia. It is home to two Main Streets, an Arts & Entertainment District, several worldwide manufacturers, and historic Washington College.
Kent County provides incentives and workforce development tools to help businesses grow. Portions of the County are located within Commerce Zones, an Opportunity Zone, an Enterprise Zone, and a HUBZone. The office of Economic Development works with businesses to identify the tax credits they are entitled to for locating to, and growing within, those designated zones. The County offers access to programs including the Maryland Commercial Property Assessed Clean Energy (MD C-PACE) Program, the Maryland Manufacturing Extension Partnership (MD MEP), and the ExportMD Program.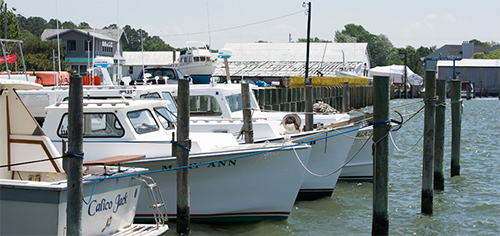 Kent County is home to a wide variety of businesses in industries including manufacturing, aquaculture, agriculture, healthcare, education, maritime, culinary, and professional services. Several of the major employers are world-wide manufacturers and the county is home to several large business parks including the Kent County Business Park at Worton, the Radcliffe Creek Business & Professional Park, and the Chestertown Business Park. The region has access to a workforce of approximately 500,000 within a 30-minute drive. Businesses benefit from no county personal property tax, no impact fees, low personal income tax, and a variety of tax credits making it a profitable place to do business.
The Chestertown Business Campus is one of the largest economic development projects in the county's history. The 80± acre site will be home to Dixon Valve & Coupling's new distribution facility, new corporate headquarters, a new manufacturing facility, and a new facility for the growing Kent Athletic & Wellness Center. The site has been approved for six apartment buildings and commercial speculative space for other businesses to locate in Chestertown.
Kent County is situated with portions of US-301 and Route 213 running through the county. Route 301 provides easy access to Annapolis, Washington D.C., and Delaware, and connects to Sarasota, Florida. Enabling transportation for both commercial and private vehicles throughout the region. Route 213 offers access to the neighboring counties and the state of Pennsylvania, as well as connections to Interstate 95 and Route 40, enabling delivery of regional products and services throughout the state of Maryland.
The incorporated towns have designated growth areas for expansion of commercial and residential development and are all sustainable communities that offer businesses access to infrastructure, workforce, and a quality of life unrivalled in other parts of the state. The county works closely with real estate professionals to maintain a Commercial Property Database so perspective buyers can review available options.
MARYLAND: MONTGOMERY COUNTY
Montgomery County, Maryland, leads the way for a diverse array of groundbreaking innovation from mapping the human genome and developing life-saving therapies to building premiere cybersecurity defenses. If it's on the forefront of technology, it's already happening here. Montgomery County is a global innovation center for major industries ranging from BioHealth and IT to cybersecurity, hospitality and small business. Montgomery County offers a prime, business-ready address in the bustling mid-Atlantic region.
Choosing Montgomery County is a smart business decision.
Grow here and find the nation's capital and its key decision makers as your next-door neighbors.
Find 18 major federal agency headquarters including the NIH, FDA and NIST, and dozens more in neighboring Washington, D.C.
Gain access to the Smartest Workforce where 57 percent of our residents have a bachelor's degree and 31% a postgrad degree – the highest in the nation
Lead the way in innovation through life science, IT, cyber and advanced manufacturing excellence
Welcome cultural diversity in a community where 1/3 of our residents come from other countries
Connect to three International Airports within 30 miles – from here, do business anywhere
Access top schools in the U.S. – 36 National Blue-Ribbon schools and 6 of the top high schools in the state are in this County
They also proudly support their large base of small and minority businesses helping them to grow. Montgomery County is firmly committed to local sustainability, state-of-the-art connectivity and excellent infrastructure. Business in the County thrives with their synergy of talent, resources and bold thinking.
To live, work and play, there is no better choice than Montgomery County. The MCEDC team is ready to assist with business and market intelligence along with connections to funding and incentives, the world's strongest talent pool, and the ideal location. It's a perfect location to live, work and play in a vibrant, diverse community. Find out how this County is ideal for business growth at thinkmoco.com.
MARYLAND: QUEEN ANNE'S COUNTY
Queen Anne's County, Maryland's Gateway to the Eastern Shore, is proud to be the home of companies that manufacture products valued and recognized worldwide, along with being the largest producer of corn, wheat and soybeans in Maryland. Our landscape is as diverse as our business base, and offers the perfect balance of metropolitan and rural. Companies such as PRS Guitars, Federal Resources, Miltec U.V., and Zodiac Milpro N.A., are located in Stevensville, the base of operations for many manufacturers, government contractors, and marine trades. Centreville, the county seat, is home to Corsica Technologies and Tidewater Direct. The balance of the county is predominantly rural with crop and broiler production and its supporting businesses, such as Perdue Agribusiness and Nutrien. Queen Anne's County also supports a prominent and thriving commercial/charter fishing industry. Throughout the year you will find local captains, and watermen proudly working our waterways.
Targeted industries include trade, transportation and utilities, niche manufacturers, as well as maritime and agricultural related companies. The county is included in the service area of the Baltimore No. 74 Foreign Trade Zone, which is an incentive program offered to importers and manufacturers. Government contractors find the county's proximity to federal laboratories and prime contractors appealing. Kent Island (Stevensville and Chester) is the hub of activity for hospitality and tourism related businesses. Queen Anne's County offers highly visible, prime retail space along the US Route 50/301 corridor extending from Queenstown to Stevensville.
Queen Anne's County is recognized for its high quality of life for all ages. Our acclaimed public schools, amenities, and proximity to major metropolitan areas appeal to residents and visitors alike. The workforce of 27,125, within a labor market area of 374,027, is highly educated with the majority employed in the management and sales sectors. Local companies have access to the resources of Chesapeake College, Washington College, and the University of Maryland. The county participates in the registered and youth apprenticeship programs, and provides access to training funding on both the local and state level.
Queen Anne's County is accessible by land, air, and bay. The county is the easternmost terminus of the William Preston Lane Jr. Memorial Bridge, better known as the Chesapeake Bay Bridge. The US Route 50/301 corridor is the backbone of transportation infrastructure for the county, which provides easy access to the entire east coast via I-95 and points west via connections to other major interstates. Major international airports and shipping ports are within a few hours' drive from any point in the county. In addition to roadway infrastructure, the county operates the Bay Bridge Airport located in Stevensville, while the northern portion of the county is served by rail.
The county is a year round paradise for people who love the outdoors. Dominated by water, the county maintains 20 public landings, and 32 parks totaling 2,942 acres with award winning nature parks and walking trails located throughout. The most well-known public amenity is the Cross Island Trail, which extends from Stevensville to Grasonville. Matapeake Beach offers a public beach for both you and your four legged friends! It also offers access to the South Island Trail, and the public Blue Heron Golf
Course. Private golf courses include PGA-rated Queenstown Harbor, and Hunters Oak. Tuckahoe State Park and Conquest Beach offer birdwatching, wildlife, and horseback riding trails. Recreational boating, fishing and kayaking are popular activities throughout Queen Anne's County.
Queen Anne's County Department of Economic and Tourism Development are committed to helping businesses grow and thrive by offering various incentives programs and services. Visit choosequeenannes.com for a complete list of the current incentives and services available.
MARYLAND: TALBOT COUNTY
Briefly give us an overview of companies now in Talbot County?
Talbot County is the regional employment center for the Eastern Shore and offers a diverse range of businesses across multiple industries. It is home to Easton Airport, one of the largest and busiest regional airports in Maryland. Easton Utilities, a municipally owned utility servicing the Town of Easton, operates two powerplants and its own microgrid, providing businesses with unprecedented reliability and redundancy.
Are you targeting certain industries for the future?
Agriculture is the number one land use for Talbot County and encompasses 62% of the county's 172,227 acres. Grains account for the bulk of commodity output in the ag sector, and Talbot County continues to rank in the top 5 counties in Maryland for corn, soybean, and wheat production.
Aquaculture is a growing industry in Talbot County. Seafood company Sea Watch International, the world's largest harvester and processor of clam products, is headquartered in Easton. American Aquaculture Holdings has recently acquired a former poultry processing plant in Cordova to build a state-of-the-art vertically integrated salmon processing facility. When completed, this operation will create up to 150 new jobs. To meet demand, Phillips Wharf Environmental Center on Tilghman Island aims to create an aquaculture training program to train the next generation of workers in the industry.
Bio, Life, and Environmental Sciences continue to be major targeted industries. Talbot County is home to several companies operating within the life science industry including pharmaceutical companies Aphena Pharma and Konsyl, healthcare fraud and data analytics company Qlarant, spectroscopy and chromatography company JASCO, the headquarters of the region's healthcare delivery network University of Maryland Shore Regional Health, biological and environmental testing company Eurofins, and specialty chemical company Celeste Industries.
Proximity to the Baltimore and DC metro areas places Talbot County within close commuting distances to 90 federal labs and research facilities. Talbot County Public Schools has a rigorous bio-medical science curriculum. Talbot County is located near Washington College, Salisbury University, and University of Maryland Eastern Shore, three institutions that count biology and environmental sciences among their largest share of degrees their students are graduating with.
What type education and training opportunities exist for your workforce?
Talbot County Public Schools offers a rigorous and comprehensive career and technology education (CTE) curriculum. CTE programs include interactive media production, business management and finance, pre-engineering, agriculture science, computer science, and bio-medical science. Chesapeake College, the regional community college that serves Talbot County, offers more than 70 college majors and a diverse offering of certificate programs, career training, non-credit workforce training, and lifelong learning.
Briefly discuss the modes of transportation to move goods to and from the area.
U.S. 50 bisects Talbot County and is the major highway servicing the region. U.S. 50 provides direct access to Washington, D.C. and is a major east-west route, terminating in West Sacramento, California.
Can you share information on your tourism industry?
Talbot County offers a truly unique visitors experience. With four breathtaking destinations—Easton, Oxford, St. Michaels, and Tilghman Island—Talbot County offers the perfect balance of rural simplicity and urban refinement. USA Today recently ranked Easton, the cultural capital of the Eastern Shore of Maryland, #7 Best Small Town in America and St. Michaels #7 Best Small Coastal Town in America by USA Today. Furthermore, two prominent hotels in Talbot County—St. Michaels based Inn at Perry Cabin and Tilghman Island based Wylder Hotel—were ranked #1 and #11 best hotel in the region by Conde Naste Traveler. Talbot County is also home to Plein Air Easton, the largest and most prestigious juried plein air painting competition in the United States. For additional information visit: talbotworks.org
MARYLAND: WASHINGTON COUNTY
A pro-business climate located in the heart of the mid-Atlantic at the intersection of I-81 and I-70, Washington County, is the hub of the tri-state region. Proximity to excellent rail service and nation-spanning highways provide easy access to two-thirds of the nation's population overnight. Maryland's sixth largest city and the Washington County seat, Hagerstown is just an hour drive to Baltimore and Washington, D.C. The Hagerstown Regional Airport is a fully instrumented airfield with the second-longest commercial runway in the State. Two rail lines, CSX Transportation and Norfolk Southern Corporation Railways run through the County, and the Port of Baltimore with its 50-foot channel is only 70 miles east of Hagerstown. Public transportation via the Washington County Commuter is also available. Gigabit service is available to businesses and residents.
Washington County has a population of 150,900+ residents, and an available labor force of approximately 75,000 workers at its 3,500+ companies. Companies like The Bowman Group, Citi, Dot Foods, FedEx Ground, First Data, Meritus Health, Sierra Nevada Corporation, and Volvo call the county home. There are unique opportunities for career and academic exploration at Washington County Public Schools and the more than 30 institutions of higher learning located within a 70-mile radius of Hagerstown. Those include the Barr Construction Institute, Hagerstown Community College, Pittsburgh Institute of Aeronautics, Perdue University Global, and the University System of Maryland-Hagerstown campus.
Visitors and residents alike enjoy Washington County's quality of life amenities; hiking, biking, and camping along the Appalachian Trail and C&O Canal, and touring the grounds of the Antietam National Battlefield. With more than 129,600 acres of farmed land, the agricultural community is diversifying in a variety of niche markets including wine, gourmet cheese and customer supported agriculture. The top three products include dairy, grains, and cattle.
Take in a Hagerstown Suns Baseball game, races at the Hagerstown Speedway, play a round of golf at Black Rock Golf Course, and visit gorgeous parks such as Devil's Backbone, Fort Frederick State Park, Hagerstown City Park (with the Washington County Museum of Fine Arts) or consider some "Retail Therapy" at the Valley Mall and Premium Outlets.