Ports of Cincinnati & Northern Kentucky Among the Busiest
03 Feb, 2015
Federal ruling issued approves port authorities' request for re-designation of regional harbor.
The United States Army Corps of Engineers has issued approval for modification of the Port of Cincinnati 26-mile statistical boundary. The Army Corps Navigation and Civil Works Decision Support Center issued the approval of the expansion and the name change to "The Ports of Cincinnati & Northern Kentucky." The port district now includes a 226.5 mile reach of the Ohio River, including a 7-mile reach of the Licking River, in 15 counties.
The proposal included the support of 15 counties: Ohio (Scioto, Adams, Brown, Clermont and Hamilton); and Kentucky (Lewis, Mason, Bracken, Pendleton, Campbell, Kenton, Boone, Gallatin, Carroll and Trimble), along with the support of congressional representatives, general assemblies, industry organizations and both
governors.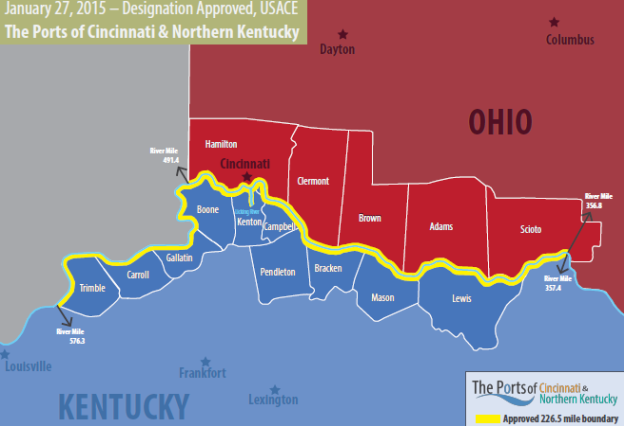 "Today's approval is instrumental in elevating the awareness of our region as a global origin and destination for river commerce,"  says Laura Brunner, Port Authority President & CEO. "It also demonstrates exemplary bi-state collaboration and determination to excel together as a regional economic development powerhouse."
The Port of Greater Cincinnati Development Authority and the Northern Kentucky Port Authority petitioned for an expanded port boundary in response to the advocacy of the Central Ohio River Business Association (CORBA), a river commerce trade association. CORBA members are advocating a larger port region that captures an accurate scope of regional maritime commerce.
The port authorities estimate that The Ports of Cincinnati & Northern Kentucky will rank among the top 20 U.S. ports by annual freight tonnage and the second busiest inland U.S. port, as measured by U.S. Army Corps, which publishes the information annually. The Port of Cincinnati in 2012 was listed 51st in U.S. Army Corps statistical reporting, ranked by total freight tonnage. The port authorities expect The Ports of Cincinnati & Northern Kentucky will reflect more than 48 million freight tons handled and rise to the 15th busiest port district in the United States. The new port tonnages will officially begin with the calendar year 2014 database and publications.
"Raising the awareness of the significant waterborne commerce advantages of the Ohio River Valley through this redesignation is important to all of the counties in Kentucky and Ohio contiguous to the Ohio and
Licking Rivers," says Kris Knochelmann, chairman, Northern Kentucky Tri-ED. "We applaud all of the parties that achieved this regional effort."
Source: Northern Kentucky Tri-Ed