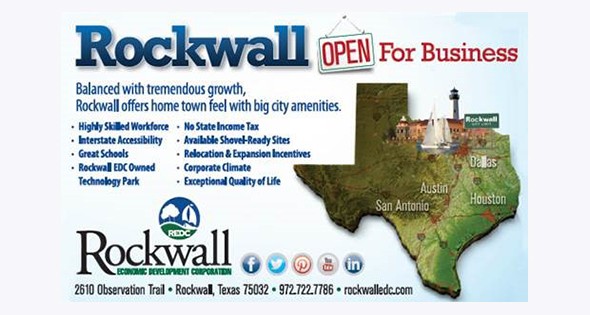 Rockwall Economic Development Corporation
19 Oct, 2016
Double R Ranch
SW of FM 550 and County Road 548, Royse City, TX 75189

1,236 Acre Lot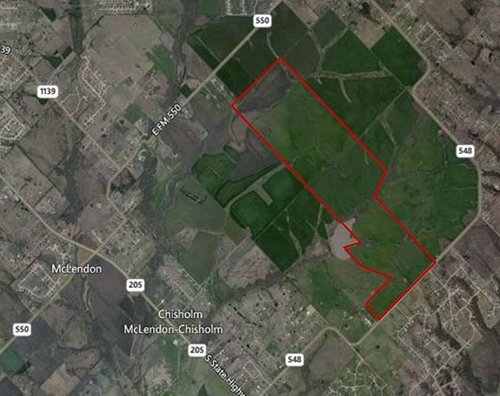 This premier development site is located east of Lake Ray Hubbard in McLendon-Chisholm, TX in Rockwall County, Texas.
Rockwall County is ranked as one of the fastest growing counties in U.S.
Property Details
Property
Type Land

Specific Use
Mixed Use
County
Rockwall
Parcel (APN)
007-0000-0011-00-0R
Lot Size
1,236 Acres
Location
FM 548 & High Plains Trail McLendon-Chisholm
Texas 75189
County
Rockwall County
Land Size
1,236.40 Acres


Conceptual Tracts
| | | |
| --- | --- | --- |
| Tract A | 337.30 Ac. | 14,692,788 SF |
| Tract B | 324.20 Ac. | 14,122,152 SF |
| Tract C | 514.90 Ac. | 22,429,044 SF |
| Public Uses Total* | 60 Ac. | 2,163,600 SF |
| Total | 1,236.40 Ac. | 53,857,584 SF |
*Other sizes and configurations of tracts and configurations will be considered

| | |
| --- | --- |
| Zoning | Agricultural |
| Sewer | Septic Water Approved for Water Control and Improvement Districts by TCEQ |
| Flood Zone | Yes |
| Environmental | Phase 1 |
| Available School District | Royse City ISD |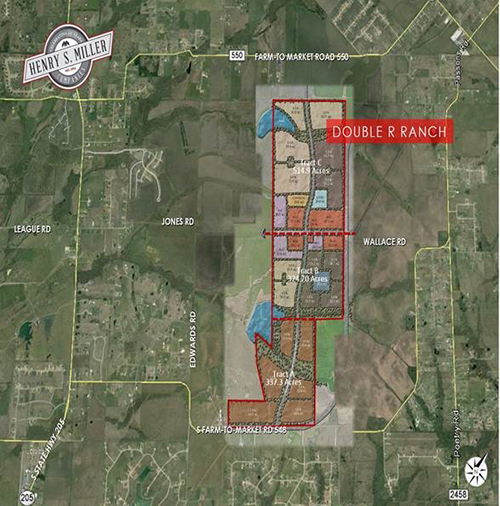 Property Highlights
Double R Ranch is located in Rockwall County – ranked the sixth fastest-growing county in the nation by the US Census Bureau from 2000 to 2010, adding 35,257 people, representing an 81.8% increase. Rockwall County is ranked the 6th wealthiest county in Texas in per capita income.

Approval for Water Control and Improvements District (WCID; see Investment Merits)

Significant entertainment attractions are located within close driving proximity to the property which attract families to the area. These include equestrian facilities, private golf, tennis and swim clubs and Lake Ray Hubbard, a large reservoir popular for boating, fishing and lakeside dining.

Large estate sites available at prices significantly lower than those available in the Dallas market attracting many high income commuters who work in Dallas.

Presence of an excellent transportation system which allows ease of access for commuting to downtown Dallas and surrounding employment centers.

Proximity to major airports for frequent business and pleasure travelers.

Nearby restaurants, neighborhood grocery stores and a broad range of retailers located a short distance from the property.

Well-documented demographic and economic trends strongly favor the market area and are projected to continue into the future.
CLICK HERE for Double R Ranch marketing brochure
CLICK HERE to search for more available sites & properties within Rockwall

CLICK HERE for Rockwall Site Selection Info

CLICK HERE for News on business in Rockwall

CLICK HERE for more local, regional and state resources

Contact Rockwall EDC for more information on sites, business expanison, relocation and development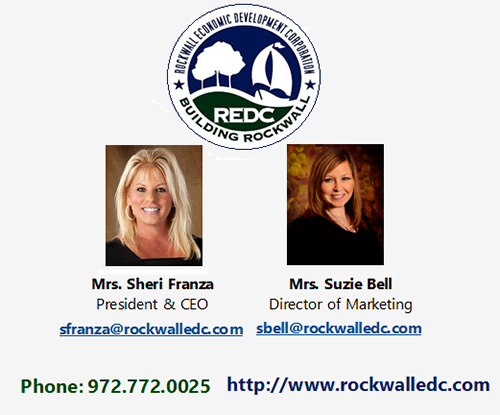 Rockwall Economic Development Corporation
2610 Observation Trail
Rockwall, Texas 75032