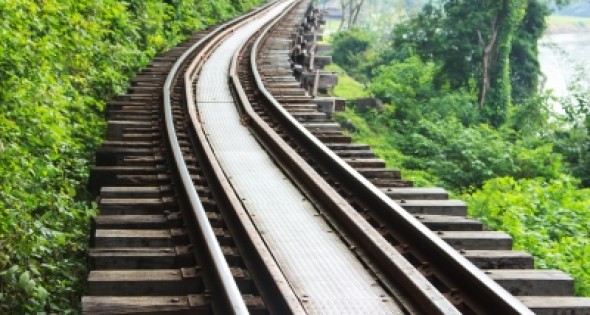 U.S. Rail Intermodal Volumes Surge
25 Nov, 2014
By Rachel Duran
A continued trucking capacity crunch sends more freight to intermodal operations.
The roadways of the United States are dominated by tractor-trailer traffic — 75 percent of freight that moves, moves on a truck. Beset by a number of economic and regulatory pressures, trucking companies are dealing with capacity crunches. Management has become more thoughtful about who they conduct business with and will start "firing" customers that are less than profitable, says Rich Thompson, managing director and global leader of supply chain and logistics solutions, JLL, which specializes in commercial real estate services.
"One of the biggest things keeping our corporate occupier clients up at night is the concern over increasing freight costs, and related to that, trucking capacity," Thompson says. "You are not always going to be able to get a truck when you think you can. If you can't get a truck, what are your options? You can't put it [cargo] on an airplane and you can't put it on a boat."
As a result of trucking industry woes, companies are turning to intermodal or rail services. Thompson says companies that have never used rail in the past are now looking at rail; and companies that have never used intermodal in the past are looking at it or how to use it selectively.
Getting Deals Done: Lawrence VenturePark
On October 21, city officials in Lawrence, Kan., held a ribbon cutting at the Lawrence VenturePark, a new 200-acre industrial park, which is adjacent to the existing East Hills Business Park on Kansas Highway 10.
The site, a former fertilizer operation for Farmland Industries, was acquired and cleaned up by the city of Lawrence, and offers businesses competitively priced, city-owned land. "With the exception of a couple of items, the capital improvements are done," says Matt Bond, manager of the city's public works and storm water division.
The VenturePark is designed to accommodate various pad sites, ranging from 4 acres to 78 acres, says Brady Pollington, vice president, Economic Development Corporation of Lawrence and Douglas County. "We want to make things as flexible as possible," says Britt Crum-Cano, economic development coordinator, city of Lawrence.
Officials also wanted the industrial park to feature a business park vibe, complete with open space and bike lanes. A power substation is being relocated to the backside of the property from the front of the property. "They [Westar Energy] needed additional space and we didn't want the substation to be the gateway to the community or to the VenturePark," Bond says.
The VenturePark is located near the convergence of the soon-to-be completed South Lawrence Trafficway and highway 10, which allows trucks to reach 55 miles an hour inside of five minutes, Pollington adds. Manufacturing, and warehousing and distribution operations are well suited to locate at the development. Community leaders will be aggressive in assisting the right companies — those bringing good jobs and wages, Crum-Cano says. Tools include competitive prices for land, tax abatements and industrial revenue bonds.
"We have a motivated city and county leadership that wants to get deals done," Pollington says.
For complete details, visit www.lawrenceks.org/lawrenceventurepark and www.edclawrence.com.
One of the biggest users of rail services is the trucking industry. Rail intermodal volumes have grown by a 9.5 percent compounded annual growth rate since 1980; increasing from 3.1 million containers and trailers to 12.8 million units as of 2013, says Dain Fedora, research manager, industrial, JLL.
"If you drill down to real estate development, mainly inland ports in the country, from 2000 to the first quarter of 2014 there have been 30 intermodal/inland port facilities that have opened or been announced in this country," Fedora says. "The potential real estate to be developed is 172.3 million square feet."
Much of the development is taking place across the country; however, the hot spots are the Southeast U.S., the Mid-Atlantic U.S., and the Midwest U.S., which provides auxiliary lines out of Chicago. For example, Walmart Stores located an ecommerce facility in Plainfield, Ill., outside of Chicago. This secondary market allows the retailer to bypass a familiar market yet still maintain proximity to a major population center. From the location the company also has direct rail connections to the port in Prince Rupert, B.C.
Intermodal is on Fire
Rail carriers are ready to accommodate the shifts. In regard to its intermodal assets, Burlington Northern Santa Fe (BNSF) has expanded from a former 45-acre site to a new intermodal hub development on 440 acres in the Kansas City metro region. "It allows us to offer more to our customers in capacity and a much more efficient operation then what we have been able to in the past," says Darrell Coffey, a director in the economic development division for BNSF Railway.
The intermodal facility is the heart of a larger complex, Logistics Park Kansas City, located in Edgerton, Kan. "Around the intermodal facility is the business park, which is 1,500 developable acres available to our customers," Coffey says. "That will bring a variety of new opportunities, not only for BNSF and our customers, but also southwest Johnson County and the greater Kansas City area."
In addition to warehouses for large big box companies, Logistics Park Kansas City will ideally suit ecommerce operations; those that need direct rail service; and exporters who want to move products produced in Kansas, for example, DeLong Grain, which exports grain in containers. There will also be opportunities for cold storage and refrigerated products operations as the area is home to an abundance of agricultural products. "We hope to be a hub for exports to Asia, Europe and other countries," Coffey notes.
Locating near a major intermodal hub or in a logistics park allows companies to take advantage of the various transportation modes and control costs, Coffey says. "It allows customers to get to their markets as soon as possible."
Montana Connections is Unique in the State
The Butte and Silver Bow County region is the only Montana community where two interstates connect. The Montana Connections Business Development Park is located near the intersections of interstates 15 and 90. The Port of Montana, a full transload warehousing facility, is located within the boundaries of Montana Connections. The Butte-Silver Bow region is also the only area of the state served by both the Union Pacific and Burlington Northern Santa Fe rail lines.
"We are a huge asset not only for southwest Montana, but also unique in the state of Montana," says Kristen Rosa, TIFID administrator, Butte-Silver Bow Community and Business Development. "There is vacant land owned by the city-county, and we can help incentivize businesses locating here with fairly inexpensive land, along with good infrastructure," Rosa says. There are 1,200 acres remaining at Montana Connections, and additional roads are being installed in the 20-year-old business park.
Montana Connections is well suited to support manufacturing and logistics businesses. Among the companies doing logistics-related business from the location are FedEx Freight, which the company uses to clear its Alberta, Canada cargo. Old Dominion is located within the boundaries of the business park. Manufacturers include REC Silicon, the world's largest producer of saline gas. The company produces polysilicon from the location. Montana Precision Products is a joint venture of SeaCast Inc., a precision steel manufacturer, and GE Aviation. Learn more by visiting www.montanaconnectionspark.com.

Officials in Columbus, Ohio, have developed a niche market in ecommerce and retail logistics. The area is served by multiple rail terminals and four intermodal operations, including Rickenbacker Inland Port. The port is home to the country's largest cargo-dedicated airport. "I would argue we are one of the world's largest and deepest locations when it comes to retail logistics and the knowledge around how to do that well, says Kenny McDonald, CEO, Columbus 2020, which markets the region's business advantages.
Companies with ecommerce sites in the region include DSW Inc., Abercrombie & Fitch Co., Eddie Bauer, and zulily inc. "Columbus is a good beach head, particularly if they are on the West Coast, moving to eastward markets," McDonald says. There are more than 4,400 logistics and distribution operations in the Columbus region.
In regard to rail services, McDonald says Norfolk Southern connects to the Heartland Corridor, which spans from the Port of Norfolk, Va., to Columbus. "This is double stack trains; loading double stack containers in Norfolk and moving them to Columbus so they can be distributed nationally," he says. Businesses have access to 47 percent of the U.S. population within a 10-hour drive of Columbus.
Joplin, Mo., located in the central United States, offers access to 65 million people within a 500-mile radius. Among its transportation infrastructure is service from three Class I rail lines and two short line rail providers. Union Pacific serves the region through the Missouri & Northern Arkansas Railroad. "There is no dual fee structure essentially between the two railroads," says Rob O'Brian, president, Joplin Area Chamber of Commerce. "MNA acts to haul UP in this area. The line also provides access into Arkansas and up to Kansas City, and interconnects with UP, BNSF and KC Southern."
No Magic Bullet Solution
The crunch in trucking capacity is changing the dynamics of freight cost management. "With freight costs going up, and also with the competitive advances in terms of customer service such as same day, next day from the likes of Amazon.com, companies' outlooks are back to the notion of smaller, closer," Thompson says. "One of the things we are starting to see is that companies will want more facilities closer to their customers, as opposed to fewer, larger. The supply chain is a bunch of trade-offs. If freight costs are really high, you want more, closer."
And companies want buildings that are complete or near complete in order to meet customer demands. "Many of the big box retailers that BNSF has a relationship with depend on the 3PL warehouse community," Coffey says. "They will bid a portion of their warehousing and distribution out to a 3PL, and then the 3PL with the requirements of its customer, will locate the actual facility where they need to be."
The short windows, three months to six months, require robust spec building programs. At Logistics Park Kansas City, NorthPoint Development is doing the horizontal and vertical development for the entire business park, Coffey says. "They bought more land to expand the footprint of the park, and have a spec building program."
In "Transportation Cost Equivalence Line: East Coast vs. West Coast," CBRE finds: "Distribution and fulfillment companies will continue to invest in densely populated markets in an effort to increase efficiencies and cost savings within their inbound and outbound requirements. Such markets will dominate industrial real estate activity in the coming years."
An example is the PV 303 development in the Phoenix metro, which will accommodate 20 million square feet of diversified product, including distribution and ecommerce fulfillment operations. The property, on the west side of Phoenix, provides access to Interstate 10 and the Southern California market, including its seaports. The developers of PV 303 are SunBelt Holdings and Merit Partners Inc.
Arizona's officials have done an amazing job diversifying the state's industrial base, says Kevin Czerwinski, president, Merit Partners. This includes improvements to the highway infrastructure and Phoenix's Sky Harbor International Airport. The efforts have attracted companies that haven't had a presence in the state. Arizona has become more business friendly, streamlining regulations, adds Sean Walters, CEO, Sunbelt Holdings.
Moving to Maryland, the Port of Baltimore is underway with several infrastructure enhancements. Port officials have entered a 50-year lease concession with Ports America Chesapeake at the Seagirt Marine Terminal. They will build a 24-hour back gate, which will move cargo from Seagirt to a nearby Duke Real Estate property, where Amazon.com is building a 1.1 million-square-foot distribution facility. The back gate will eliminate congestion by diverting cargo from the main public roads.
Quebec's Goods Move Through Upper-Saint-Lawrence Valley
The Upper-Saint-Lawrence-Valley is located in southwest Quebec, well positioned at the middle of the Canada-U.S. trade corridor. In fact, 85 percent of Quebec's business trade with North America comes through the Upper-Saint-Lawrence-Valley, also known as the Hub-30 region.
From the region, businesses can reach 135 million consumers in a radius of 600 miles (less than a day by truck). The Hub-30 initiative is comprised of five economic development organizations to promote Highway 30. These groups estimate there are 62 million square feet of available land to support business and industrial developments.
Highway 30, which opened in 2012, was the "missing link in order to interconnect all of our existing strategic shipping assets," writes Yves Daoust, president, Regional Council of Elected Representatives Upper Saint Lawrence Valley. One of the region's assets is the St. Lawrence Seaway. There are also multiple highways, including the new Montreal Beltway, which is an east-west connection served by highways 30, 20 and 40, Daoust points out.
The Hub-30 region is also served by Canadian National, Canadian Pacific and CSX with rail intermodal capabilities. CSX is building a $107 million intermodal terminal in Salaberry-de-Valleyfield, which is expected to open in 2015.
For complete details, visit www.hub-30.ca.
Another project at the port is the development of a new berth at the Fairfield Terminal. A TIGER grant supports efforts to run a rail line alongside the berth. "The berth is reinforced so we can take the high and heavy loads coming off the vessels right onto rail," says Richard Scher, communications director, Maryland Port Administration.
Scher adds officials have changed the geometry of some of the rail lines and increased berth strength at the Dundalk Marine Terminal, in order to move the rail track alongside the berths, allowing direct discharge from vessel to rail.
In Kingman, Ariz., officials at the Kingman Terminal Railroad have brought the rail tracks up to Class I levels, in order to support the movement of heavier loads, says Tim Woods, general manager of the terminal. It is part of the Patriot Rail short line rail network. The Kingman Terminal operates three track miles in the Kingman Airport & Industrial Park, which is a 1,100-acre industrial park.
"Kingman is a future logistical gold mine," Woods says. He notes proximity to 33.9 million people within a day via truck, including access to seaports in San Diego, Los Angeles and Long Beach. Manufacturers operating in Kingman include Kingman Telling Industries LLC, which is a manufacturer of metal framing and accessories, primarily for use in commercial developments. The plant is strategically located overnight to Phoenix, Southern California, Las Vegas and Salt Lake City, says Doug Barber, plant manager for Telling. He says from a cost basis, Arizona is a friendlier location than Southern California.
Nucor Steel Kingman LLC produces wire rod and rebar coils, says Eric Lobo, shipping and traffic supervisor, mill processes. The majority of the company's freight moves by truck. "This is a drivers market, not a carriers market," Lobo says. "We do our best to cater to drivers, thinking outside of the box. Our average load time is 23 minutes."
As trucking capacities continue to tighten, companies are giving serious consideration to other modes of transportation that would help mitigate issues and the rising costs of freight, which includes proximity to intermodal or rail services. In addition, "You have to think about where you locate as it relates to the transportation providers," Thompson advises.
For complete details about the organizations featured in this article, visit:
BNSF Railway
Joplin (Mo.) Area Chamber of Commerce
Kingman Telling Industries LLC
Illustration by tiverylucky
Michigan's Port Lansing Partners for Success
The Capital Region Airport Authority/Port Lansing is an inland port with transportation assets such as the Capital Region Airport, which consists of 2,000 acres for development. The airport serves as UPS' air cargo hub in the state of Michigan.
"We are also fortunate to have strong railroad presences," says Gary Bartek, director of cargo and global logistics development, Capital Region Airport Authority. Canadian National and CSX rail lines run through Lansing.
The authority is able to offer incentives to businesses locating on the property, including support for facilities, and foreign trade zone status. In 2012, the authority constructed a 48,000-square-foot warehouse, which serves the freight forward and trucking community. "This was our first on airport commercial development that tied our logistics and aviation together," Bartek says. Construction will begin this year for a manufacturing facility to support Niowave, which produces medical radioisotopes. The project is estimated to be a $100 million capital investment.
Foreign trade zone 275 applies to the entire airport development, and extends to eight counties in the state. Bartek says he works with economic development organizations in those counties to encourage the creation of subzones. Additionally, the authority partners with the state on incentive programs. Port Lansing is one of five Next Michigan Development Corporations. The program offers property tax and real property tax abatements, supporting logistics and supply chain companies.
For complete details, visit www.portlansing.com.