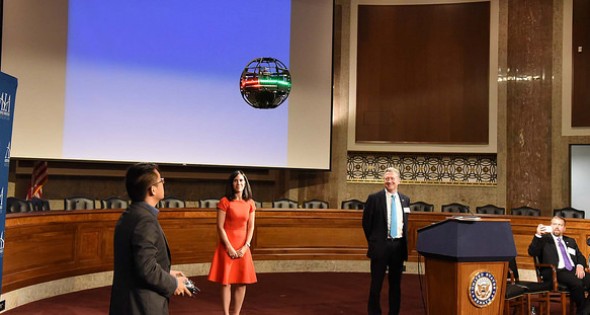 Commercial Opportunities Move Aerospace Forward
02 Oct, 2015
Unmanned Cowboys CTO Ben Loh and CEO Dyan Gibbens demonstrate their Atlas UAV at a Senate Aerospace Caucus luncheon. Photo: AIA
Interview by Rachel Duran
The aerospace industry creates lines that are less dependent on government-funded work.
Members of the aerospace industry continue to expand their commercial product lines in order to overcome domestic headwinds impacting defense industry work, as well as commercial work, affected by government spending cuts.
Challenges create possibilities. The unmanned systems industry is growing by leaps and bounds as the Federal Aviation Administration (FAA) testing sites begin to shape the framework for regulating the nation's airspace to accommodate the systems, says Dan Stohr, director of communications for the Aerospace Industries Association (AIA).
AIA is based in Arlington, Virginia, and advocates for the industry on topics such as civil and commercial space, civil aviation and defense and security. The AIA has more than 300 major aerospace and defense member companies and their suppliers. The companies run the gamut from high-tech manufacturing to commercial aviation and avionics to manned and unmanned systems to space technologies and satellite communications.
Below, Stohr comments on the industry's challenges and opportunities, areas of the country that host thriving aerospace-related clusters, and the role science, technology, engineering and math (STEM) education play in attracting youth to work in the industry.
Gainesville, Texas, is Ideally Suited for Aero Suppliers
By Rachel Duran

Gainesville is known as the porch of Texas, located six miles from the Oklahoma border, and served by Interstate 35, says Arleene Loyd, executive director, Gainesville Economic Development Corp.
The community is home to a growing cluster of aerospace-related manufacturers, and is well positioned to support more companies. Assets include two existing industrial parks and a new 146-acre industrial park, located half a mile from Interstate 35. The water and sewer lines are in, and road construction has begun. The gas lines will be extended once a company locates to the site.
Gainesville's existing aerospace suppliers including Zodiac Seats US, which employs 2,700 people at the plant. The company, headquartered in France, is the world's largest commercial seat manufacturer, Loyd says. "They do the economy seats here in Gainesville."
Additional companies include Reliant Worldwide Plastics LLC, which employs 170 people in the community. The company makes trays for the airplane seats, created from a new lighter weight plastic. Enhanced Powder Coating LLC coats the metal parts of airline seats. Gainesville is also home to IFS Coatings Inc., which makes the powder coatings used in the aerospace industry, as well as coatings used in the automotive industry.
Gainesville, a community of 18,000 people, is located within 50 miles of more than 1 million people, with people willing to commute to work. The city's housing market will benefit from the addition of 200-acre development. A new apartment complex is also under construction. In regard to quality of life aspects, in 2012, Gainesville was recognized as the "Most Patriotic Small Town in America" by Rand McNally and USA Today.
For complete details, visit www.gainesvilleedc.com.
Rachel Duran: Highlight the state of the aerospace industry; what are the major challenges?
Dan Stohr: One of the major issues before the industry is the failed reauthorization of the Export-Import Bank of the United States. With government spending cuts on the defense side and also the commercial side, we have been forced to look abroad for opportunities. [Editor's Note: On July 27, the U.S. Senate attached an amendment reauthorizing the bank to a transportation bill that passed the Senate. It was with the U.S. House of Representatives at press time.] The aerospace industry comprises the country's single largest net exporter. Foreign companies receive support from their home governments, such as subsidies, when competing for contracts. The bank helps offset the disadvantage.
The Export-Import Bank helps not only our large companies but also some of the smaller manufacturers with export credit financing. Basically what they do is act as a lender of last resort for companies that would like to export but either can't secure the credit because of what the commercial banks view as unacceptable risk, or it is an actual requirement of the bidding process.
For instance, for a lot of satellite sales there is a requirement for export credit financing as part of the bidding process. So with the Export-Import Bank not reauthorized they can't take on any new business and American companies are losing out on those sales.
That dovetails with one of the other major issues, which is domestic budget cuts. There are fairly serious challenges we are facing but there are also opportunities. The unmanned systems arena is growing by leaps and bounds. The FAA is working their way toward regulating the airspace, which will allow for significant growth. This is a huge investment area for our companies.
Cybersecurity is another growth area. We are looking for places with the appropriate infrastructure where we can dip into existing resources and build out. And IT is a shifting market.
Duran: Tell us about how aerospace-related industry clusters are performing?
Stohr: At AIA, we deal with the environment in which our companies are looking for opportunities that might lead to influencing where their site selection is. We don't work in site selection.
That said, some of the Southern states are building up their infrastructure, South Carolina in particular. Boeing is moving a lot of its manufacturing processes to Charleston.
Alabama has a huge existing aerospace cluster around Huntsville. These companies do a lot of work with space and NASA. Also, Airbus is building a major plant in Mobile. And, while Airbus is not a member of AIA, most of their suppliers are.
In regard to long existing clusters, Wichita, Kansas, has been having a tough time but seems to be bouncing back a bit. General aviation was hit hard by the recession and Wichita is a major hub for that type of business.
The St. Louis [Missouri] region has experienced ups and down. Boeing has moved a lot of its defense facilities out of there, but there are more commercial opportunities.
Fort Worth, Texas, is going gangbusters. And Dayton, Ohio, is going strong. The state of Ohio has made a lot of investments in the western portion of the state to maintain the industry.
In fact, it was a bit of a surprise when the FAA did not award one of the [six] unmanned system testing sites to Dayton. With that said, the infrastructure is there and companies are going there and doing their own testing. It is still a growing area.
Seattle's market is about the same as it has always been — there are always opportunities there.
Los Angeles' cluster has been dropping off. Many companies have relocated over the last decade or so. There are still opportunities there; they are moving down the supply chain as the larger companies move out. Smaller companies are taking advantage of the existing infrastructure and they are building out.
And there is a lot of talent in Los Angeles. For 50 years, Los Angeles has been a major aerospace cluster and there is a continuing need for workforce. And the local governments are highly aware of how important that is. Not just in Los Angeles but in San Diego as well. Southern California is shifting. You will find the opportunities if you take things down a tier or two.
In short, the major opportunities are largely on the commercial side. But there are also opportunities on the defense side as companies look to produce innovative technologies. Certainly, industry is engaged with DoD and its Better Buying Power initiatives, which helps understand what our customers' need, and also give input on how best to accomplish those things.
Duran: The workforce is getting grayer. How is the industry reaching out and engaging the next generation of talent?
Stohr: Workforce is an ongoing concern. We identified a growing crisis a decade ago with the graying of our workforce.
The major issue is: how do you continue to attract top notch talent to the industry? Things shift. For example, Silicon Valley has become much more important in the innovative sphere. We are in competition with the Silicon Valley for that top talent.
Mingo County, West Virginia, Welcomes Aerospace Industry
By Rachel Duran

Aerospace-related manufacturers looking for a central East Coast location with both land and air service advantages should consider the new Appalachian Regional Airport, located in Varney. The former post mine land use project features a new 5,000-foot runway and taxiway, complete with lighting, fencing and wind instrumentation. Alpha Natural Resources donated a 900-acre site to Mingo County, which included a rough-grade runway and taxiway and undeveloped land.
The new airport is surrounded by 500 acres that have been identified for aerospace manufacturing and other types of light manufacturing that would require air transportation, says Leasha Johnson, executive director, Mingo County Redevelopment Authority. "Right now we don't have water and sewer installed at the Air Transportation Park," Johnson says. "And we don't meet traditional funding models to extend water and sewer to the airport because we don't have an end user. It is the chicken and the egg situation."
An engineering firm has completed designs for the water and sewer lines. When a viable company shows interest, officials will be better positioned to obtain funding for infrastructure.
"Our geographic location is what is the most attractive," Johnson says. "We are centrally located on the U.S. East Coast, within 500 miles of most of the coast." Additionally, a $10 million investment supported the development of a modern airport.
To learn more about the untapped potential at the Air Transportation Park, visit www.mcra-wv.org/industrial-sites/air-transportation-park/.
We continue to do amazing things. The Pluto flyby is an enormously inspiring event. The New Horizons mission flyby to capture images of Pluto and its moons took place in July, after a decade-long journey, to come within 7,750 miles of the planet's surface. NASA officials say the project was a uniquely American triumph, including the fact that Pluto was "discovered" by America astronomer Clyde Tombaugh.
The cool stuff is not just coming out of Silicon Valley but also out of the aerospace industry.
NASA is a willing partner with our STEM efforts. AIA's Team America Rocketry Challenge is the largest rocket contest in the world. That STEM effort involves thousands of students each year from across the country.
Anywhere between 600 and 750 teams compete each year. These middle school and high school teams range from three to 10 students per team.
The project challenges students to build and launch a rocket with certain specifications, and with a change in payload each year.
The top 100 teams compete in the finals, held in Great Meadow in the Plains, Virginia, outside of Washington, D.C. The national winners are flown each year to international air industry shows, either the Paris Air Show or the Farnborough Airshow, courtesy of Raytheon Co.
This year's winner, the RCS Engineers from Russellville, Alabama, won the international competition held in Paris, topping teams from the United Kingdom and France.
Raytheon is a large sponsor of the challenge. They are one of the more forward looking companies when it comes to STEM education and are involved in a number of programs.
Events such as the rocketry challenge are things the industry is looking to do to inspire kids to get them involved in STEM education, and eventually recruit them into our companies.
Once we have their interest, the most important thing we can do is mentoring. We have to be able to attract the top-notch talent into the workforce pipeline and keep them. That is an ongoing issue.
The R&D question is also something we are concerned about. Not only who funds it, but also, what is the direction? What is the end goal for our major defense customers? And on the commercial side, where is the next innovation coming from? Where is that next game-breaking technology coming from?
For complete details on the aerospace sector, visit www.aia-aerospace.org.
Orlando: You Don't Know the Half of It
By Rachel Duran
While it may be news that billions of dollars are being invested in redevelopments at the Orlando International Airport, and the fact that the airport is the third largest in the nation for origin and destination flights, the larger story is the region's long-standing aviation and aerospace industry cluster. These expansion activities are just an extension of the set of the region's embedded infrastructure plays, says Rick Weddle, CEO, Orlando Economic Development Commission.
Orlando's assets support a fully integrated and vibrant cluster. The cluster includes three airports in the region. The Orlando International Airport is underway with two 1 billion dollar projects to support its future needs, including construction of a $1.8 billion South Terminal Complex. There are other projects that are part of a $1.1 billion capital improvement plan, including a new automated people mover complex and an intermodal terminal facility.
The Sanford airport has completed a $25 million expansion, adding a two-story terminal complex of more than 120,000 square feet.
Orlando is also home to aviation-related education leaders such as Embry-Riddle Aeronautical University, the Florida Institute of Technology and other supports. "We also have a large MRO segment here as we are a good place to fly into," Weddle says. A large part of Orlando's cluster is defense related, home to companies such as Lockheed Martin and Raytheon, among others. The defense industry includes the world's leading model, simulation and training industry. Orlando is home to military branches and about 10 federal agencies that procure about $4 billion annually in simulation contracts, many of them avionics related, Weddle says.
Economic developers are busily working with defense companies to explore commercial projects, especially in the model, simulation and training segment. Companies are exploring the medical sector, and even the gaming sector.
"You begin to see a comprehensive picture of aviation and aerospace related activities," Weddle says. "We have a full foundation, company elements and a labor pool that makes it work. There is reason that companies locate next door to each other. All the inputs are there."
For complete details about Orlando's aerospace related cluster, visit www.orlandoedc.com.