DUPAGE COUNTY, ILLINOIS
15 Apr, 2016

WESTERN ACCESS O'HARE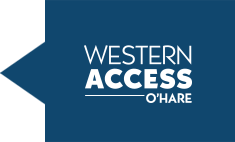 O'Hare International Airport is the nation's second busiest airport. In 2005, O'Hare transported nearly 77 million passengers and 1.7 million tons of cargo – serving as a vital transportation link between the Chicago region and the rest of the world. However, its existing infrastructure is the cause of heavy delay and congestion. Currently, O'Hare is accessed from the east. The Western Access O'Hare project will give western access to the airport with an addition of a western roadway, allowing the region to meet future transportation needs.

The Western Access O'Hare project begins with an addition of nearly 50 expressway lane miles through the conversion of Thorndale Avenue into a limited-access four-lane highway, creating an extension to the Elgin-O'Hare Expressway. With this extension, a bypass or ring road will be created in order to connect I-90 and I-294.
CONSIDER THE FUTURE
The increased transportation and infrastructure will bring with it a modern and diverse economic base that will transform the region. The area will become a prime location for businesses to locate and future developments.

CONSIDER THE BENEFITS:



Location– At the heartbeat of the Midwest – the center of the nation's busiest transportation hub
Land– Enough to build big
Workforce– Skilled, educated, competitive labor
Financial Benefits– Savings on fuel, time, recruitment, incentives
Quality of Life– It's all here – education, entertainment, culture
With unparalleled proximity to the airport, I-90, I-294, and I-290, businesses looking to locate in the newly available developments will be taking advantage of transportation gateways to the rest of the world. In an increasingly global economy, enhanced access to national and global markets, along with a reduction in delay time, will enhance the competitiveness and productivity of local businesses while facilitating economic growth.
PROJECT TIMELINE

ECONOMIC IMPACT



The benefits from the Western Access O'Hare project are not only compelling, but would completely transform the economy of the region. The following is a list of some of the economic benefits of the project, found by the Elgin-O'Hare Western Bypass Advisory Council:

Opportunity exists to create 65,000 jobs by 2040
Local tax revenues are expected to increase by $29 million annually (based on 2010 projection)
13,450 jobs will be created annually in the region during construction
Travel delays will be reduced, saving $145 million annually by 2040

BRYAN GAY
Economic Development Director
Direct: 630.955.2093
bryang@choosedupage.com
Choose DuPage 
2525 Cabot Drive, Suite 303 | Lisle, IL 60532
630.955.2090 | fax 630.955.2081