More Than $2.2 Billion In New Manufacturing Investments Planned or Underway in the St. Louis Region Highlighted During FreightWeekSTL 2023
31 May, 2023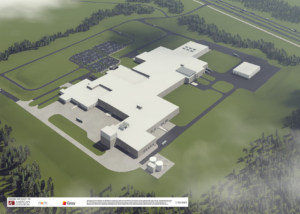 Three global manufacturing companies are currently investing more than $1 billion in new facilities or expansions in different parts of the St. Louis region, and another $1.2 billion investment is planned on the downtown St. Louis Riverfront, a clear sign of positive momentum for the bi-state area. Representatives of the companies responsible for these investments were featured panelists during FreightWeekSTL 2023 and shared details on the myriad factors driving their decisions to invest in the region, providing tremendous insight to help continue this growth trend.
The panel discussion highlighted plans by Good Developments Group to develop Gateway South directly adjacent to the Gateway Arch, anchored by a design and construction innovation district driven by prefabricated modular manufacturing; American Foods Group's new beef processing plant in Warren County, Mo.; James Hardie Industries' first Missouri facility coming to Jefferson County, and Tyson Foods plant expansion underway in Caseyville, Ill.
Alec Jadacki, Partner with Good Developments Group, kicked things off with an overview of the Gateway South Development, to be located on approximately 100 acres directly south of the Gateway Arch on a site known as Chouteau's Landing. Jadacki said the development will be parsed out into three separate sub-districts, with the main one being the Design and Construction Innovation District. Another component will involve recreation and residential, mixing in green space, sports courts, and a skatepark with the goal of driving foot traffic which contributes to a safer environment. The final piece will be an entertainment district focused on food and beverage as well as construction-themed entertainment tenants.
"But the main idea," Jadacki said, "is trying to co-locate some advanced modular manufacturers. When you think E S G, this is kind of the future in reducing carbon [emissions] and speeding up the process. The Empire State Building, Chrysler Building, these took about a year to construct, but more recently, the Freedom Tower, it took about seven years, so we're kind of going backwards. Construction is 15% of the world's G.D.P so, obviously, something needs to change or there needs to be some advances in the technology. And when we're talking modular now — and the next generation of it, picture a Lego block. Essentially, they're building these blocks onsite, co-located with their suppliers, soup to nuts. So, it's literally an entire apartment, live ready, bathroom, kitchen, wall panels, flooring that'll get brought to a construction site and dropped on top of a podium, ultimately creating the final structure."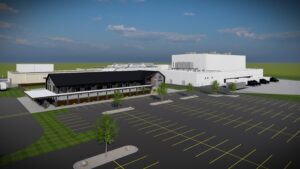 He said they have unbelievable local partners who plan to co-locate at Gateway South, including universities, trade schools, accelerators, incubators, and nonprofits. "The idea is really to create a center of excellence. Silicon Valley is the tech hub of the country, and we want Missouri, and specifically St. Louis, to be the construction capital of the country."
Their plan for the site also includes repurposing some of the existing buildings that have long been abandoned and leveraging the infrastructure running through the site with the goal of bringing what was once a thriving riverfront industrial site back to life.
Scott Willert, CTP, President of America's Service Line, LLC/America's Logistics, provided an update on American Foods Group's $800 million beef processing facility under construction since last fall in Warren County, Mo. The company plans to employ 1,300 workers with a good starting wage and compensation package and expects the overall regional impact of the plant to be about one billion dollars.
Willert talked about how being located on I-70 was particularly appealing as it will deliver a host of great advantages, starting with how easy it will be for their labor pool to get to work and including driver availability along that corridor and the potential for attracting other hungry trucking companies interested in partnering with American Foods Group.
Tyson Foods has invested a total of $228 million in the expansion of its operations in Caseyville, Ill., which is set to be completed toward the end of this year. According to Christopher Rogers, Plant Manager for Tyson Food's Prepared Foods Division, that $228 million is on top of $48 million that the company had already invested in the site in the past four years.
"The plan is to add 270,000 square feet to the existing facility to increase our automated warehousing and robotics capabilities," said Rogers. "A great example of this being the AGVs or automatic guided vehicles that will take over material handling, and the ASR or automatic storage and retrieval system that will be utilized for warehousing of ingredients and finished goods. By the expansion's completion, approximately 400 new team members will work across seven new state-of-the-art production lines in addition to the existing four production lines we've installed over the past four years."
About St. Louis Regional Freightway
A Bi-State Development enterprise, the St. Louis Regional Freightway is a regional freight district and comprehensive authority for freight operations and opportunities within eight counties in southwestern Illinois and eastern Missouri, which comprise the St. Louis metropolitan area. Public sector and private industry businesses are partnering with the St. Louis Regional Freightway to establish the bi-state region as one of the premier multimodal freight hubs and distribution centers in the United States through marketing and advocacy for infrastructure development that supports the movement of freight. To learn more, visit thefreightway.com.