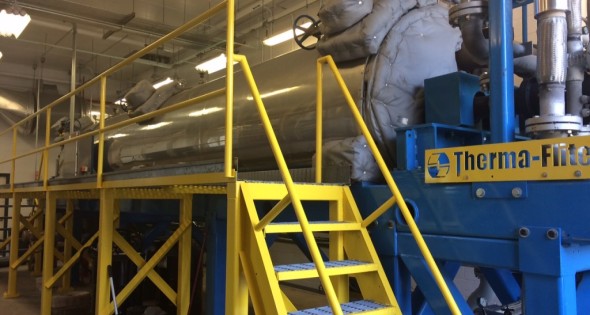 Taney County, Mo., Establishes Biosolids Drying Facility
04 Nov, 2015
Caption: The indirect drum dryer at the biosolids facility at Cooper Creek. Photo: Jennifer Langford
By Jennifer Langford
Sustainable Class A biosolids treatment facility supports a smart city ecosystem.
Outdoor enthusiasts, recreationalists, and other nature lovers are attracted to the natural environment found in the southwest Missouri Ozarks. This green, eco-friendly region is home to three pristine lakes where environmentally-conscious citizens enjoy the benefits of its fisheries, trout hatcheries, wildlife, caves, waterfalls, and breathtaking Ozark Mountains. The cities that comprise Taney and Stone counties — Branson, Hollister, Forsyth, Kimberling City, Reeds Spring and Rockaway Beach — are sustainability-minded, and make every effort to protect the Ozarks ecosystem and implement green solutions. Even the infrastructure developments are green, a key feature that lays the foundation for the new Smart City initiative taking place across the region.
To lay the foundation for understanding why infrastructure matters, cities must have what we call "The Big Five" infrastructure components — water, sewer, natural gas, electric, and fiber — and plenty of excess capacity in those components to attract new business and industry. Without enough capacity, the economy slumps because there is not enough capability remaining to support new business growth, and ultimately job creation becomes stagnant. Taney County, Missouri not only boasts a minimum 50-year capacity in its water/wastewater treatment infrastructure, but that framework is so advanced that it actually preserves and sustains the environment by utilizing its natural resources and new technologies to ensure a green ecosystem.
Southwest Missouri's Tri-Lakes region formed a coalition to develop a means to eliminate land application of Class B biosolids by converting them to a Class A product that is free of pathogens and garden-ready. One additional benefit the cooperative has noticed is a significant reduction in carbon and greenhouse gas emissions.
One future-driven component that is appealing to businesses and residents of Taney County is its new alternative waste treatment methodology that preserves the environment. Southwest Missouri's Tri-Lakes region formed a coalition to develop a means to eliminate land application of Class B biosolids by converting them to a Class A product that is free of pathogens and garden-ready. One additional benefit the cooperative has noticed is a significant reduction in carbon and greenhouse gas emissions.
Municipal Collaboration and Capital Cost-Sharing
Missouri cities Branson, Hollister, Forsyth and Rockaway Beach in Taney County, and Stone County cities of Kimberling City and Reeds Spring combined forces to address the need for a "green" solution to wastewater treatment in the 450 square-mile region around Table Rock, Bull Shoals, and Taneycomo Lakes in southwest Missouri.
The Tri-Lakes Biosolids Coalition was formed by these municipalities along with Taney County to collaborate on the construction of a $7 million Class A biosolids drying facility, a shared resource that processes the wastewater transported from centrifuges operated by the coalition. The project was funded by a $3 million U.S. Department of Natural Resources grant and matching funds of $3 million from Taney County, plus $250,000 from the City of Branson. The Taney County Commission also contributed $750,000 for the construction of the onsite storage silo.
The Treatment Process
Basically, each city waste treatment plant receives its waste, or sludge, containing only 2 percent solids upon intake. That sludge is processed by on-site centrifuges that dewater the sludge to reduce the moisture content by about five times to increase the percentage of solids. The result is a cake-like substance comprised of 18 percent to 22 percent solids. That substance is then transported to the Taney County Biosolids Facility at Branson's Cooper Creek Wastewater Treatment Plant and dumped into an external storage bin, or batch receiver.
Powerful pumps transport the solid substance from the hopper to the dryer, a long cylindrical oven running 24 hours a day, four days a week at 525 degrees under 120 pounds of water pressure. The dryer kills all pathogens and transforms the cake-like substance into a Class A solid through a slow-turning, heat-drying process. The substance produced at this facility then becomes a 95 percent solid, exceeding the standard requirement of 90 percent Class A biosolids classification. The system currently dries 2.5 cubic yards of the cake every two hours.
Natural gas heats the dryer's internal oil that removes excess water from the substance through an evaporation process. At the end of the drying process, the Class A biosolid is then cooled and all remaining vapors are removed through an air scrubber that sends the water vapor back through a neighboring wastewater treatment plant for processing. The remaining dirt-like Class A biosolid is transferred and blown into the top of a 92-cubic-yard storage silo, similar to a grain silo.
The current processing forecast estimates the production of approximately 21 tons of biosolids per week, or 1,100 tons annually. The product stored in the silo is picked up for agricultural purposes through a contract that was awarded to the highest bidder at $11 per ton (average sale value $10 to $20 per ton), enabling storage capacity management and return on investment.
Eco-Benefits
Even the most advanced smart cities will covet the sustainability outcomes that Taney and Stone counties have achieved through this evolutionary wastewater treatment and Class B-to-Class A biosolids conversion process. The result is a significant reduction in carbon and greenhouse gas emissions along with the elimination of Class B biosolids land application replaced with a Class A food grade agricultural product.
Prior to the construction of the facility, each municipality was trucking at least eight truckloads of biosolids away from the treatment plants per week, and Branson alone was transporting 10 to 12 truckloads of waste per day to be land-applied in area fields. Not only does the new method result in the reduction of fuel costs for running up to 20 truckloads per day to rid the treatment plants of the decanted solids, but also reduces the carbon emissions associated with that number of trucks in operation. In fact, the new process requires one truck of cake compared to the former 10 trucks required. This equates to 85 percent reduction in annual emissions with 700 trucks per year instead of the 7,000 annual trucks required in the former process.
Another benefit to the natural environment is the reduction in wastewater runoff and emissions from the land application which was susceptible to environmental conditions such as rain and snow. The new process prevents the spread of live human pathogens and protects the Ozarks water systems. In fact, the area is famous for live minnows and watercress growth, a key indicator of contaminant-free waterways.
The final Class A product is safe enough to fertilize farmland, or even to package and sell at wholesale or retail outlets for gardening use where food is grown for human consumption. This protects the Tri-Lakes region's ecosystem in that there is no longer a risk of wastewater runoff, or potential for the breeding of harmful pathogens found in traditional Class B land applications (to view the Soil Test Report, click here).
Summary
With more than 7 million visitors per year, along with commercial businesses and more than 80,000 residents, the two-county region is renowned for its pristine lakes, natural resources, and now a greener ecosystem. The evolutionary biosolids treatment facility at Branson's Cooper Creek is another step forward in creating a smarter city – or, in this case, a smart county – allowing for 50-year capacity coveted by many other communities desiring business growth but perhaps approaching the end of capacity capabilities to offer new business developments. This forward-thinking region has laid an infrastructure foundation to attract even the most sustainability-oriented businesses and individuals seeking to preserve natural resources to create a greener planet for our future.
Jennifer Langford is the marketing and programs director for the Taney County Partnership. Learn more by visiting www.taneycountypartnership.com.