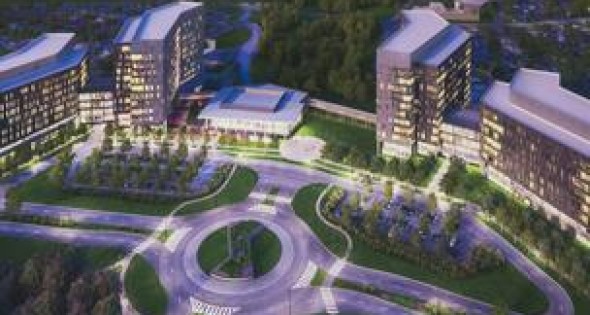 What Cerner's $4.45 Billion Project Means to Kansas City
19 Nov, 2014

Cerner Corp.'s $4.45 billion development at the former Bannister Mall site will create up to 16,000 new jobs within the next 10 years and is the largest economic development project in the history of the state.
The 4.7 million-square-foot campus in Kansas City, Missouri, will be developed in 16 phases and consist of 16 buildings. By 2025, Cerner's Trails Campus will feature 4.3 million square feet of office space, two data centers, on service center, a training/conference center and associate amenities, including an on-site daycare and health clinic. There are also plans for retail, restaurants and a hotel.
Cerner is a global supplier of health care technology solutions, services, devices and hardware and serves a range of clients from major hospitals to pharmaceutical and medical device companies to single-doctor practices.
"Cerner's multi-billion dollar investment represents a huge vote of confidence in the skills of our workforce and the strength of our economy," said Gov. Jay Nixon at the groundbreaking event in November. "By redeveloping hundreds of acres of a blighted area and creating up to 16,000 jobs, Cerner's Trails Campus will have a profound and positive impact on this region and our state for decades to come."
To assist Cerner with its expansion, the Missouri Department of Economic Development has authorized an economic incentive package that the company can receive if it meets job creation and investment criteria. The city of Kansas City has also partnered with Cerner to help make the project possible.
Source: Office of Governor Nixon
Photo: Andrew Grumke, KCBJ