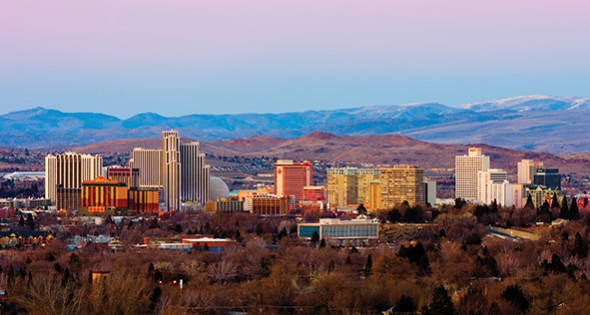 Nevada: Technology Diversifying & Advancing Economy
20 Feb, 2018
New, existing and relocating technology companies are moving to Nevada, including everything from bioscience and construction to telecommunications and entertainment. Tech companies are diversifying Nevada's economy with medical software, manufacturing hardware, building batteries to name a few.
Nevada continues to play a major role in the nation's national security, with a long history of researching, designing, developing and applying a variety of technologies for defense applications. The state is home to Nellis Air Force Base, Creech Air Force Base, Naval Air Station Fallon and the Hawthorne Army Depot. The Desert Research Institute, a publicly funded center within the Nevada System of Higher Education, is a global innovator in the development and use of technology for desert combat settings.
Nevada's renewable energy portfolio has attracted significant domestic and foreign investment to the state, with its potential for generating wind, solar and geothermal power. The state's mineral wealth has made mining the state's largest export industry.
Nevada is also a global center for the tourism, gaming and entertainment sector. With Las Vegas its the diverse natural surroundings, hospitality and tourism is a major economic engine. The state is focused on leveraging its intellectual capital to diversify the traditionally service-oriented industry into higher-value and innovative activities that will create higher-skill and higher-paying jobs, expand the state's exports and open up new opportunities for IT-based activities.
Regional Sidebars
By Rachel Hamilton
City of Henderson
Henderson is southeast of Las Vegas at the intersection of Interstates 515 and 215. Henderson stretches east to Lake Las Vegas and the Hoover Dam. Interstate 15 provides access near Henderson's western boundary south to Los Angeles and north to Salt Lake City.
In addition to interstate access to huge population centers, Henderson offers proximity to Las Vegas's international airport, its millions of visitors and its many convention centers. That means a manufacturing business in Henderson can get a lot of face time with clients, customers and vendors, according to Henderson's Director of Economic Development and Tourism, Barbra Coffee.
"You can easily draw people away from a baking expo and have them visit your facility. It really truly makes us a global destination," Coffee says. Henderson has some large bakeries, such as Turano Baking Co, which will move into its nearly-completed facility in early 2018.
"They're starting with 125,000 square feet and at least 80 new jobs," says Coffee, explaining that Turano will be able to expand up to four more times. "People will choose us for long-term stability."
The food and beverage cluster is successful in Henderson, and that includes Ethel M, an R&D facility producing the signature line of chocolates for Mars Chocolate. It also includes TH Foods and Flowers Foods.
"We're an emerging destination for tech companies. It is our goal to see more of that," Coffee says. "We're working to train up our workforce to offer a pipeline of talent for those companies. We partner with the state of Nevada, putting some of their STEM programs to work."
The Henderson Unmanned Vehicle Range (HUVR) is the most urban location for drone testing in the U.S., and during trade shows it hosts demonstration events on site. "Once those companies are here for demonstration and drone testing events, they have an opportunity to see what the future of doing business here might look like," says Coffee.
Healthcare is also an emerging sector for Henderson, with UNLV, Touro University and Roseman University all training doctors now, Coffee says. In addition, Union Village is Henderson's 150-acre "livable, walkable, integrated healthcare village being developed to address the aging-in-place dynamic."
Mesquite Region
Mesquite is halfway between Los Angeles and Salt Lake City on Interstate 15, making it "the center of the universe for Southwest transportation," says President and CEO Rachel Dahl of Mesquite Regional Business (MRB). Mesquite is about 30 minutes' drive from Lake Mead and also near Gold Butte National Monument and Zion National Park.
The city worked to have "a new exit built off of I-15 that goes directly into our 800-acre industrial park," says Dahl. "It's perfect to get big trucks off the interstate." One of the eight Do It Best Corp service centers ships products to its 3,800 retail outlets from Mesquite's industrial park.
"Because we have a fairly abundant source of water [for the region], we are targeting the food industry," Dahl says. That includes food and beverage processing as well as indoor agriculture.
Primex Plastics Corp has a large manufacturing facility in Mesquite, so MRB is targeting other plastics manufacturers and businesses in the supply chain.
"There's a focus in the community on athletics for all ages," Dahl says. Mesquite is a place where active seniors retire and it is a place for youth sports, for resorts and for golf courses.
A semi-pro basketball team will play their first games in Mesquite in January 2018. Building on its active culture, as well as professional football and hockey coming to Las Vegas, Mesquite is targeting businesses looking to manufacture athletic gear, according to Dahl.
The College of Southern Nevada (CSN) provides customized workforce training programs to businesses like REV Group, a manufacturer of emergency response vehicles and motor coaches.
CSN will train REV Group workers in plumbing, electrical systems, auto body work and more, Dahl says. "We'll get them experience in all those different pieces and then they'll be agile." Their skills are transferrable to two other major industry targets for Mesquite: healthcare and hospitality.
Mesquite can draw more workforce from the north side of Las Vegas and from St. George, Utah. "We also look at Nellis Air Force Base," Dahl says. "Retired military or military spouses always make great employees."
"This is also an incredibly beautiful part of the world," says Dahl. In fact, Lime Kiln Canyon Road leads from Mesquite south to Red Pockets Mountain in the Grand Canyon-Parashant National Monument.