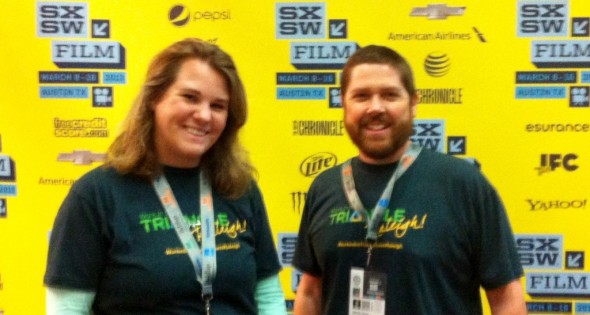 Raleigh, N.C., Takes on SXSW in Austin
12 Mar, 2013
Jennifer Bosser, assistant executive director, and James Sauls, director of economic development with Wake County Economic Development, attend the SXSW Interactive Trade Show.
Work in the Triangle initiative makes first appearance at the SXSW Interactive Trade Show.
In addition to waiting in line two hours to take a picture with Internet sensation, Grumpy Cat, South by Southwest attendees also have the opportunity to learn about the live, work and play opportunities in the Raleigh-Wake County region.
The South by Southwest Conferences and Festivals, being held in Austin, Texas, March 8-17, offer a unique convergence of original music, independent films and emerging technologies. Promoters say the Interactive Festival (March 8-13) is an "incubator of cutting-edge technologies and digital creativity."
The Work in the Triangle initiative is a partnership "between our organization's talent attraction effort and Raleigh Economic Development, which is focused on recruiting companies and marketing Raleigh as a great place to live and work," says Jennifer Bosser, assistant executive director, Wake County Economic Development.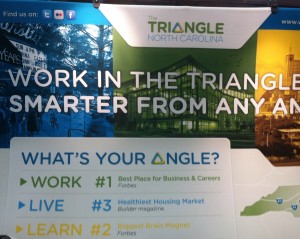 "We truly feel that in economic development now, companies will go to the communities where talent is," Bosser says. "We do a good job now, but if we continue to attract a highly skilled talent base, companies will come. So this effort is targeted to a demographic of young, hipster, technology innovators — these are the people we want in this community."
Bosser notes the  team is in Austin to brand Raleigh as a great place for talent by meeting with individuals and companies. The team has hosted a number of events to highlight local companies involved in RaleighMakers, as well as others from the region. One event, #PopUpRaleigh, is a contest using Twitter, designed to encourage spontaneous meet and greets in various locations, promoting local brands and giving away free prizes.
In addition, Raleigh's grassroots team of ambassadors, known as Smarty Pants, have been sending out social media messages via Twitter and YouTube from back home to SXSW attendees to further promote giveaways and other activities.
At the Interactive Trade Show Block Party, being held this evening, the Work in the Triangle partners are scheduled to serve complimentary craft beers and announce the grand prize winner of the #TriangleSolo contest. Attendees have been encouraged to perform their best triangle instrument solos to songs of their choice. Participants completing a one-minute video of their solo are entered to win a trip for two to Raleigh, including airfare, and VIP passes to the Hopscotch Music Festival.
The Work in the Triangle team is among an increasing number of economic development organizations reaching out to SXSW audiences to promote industry clusters and lifestyles. "You have to be pretty specific in what you want to get out of it," Bosser says. "There is a lot of noise here — social media is super blown up. That has been really interesting to see."
Raleigh is promoting industry clusters in software development, analytics, and interactive digital media, making people aware of the companies located in the community. "We may not be home to headquarters for technology companies, but we have a substantial employment base in our community," Bosser says. "We have a lot of companies that have operations here, such as Lenovo, Citrix and Red Hat."
In addition to the business message, the Raleigh team is promoting the cultural side of the region that people may not know about. Bosser mentions the live music scene, and the craft beer scene, which includes 20 breweries. "We also have a large music festival called Hopscotch that has more than 175 bands perform over three days," she says. "We look and feel like Austin, but we are a bit smaller."
For complete details about the live, work and play environment in Raleigh and Wake County, visit:
Greater Raleigh Chamber of Commerce
Wake County Economic Development