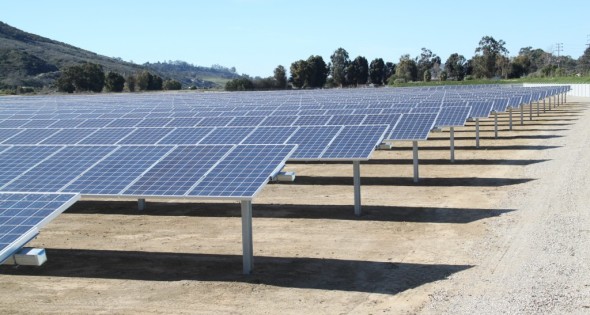 Record-breaking Solar Power Creates New Opportunities
29 May, 2015
By Mark Kleszczewski
Fast growing solar energy trends include distributed power and microgrids.
Although the Commerce Department imposed new tariffs last December on most solar panels made in China, and the 30 percent federal Investment Tax Credit (ITC) is due to lapse at the end of 2016, adoption of solar energy is on a major upswing across the country. Increasing affordability, along with emerging solar technologies and microgrid distribution systems are also opening up new growth opportunities for utilities, developers and end users alike.
Solar Numbers Reach for the Sky
According to SEIA/GTM Research, national blended average system prices for solar dropped 53 percent since 2010, with the overall sector accounting for one-third of U.S. new generating capacity in 2014 — beating out both wind energy and coal for the second year in a row, reports Ken Johnson, vice president, communications, Solar Energy Industries Association (SEIA).
Newly-installed solar photovoltaic (PV) capacity for 2014 reached a record 6,201 megawatts (MW), growing 30 percent over 2013's total. An additional 767 MW of concentrating solar power (CSP) came online in the same period. In 2014, 3.9 gigawatts (GW) of utility-scale PV projects came online with another 14 GW of projects under contract. In 2014, for the first time in history, each of the three major U.S. market segments — utility, commercial and residential — installed more than one GW of solar PV. Residential continues to be the fastest-growing market segment, with 2014 marking three consecutive years of greater than 50 percent annual growth.
The U.S. Energy Information Administration (EIA) reports that the top three states in utility-scale solar generation in 2014 were California, Arizona and Nevada — home to some of the best solar resources in the world. However, even states with less-favorable solar resources, such as New Jersey and Massachusetts, have also achieved leading status in total solar generation. All of the top 10 states — with the exception of Florida — have a renewable portfolio standard in place which includes specific targets for solar power or customer-sited generation.
Costs Continue to Plunge
Several different drivers have come together to make solar more cost competitive with each passing year, observes Jonathan Bass, vice president of communications, SolarCity.
First, he says, the cost of panels, inverters and equipment has come down dramatically over the last five to 10 years. Second, the cost of financing and capital associated with offering solar power directly to customers has come down, now that project investors have seen solar technology become more reliable and cheaper, while customer acceptance has increased. Finally, the actual installation and operational costs of solar have been on a downward trend as well.
All of those factors are a major encouragement for companies like SolarWorld, which announced plans to add a solar module-assembly line in Oregon, lifting its U.S. annual production capacity from 380 MW to 530 MW. The expansion will make the company's factory the largest of its kind in the Western Hemisphere, and also act as a stepping stone to 630 MW capacity in the near future, the company said last fall.
"American solar manufacturers have been doing their part by building or expanding facilities and hiring workers in states such as Oregon, Michigan, Ohio and New York," said Mukesh Dulani, U.S. president, SolarWorld, in public statement. "This additional capacity will help us meet the need in the market for American-made solar."
Other companies recently announcing expansion and hiring plans in the United States include solar specialists SolarCity/Silevo, Suniva and First Solar, and utilities such as Duke Energy Corp., whose proposal to install as much as 500 MW of solar power in Florida by 2024, would triple the state's current solar capacity.
California Continues to Lead
Looking forward, the EIA expects continued growth in utility-scale solar power generation, projecting an average of 80 gigawatt-hours (GWh) per day in 2016. Although solar growth has been historically concentrated in customer-sited distributed generation installations, utility-scale solar capacity is expected to increase by 75 percent between 2014 and the end of 2016, with about half of this new capacity being built in California.
Bolstering the state's success are utilities like the Sacramento Municipal Utility District (SMUD) which built the nation's first utility-scale solar array at Rancho Seco in 1984, and continues to be a pioneer in solar today. While helping local homeowners put solar panels on their roofs and working with home builders to feature solar power on new homes, SMUD is also offering customers access to solar farms through its SolarShares program, explains Patrick McCoy, solar retail strategy planner, SMUD.
"Costs are continuing to decline and we see nothing but growth continuing to increase," McCoy says. "A lot of the activity has been in the residential market sector, but the commercial sector has been growing steadily as well, including early adopters and a lot of our national accounts with strong green corporate policies who've used solar PV to meet their objectives."
New Solar Tech, New Opportunities
McCoy says that new technologies are helping utilities incorporate more solar PV into their future operations and resource mix.
"The next phase for us is moving to smart inverters and energy storage," he says. "Both are going to play a very big role in helping manage the grid while retaining more of the economic benefits on the customer side.
"We're already starting to see the bigger solar PV companies aligning themselves with energy storage companies and integrating battery technology into their solar PV product offerings," McCoy continues. "We see that as a good thing, since it helps manage low-voltage or frequency ride through, and gets all of us closer to achieving the higher goal of zero-net energy homes and buildings."
Such advances are supporting two of the fastest-growing solar energy trends happening right now: distributed solar power — which constituted more than 25 percent of new power plant capacity in 2014, and "microgrids" which act as local energy networks with the ability to provide power to individual customers and crucial public services such as hospitals, first responders and water treatment facilities during extreme weather events or emergencies.
One of the leaders in the microgrid category is San Mateo, California–based SolarCity, which earlier this year launched GridLogic, a service that combines solar power, advanced batteries and controllable load, to enable a resilient, secure and affordable way of providing power autonomously.
The company's microgrid solution — which can operate either in conjunction with or independently of a utility grid — provides communities with a way to use locally-generated power to hedge energy costs, while powering critical facilities when the central grid is unavailable, explains Daidipya Patwa, senior project manager, grid engineering solutions, SolarCity. Another big benefit, he notes, is that it provides a platform to control distributed resources, including intermittent sources like solar.
"A lot of microgrid efforts to this point, mostly offered by large integrators and consultants, have been prohibitively expensive," Bass adds. "We've had a lot of experience in distributed energy, software, and project finance which has allowed us to put together a scalable system that provides municipalities with ongoing savings from solar, while being able to pay for it as they go.
"As the number of weather-related disasters events like Superstorm Sandy increases, municipalities and organizations that might have considered microgrids in the past and found them too expensive, should take another look," Bass continues.
Microgrids powered by solar and other forms of renewable energy are also leading to new types of real estate development. Though still in the conceptual phase, the Niobrara Energy Development — located along the U.S. 85 corridor between northern Colorado and southern Wyoming — is a showcase of how the availability of solar power can create new site selection opportunities.
Consisting of 662 acres in the heart of the natural gas and oil-producing area known as the Niobrara Shale, the energy park development is zoned for energy storage and strategically located adjacent to major transcontinental fiber, secure natural gas, a planned 30 MW solar farm, and triple kilovolt lines running through the park with 200 MW excess electricity onsite.
While the project is ideally designed to accommodate single-use customers, the highest best use will likely be a multifaceted complex that encompasses secure energy generation that can be used for retail energy sales within the project itself, but also sold to major outside wholesale buyers, notes Craig Harrison, founder, Niobrara Energy Park LLC. That's thanks to the convergence of fiber, natural gas, cool dry air, a reasonable workforce and renewable energy.
"The microgrid of the future will rely on a combination of fossil fuels and renewable sources," Harrison says. "And by not being grid-based, there's multiple problems that this project can solve. In a special development like this one, solar backed by battery storage which can bring in DC power will offer a very powerful combination — especially for big consumers of large-scale energy such as data centers."
Solar Drives Sustainability
Like all renewables, solar has several challenges to overcome, but moving toward critical mass and concluding a record-shattering year is already yielding benefits in the economy and beyond.
"We're still some years away from a solar panel on every roof, but we're steadily moving in that direction," says SolarCity's Bass. "Solar power still represents a relatively small percentage of our overall electricity production, but it's the fast-increasing percentage of new electricity generation capacity. That's positive not only for the solar industry, but for the environment."
"As solar power spreads, utilities will be thinking more about how they're going to plan their distribution grid and incorporate customer-sited solar PV, so we all need to work together and identify those win-win opportunities," McCoy notes. "That will help move forward and realize the visions that a lot of people have around a greener, sustainable future."
For complete details on the organizations featured in this article, visit:
Sacramento Municipal Utility District
Solar Energy Industries Association