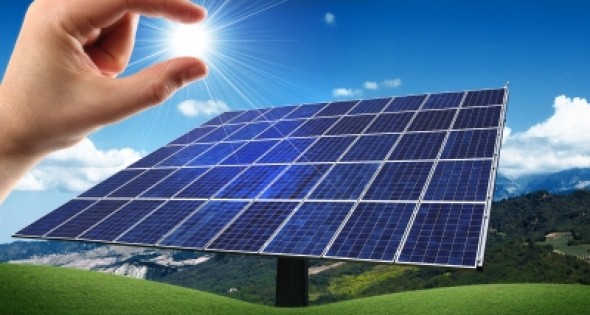 Solar Keeps On Shining
03 Oct, 2013
By Mark Kleszczewski
Favorable pricing and public support attract new investments.
Having gone from a niche market to a global industry in just over a decade, solar energy has now become one of the fastest-growing industries in the nation, confirms a recent report from the U.S. Department of Energy's (DOE) Lawrence Berkeley National Laboratory.
Despite the challenges of panel oversupply and trade disputes, the solar market is expanding worldwide — especially in the Asia Pacific region — while in the United States, the market is diversifying in a direction marked by several positive trends: installations continue to boom, system prices are declining and the increasing value of solar projects is contributing to economic growth.
For photovoltaic (PV) systems in particular, the DOE notes that it was nearly 14 percent cheaper to install residential and commercial solar systems in 2012 than in the previous year, driven partly by a decrease in inverters, mounting hardware and permitting costs. For PV panels, their average price has dropped by more than 60 percent since the beginning of 2011. Government support has also been accelerating industry growth with national, state and local incentives including up-front cash rebates, production-based incentives, renewables portfolio standards and federal and state tax benefits. Further complementing these policies is the DOE's SunShot Initiative, which aims to reduce the cost of PV-generated electricity by 75 percent between 2010 and 2020.
"Solar has become a great success story in America," writes Rhone Resch, president and CEO, Solar Energy Industries Association (SEIA), in an email correspondence. "Innovation and sustained growth are enabling the solar industry to create thousands of good jobs and to provide clean, affordable energy for more families, businesses, utilities, and the military than ever before. This simply would not have occurred without consistent, long-term policies that have helped to ensure a stable business environment for our nation's solar companies — many of them small businesses."
Solar Scales Up
Indeed, 2013 is expected to be a record year for the industry. Quarterly PV module shipments for the 20 leading PV manufacturers exceeded 5.8 gigawatts (GW) during Q2 2013. This record-high volume represents 21 percent growth from the Q2 2012 level of 4.8 GW, according to NPD Solarbuzz Module Tracker Quarterly.
The United States now has more than 8,500 megawatts (MW) of cumulative installed solar electric capacity, enough to power more than 1.3 million American households. In the first quarter of 2013 alone, more than 48 percent of all new electricity generating capacity added to the grid was solar, Resch notes. Leading the nation in solar deployment, he says, are California, Arizona, Nevada, North Carolina, Massachusetts, Hawaii, Maryland, Texas, New York, Pennsylvania and Colorado.
Workforce and Communities Benefit
In 2012, U.S. solar installations were valued at $11.5 billion, compared to $8.6 billion in 2011 and $5 billion in 2010. The industry's rapid growth is also benefiting U.S. workers. Today, more than 30 utility-scale solar projects are under construction, putting thousands of electricians, steelworkers and laborers to work and bringing sector employment to nearly 120,000 workers (double the number of three years ago) at more than 5,600 companies.
In San Antonio, Texas, the sector is driving local growth at Brooks City-Base (a former U.S. Air Force base) where Nexolon America LLC is building a $100 million facility to manufacture high-efficiency solar panels.
A notable solar job generator will be in Riverside County, Calif., where Abengoa and BrightSource Energy have partnered to develop, build and operate the world's two largest solar power towers. Located in a federally-designated Solar Energy Zone, the Palen Solar Electric Generating System will implement an innovative parabolic trough solar field design and is expected to create more than 2,300 jobs for construction workers and support staff starting in Q4 2013.
Each of the project's 250 MW units will feature a 750-foot tall tower that allows for a high concentration of heliostats, reducing the amount of land required to produce energy — up to 33 percent less than a typical PV farm. Together, the plants — scheduled to come fully online by 2016 — will produce enough electricity to power 200,000 households.
In San Antonio, Texas, the sector is driving local growth at Brooks City-Base (a former U.S. Air Force base) where Nexolon America LLC is building a $100 million facility to manufacture high-efficiency solar panels. The 240,000-square-foot facility — supported by $12 million worth of infrastructure investments from San Antonio — is expected to employ approximately 400 people once it reaches full capacity by summer 2014.
"Solar energy is the cornerstone of the new energy economy and an important diversification of our commercial base at Brooks City-Base," says Leo Gomez, president and CEO, Brooks City-Base. "It's one of the many industries we've identified to support our mission to be a catalyst for growth and progressive development in our mixed-use community. Having Nexolon America's manufacturing headquarters on our campus opens the door to other businesses related to their operations and creates enormous opportunity to grow this sector. We also look forward to incorporating solar power into our own energy mix as we continue to grow and develop."
Part of the output from Nexolon's new manufacturing facility will be utilized by solar farms for CPS Energy, San Antonio's municipal power utility and a leader in renewable energy initiatives.
"Solar energy is one facet of our New Energy Economy initiative, which delivers more sources of clean energy and energy-efficient technology to our customers while attracting high-tech and clean energy companies to San Antonio," says Frank Almaraz, vice president of corporate development and planning, CPS Energy. "We expect solar to become even more attractive as prices continue to fall in the U.S., federal emissions regulations increase and water resources continue to be a priority issue. For us, it helps improve local air quality while protecting our customers from costs associated with environmental regulations."
As part of the utility's initiative, CPS Energy signed a 25-year power purchase agreement with OCI Solar Power in July 2012 for 400 MW of solar energy, enough to power 70,000 local households or about 10 percent of their electric customers, Almaraz explains. In addition to building the solar panel manufacturing facility at Brooks City-Base, the deal calls for OCI Solar Power and its consortium (which also includes KACO new energy Inc. and ERCAM Trackers LLC) to create at least 800 long-term professional and technical jobs with an annual payroll of nearly $40 million.
The project, set to cover more than five sites throughout north and west Texas, will be the largest in the nation among municipal utilities, yielding an estimated $700 million in annual economic impact.
"Traditional U.S. financial investors are moving into the industry at a growing rate because they now realize the high-return, low-risk opportunities that solar investments can yield. There's no question that solar power will become increasingly relevant and valuable in every corner of the country, so it's exciting to be part of this industry as it transforms." – Michael Martin, Principal Solar Inc.

Thanks to favorable pricing conditions, increased public support and advances in technology, the solar industry is also attracting new investment capital and business models aiming to develop massive gigawatt-scale projects on a global basis.
For example, Dallas-based Principal Solar Inc., a publicly-traded solar energy holding company, is executing a unique roll-up strategy to aggregate solar generation and create the world's first distributed solar utility.
"Solar projects are getting very close to being competitive with traditional power generation," says Michael Martin, executive vice president of business development, Principal Solar. "In some areas of the U.S. where electricity prices are higher, solar is already the least-expensive means to build new power plants at the right size and location. However, like most maturing, highly-competitive industries, the solar industry is quite disparate and fragmented. The demands on the industry for lower-cost, higher-efficiency projects is driving us toward a market with better, smarter developers. Our goal is to bring many partners and projects together into a single entity with operations in key U.S. and international solar markets."
In June 2013, the company announced its most recent acquisition: the 3MW Powerhouse One LLC (PH1) solar power farm, cumulatively operating as a 3MW ground-mounted PV system — one of the largest PV systems in Tennessee. Built by the Franklin, Tenn.-based U.S. subsidiary of vis solis GmbH, PH1 carries a 10-year agreement with Fayetteville Public Utilities backed by the Tennessee Valley Authority's Generation Partners Program.
Sustaining Solar
Although the global solar market is still undergoing structural and competitive changes, the industry as a whole is moving toward a more economically sustainable way of business. As system prices decline and both utility-scale and residential installations ramp up, the United States can expect to benefit from solar energy's reduction of carbon emissions as well as a welcome dose of job creation and economic development in the years ahead.
"Solar-generated electricity will become a self-sustaining, investment-grade asset within two to three years, and we intend to be a driving force of that transformation," says Michael Gorton, chairman and CEO, Principal Solar Inc.
"Traditional U.S. financial investors are moving into the industry at a growing rate because they now realize the high-return, low-risk opportunities that solar investments can yield," Martin adds. "There's no question that solar power will become increasingly relevant and valuable in every corner of the country, so it's exciting to be part of this industry as it transforms."
"America's solar energy industry stands ready to do our part to help fight climate change and usher in a new era of clean energy in America and around the world," Resch says. "Despite what some critics say, it's not a choice between clean energy and a robust economy. We can have both, and solar is showing how to make that possible."
For complete details on the organizations featured in this article, visit:
Solar Energy Industries Association
Illustration by pixomar at Free Digital Photos.net