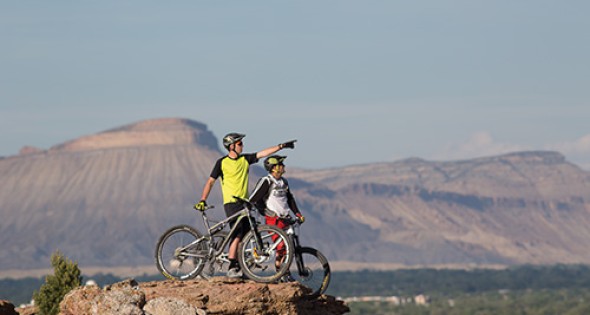 Turning the Economic Development Focus to Outdoors and Recreation
21 Nov, 2016
Often overlooked, the natural resources and entertainment amenities of an area can make or break a local or state economy.
The clear goals of economic development are to bring in industry, grow it and expand it, attracting other industries as a result – with the occasional short discussion about the recreational amenities. It is often an after-thought while business leaders ponder such things as tax breaks and workforce training.
But that ho-hum attitude about outdoors and recreation in a city or an area is changing in a big way for economic developers, borne out by statistics that prove their value.
According to a 2012 report by the Boulder, Colorado-based, Outdoor Industry Association, on ten outdoor activities – bicycling, camping, fishing, hunting, motorcycling, off-roading, snow sports, trail sports, water sports and wildlife viewing – outdoor recreation accounts for 6.1 million jobs in this country. To put that in perspective, that is more jobs than education, more jobs than transportation and warehousing, and more jobs than construction.
Americans spend as much on snow sports ($53 billion) each year as they do on internet access. They spend more on bicycling gear and trips ($81 billion) than they do on airplane tickets and fees.
More than 140 million Americans will spend $646 billion in outdoor recreation – more than they spend on pharmaceuticals, more than they spend on motor vehicles and parts, and more than they spend on household utilities – that includes more than $120 billion in outdoor products such as footwear, apparel, equipment and services.
Annual federal tax revenue from outdoor recreation is $39.9 billion, and state and local tax revenue is about the same.
Outdoor recreation is a major economic driver that needs to be nurtured, the report states. It's resilient and increasingly important to the economic health of a city or a region.
Between 2005 and 2011, when the economy tanked, outdoor recreation grew by five percent. "Most importantly," the report found, "outdoor recreation is no longer a 'nice to have' thing. It is now a 'must have' as leaders across the country recognize the undeniable economic, social and health benefits of outdoor activity."
Finding proof
One example that demonstrates the veracity of the report's "must have" finding is the impact of outdoor and recreation amenities in the city of Grand Junction, Colorado, located at the junction of the Colorado River and the Gunnison River on Colorado's western slope.
The whole state is an economic powerhouse of outdoor activities that help support industry or becomes the solid growth industry in its own right. Colorado has miles of trails, national parks, family attractions and conserved landscapes across nearly 67 million acres. The state has 30 million acres of public lands, or approximately 45 percent of the total state land area, providing many recreation opportunities.
Look at Grand Junction. According to Tim Fry, vice chair of the Grand Junction Economic Partnership Board of Directors, the area has been focused on the production of oil and gas for years. But that industry experiences unpredictable ups and downs, and the community really suffers, he says.
"So from a standpoint of what can we do to attract businesses that don't fluctuate as much, and are really looking for the lifestyle where they work as a benefit, that's where these outdoor resources come in," he says. "This valley is going to be involved in those other industries for many years to come, and we have to focus on that," he says. "But we shouldn't be putting all of our eggs in one basket. We have these natural resources and these recreational opportunities, and we need to continue leveraging them to drive the economy not only for tourism but for local economic development."
Among the many natural attractions in the area is the Grand Mesa, the largest flat top mountain in the world, stretching 40 miles east of Grand Junction between the Colorado and Gunnison rivers, and reaching a maximum elevation of 11,000 feet. "I hired a guy for my sales team," Fry says. "And he went to college on a Nordic ski scholarship. The first time he went up on the Grand Mesa, he said, 'Oh my gosh. I have Nordic skied all over the world and these are some of the best trails I have ever been on.' I guess we take it for granted a little bit, how neat it is to have those opportunities."
There are a number of recreational activities at the Grand Mesa National Forest, including skiing and camping. Visitors may also enjoy horseback riding or backpacking depending on their preference. There is boating on any one of the 300 lakes in the park, along with fishing for a number of different trout species, including golden lake, rainbow and cutthroat trout. Snowmobiling and mountain biking are also popular pursuits.
The 60-mile roundtrip Colorado Riverfront Trail System along the river in Grand Junction has five distinct sections, including the blue heron and Audubon section, the monument view section, the parks and wildlife sections, the palisade section, and the riverside Las Colonias section. This diverse environment is home to more than 200 different species of birds, three endangered species of fish and other small animals.
The trail system provides many recreational opportunities to walkers, bikers, skaters, joggers and fisherman in the city. "My office is in central Grand Junction and even from here, I can be on a trail in about six minutes by car," Fry says. "In fact, people do it for lunch. We call it 'the lunch loops."
The city is the host to the annual three-day Fruita Fat Tire Festival, which will come to town next in late April, 2017, bringing with it live music, up to 50 vendors and hundreds of bike trail riders. "During the day, bike-riding visitors and residents will head out to the trails," he says. "But at night they are downtown with music venues and public concerts going on in the park."
Grand Junction also has music festivals at local wineries throughout the spring and summer months. The area is considered Colorado's wine country, with 20 wineries now flourishing there.

Banking big money from outdoor fun
In neighboring Idaho, along the Snake River, there are more white water opportunities than any other state in the lower 48, according to Kit Kamo, executive director of the Snake River Economic Development Alliance (SREDA). The SREDA, with offices in Ontario, Oregon, includes two counties on the western border of Idaho, plus Malheur County in Oregon.
White water is best experienced in the Hells Canyon area of Snake River, near Lewiston. The river also features jet boat tours, fishing, hiking and camping.
One example of a top fishing destination in the Snake River area is Brownlee Reservoir in Washington County, one of the state's most productive fishing destinations bringing in more than $11 million in direct spending each year.
The area is home to stunning mountain lakes and high desert where there is a lot of paddle-boarding and water skiing. It also boasts world class fishing for trout and bass. "You can catch your trout and fry it up for breakfast," Kamo says. "There really is just about anything under the sun here."
The outdoor recreation industry already generates about $154 million in annual state tax revenue for Idaho while producing about $2.2 billion a year in retail sales and services.
In addition, about 37,000 Idahoans are employed in the recreation technology (rec-tech) sector, with about 70 percent of rec-tech companies in Idaho's smaller cities.
Hunting and fishing is a $1 billion business in the state, supporting more than 15,000 jobs, according to the Congressional Sportsmen's Foundation.
Outdoor amenities are a big draw for people looking to relocate. "That's especially true if they come out of an area where there is high density population and they want an area where they can afford to operate their business and still enjoy the great outdoors," Kamo says. "It's healthy for their business, and it's healthy for their employees."
Sidebar
Entertained by recreation
Taney County, home of the Ozarks town and global entertainment destination center, Branson, Missouri, has developed some of the best recreational opportunities in the Midwest. Both entertainment and recreation attractions are booming.
The area is currently experiencing more than $300 million in development and redevelopment.
The city recently completed a $1.7 million IMAX Entertainment renovation; added the iconic 150 Navy Pier Ferris Wheel, originally located along Lake Michigan in downtown Chicago; renovated the downtown district with brick-paved sidewalks and new retro street lighting; and opened a new indoor sports enthusiast attraction, Fritz's Adventure, featuring zip lining, urban wall climbing, underground tunnels and a ropes course.
In addition, Dolly Parton's Dixie Stampede, one of the city's favorite attractions featuring a dinner show of horses and trick riding, completed its biggest show enhancement renovation since it opened in 1995, adding a new LED backdrop display along with new staging.
To make access easier to this southwest Missouri town, this summer, new nationwide air service was added at the Branson Airport by Elite Airways, now offering daily non-stop service from Branson to Denver and Houston.