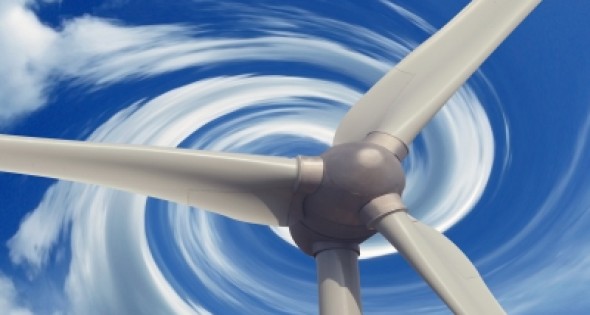 Wind Energy Industry Regains Velocity
21 Apr, 2013
By Mark Kleszczewski
In 2012, a sustained burst of development and construction activity made for a record-breaking year for the U.S. wind industry. However, one of the major drivers of the boom was also one of its biggest problems as companies rushed to complete their projects before the anticipated year-end expiration of the federal Production Tax Credit (PTC). Facing uncertainty, manufacturers initiated layoffs and developers planned fewer new projects for 2013, though a measured rebound is underway after Congress renewed the subsidy retroactively to January 1. In a significant shift from previous years, the current tax credit grants $0.022 per kilowatt-hour to wind farms "under construction" by the end of 2013, rather than requiring projects to be "in production" by the end of the incentive's specified term.
In terms of wider economic impact, the United States represents not only a large market for wind power installations, but also a growing one for American manufacturing. Nearly 500 facilities across the country manufacture major components such as blades, nacelles and towers to supply the growth of wind production in nearly every region of the United States. Although challenges with long-distance transmission and intermittent federal subsidies remain, long-term investments in workforce and infrastructure are making wind power one of the strongest sectors in renewable energy today.
Falling Prices, Growing Capacity
According to the American Wind Energy Association (AWEA), the U.S wind energy industry had its strongest year ever in 2012, installing a record 13,124 megawatts (MW), with a record-breaking 8,380 MW installed during Q4 2012 alone. Led by wind developers NextEra Energy Inc., Caithness Energy LLC and BP, utility-scale turbines were installed last year in 26 states and Puerto Rico, with Texas leading the nation, followed by California, Kansas, Oklahoma and Iowa. 
As tracked by Bloomberg New Energy Finance, other boosts to wind's economics since 2010 were falling equipment prices and increasing average capacity factors of turbines. Together, these two trends resulted in a more than 21 percent fall in the cost of electricity for a typical U.S. wind project in the last three years.
One example of an effective 2012 wind project can be found in Montana, where plentiful wind, good planning and tight collaboration have contributed to the success of NorthWestern Energy's first large-scale wind farm, the 40 MW Spion Kop Wind Project near the town of Geyser.
The U.S. wind industry now totals 45,100 turbines and 60,007 MW of cumulative wind capacity. More than 35 percent of all new generating capacity was added over the past five years, second only to natural gas, and more than nuclear and coal combined. Wind energy also became the No. 1 source of new U.S. electricity generating capacity for the first time in 2012, providing some 42 percent of all new generating capacity.
One example of an effective 2012 wind project can be found in Montana, where plentiful wind, good planning and tight collaboration have contributed to the success of NorthWestern Energy's first large-scale wind farm, the 40 MW Spion Kop Wind Project near the town of Geyser.
"As a company, we're very supportive of renewable energy and had a very good year in 2012," says Rick Edwards, director of key accounts and economic development, NorthWestern Energy. "We have quite a bit of wind in our portfolio now, both in terms of contracted wind resources as well as owned ones like Spion Kop, which went commercial last December."
Built by Colorado-based Compass Wind, the $86.1 million project features 25 wind turbines supplied by General Electric. In addition to supporting long-term rate stability, Spion Kop will also enable NorthWestern Energy to meet its 15 percent renewable portfolio standards obligation by 2015. The economic benefits to the surrounding community include approximately $8 million that was spent on Montana services during construction and an additional $566,000 in property taxes and fees to be generated locally during the wind farm's first year of operation.
"Compass was great to work with and helped make the project very successful," adds Jim Williams Jr., project manager, Montana production, NorthWestern Energy. "Thanks to significant costs savings during construction, we came in under budget and are now enjoying healthy power production which we're very happy with."
On a national scale, Texas, Oklahoma, Kansas, Nebraska, Louisiana, Arkansas, New Mexico and Missouri form a wind corridor with the potential to serve as a "central nervous system" of electricity generation to provide power to the rest of the nation.
"The uncertainty surrounding the extension of the PTC did have a recent negative impact on manufacturers and workers, while affecting the market for turbines, whose prices are now higher than they were previously," says Jeff Clark, executive director, The Wind Coalition Inc. "However, wind energy overall had a tremendous year in 2012, driven in large part by the big boom in construction and new project development across the region. In fact, last year was the first time that wind installations exceeded natural gas installations and edged out other types of generation here."
Although Clark doesn't foresee a return to last year's pace of development for several quarters, he believes that the development and growth of the wind industry will continue in the region, thanks to fundamental, long-term advantages and community benefits that wind offers.
Wind power has already reached an 8.5 percent share of the market in Texas. In states like Kansas and Oklahoma, installed capacity has grown significantly in recent years, and provides both states another commodity they can export just like ground crops and the energy resources found underground. So keeping tax and regulatory policies in place that provide incentives for the development of wind energy is not only a good long-term investment, but a quick way to revitalize rural economies, suggests Clark.
"The other phenomenon we're seeing across this region is the growing acceptance that wind and natural gas can work together in a very complementary fashion," he says. "Wind is a hedge against the volatility of natural gas prices, and gas is complementary to the variability of the wind. Together they can make very low-cost electricity which can benefit some of the manufacturing that's coming back to this country."
To overcome the difficulty of connecting to markets where wind power can be sold, Clark points to the ongoing effort around building out CREZ (Competitive Renewable Energy Zone) transmission projects to be constructed by utilities in the region. The project will eventually transmit 18,456 MW of wind power from West Texas and the Panhandle to highly-populated metropolitan areas of the state, by early 2014.
Over in western Michigan, wind OEMs can tap into a dense cluster of design and manufacturing firms focused on making high-quality turbine components. Equidistant between Detroit and Chicago, the region's supply chain expertise in component design, engineering, manufacturing, automation and assembly has made it an increasingly popular location for alternative energy investment.
In addition to several hundred thousand highly-skilled engineers, designers, logistics specialists and other technical professions, the region offers a transportation infrastructure that offers same-day delivery to Minneapolis, Toronto, Memphis and other major hubs.
"We have a strong manufacturing history, supply chain relationships with industry OEMs and an experienced workforce which put us at a distinct advantage," says Rick Chapla, vice president, business development, The Right Place Inc. "Thanks to our design competencies combined with our ability to competitively manufacture products at utility scale and move them by water, rail or road, we're positioning ourselves to be even a bigger player in the alternative and renewable energy industries."
Supporting the cluster is the Michigan Alternative and Renewable Energy Center (MAREC), specializing in the advancement and development of alternative and renewable energy technology, while acting as an incubating center for new energy companies.
Other available resources include the Michigan Business Development Program, the West Michigan Wind Manufacturers Network, Next Energy Catalyst — which supports the commercialization of energy technologies and Kalamazoo Valley Community College Wind Turbine Technician Academy, a certified training center for technicians who work on utility-sized turbines.
"As recently as five years ago, only 25 percent of our turbines and components were manufactured in the United States. We've since seen a renaissance in manufacturing where today, up to 70 percent of the wind turbines in use have domestic components." – Jeff Clark, The Wind Coalition Inc.
Looking Ahead
Not knowing whether the PTC would be extended for 2013, developers and investors did not place orders for massive turbine machinery after the middle of 2012. As a result, it will take at least two or three quarters for manufacturers to take orders and catch up. Yet, although competition for manufacturing capacity and inventories may threaten the wind sector's cost advances of recent years, the market outlook still remains upbeat over the long-term.
"Although we still face challenges on the transmission side in getting our energy to distant markets, Montana has tremendous wind resources and is already a net exporter of energy," Edwards says. "As we move back into being a vertically-integrated utility, we believe there's a great opportunity for further wind development so we're looking forward to the rest of 2013."
"As recently as five years ago, only 25 percent of our turbines and components were manufactured in the United States. We've since seen a renaissance in manufacturing where today, up to 70 percent of the wind turbines in use have domestic components," Clark says. "I also think that the power and pricing that we provide is going to help other manufacturers grow in the U.S. Uncertainty can be the killer of any business, but with the wind resources that we have and the transmission capacity that's becoming available, I think we can expect to have a great future in the long term."
Illustration by xedos4 at Free Digital Photos.net