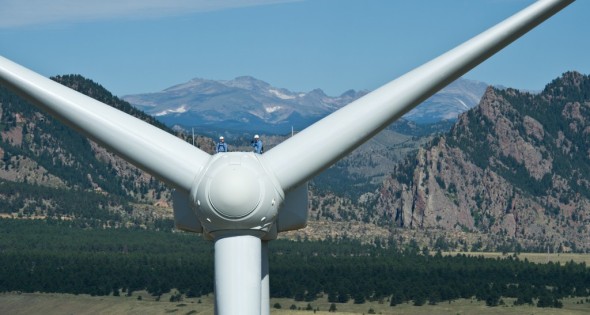 Dynamic Wind Industry Expects Uncertainties
28 Aug, 2015
Caption: Aerial view of the National Wind Technology Center at the Renewable Energy Lab in Boulder, Colo. Photo: energy.gov/ and Dennis Schroeder/NREL)
By Rachel Duran
Will the failure to renew the PTC halt wind energy's momentum?
Wind energy installments for the first half of 2015 equal more than 1,994 MW; the second quarter alone saw 1,161 MW of newly installed wind turbines. The numbers were part of the American Wind Energy Association's (AWEA) 2015 second quarter market report, which was released in July.
AWEA found the quarter to be the strongest second quarter showing for wind energy installations on record. The industry continues to make headlines with announcements of new wind farm developments, long-term power purchase agreements (PPAs), and in some cases, direct investments in wind farms by corporations.
But threats to this vibrancy lurk just around the corner.
The industry's growth is attributed to trends such as technological advancements that range from taller towers to increased blade lengths, which open up new regions of the United States, such as the Southeast, for development. Another contributor is the continuing trend of corporate purchasers and other nonutility purchasers, such as governments and colleges, of wind energy. For example, in July, officials in Washington, D.C., announced a PPA with Iberdrola Renewables to supply 35 percent of the government's electricity needs with wind power.
The district will purchase 46 MW from a wind farm in Pennsylvania — the entire output of the wind farm.
"While we are excited to see momentum on installations and to see near record numbers were under construction, we still have a certain amount of uncertainty around federal tax policy, which does cloud the outlook for new growth in the industry," says Hannah Hunt, research analyst, AWEA, which is an industry advocate. "It could result in the industry being forced off another cliff that happened similar to the end of 2012."
Hunt is referring to the federal Production Tax Credit (PTC), which expired at the end of 2014. On July 21, the U.S. Senate Finance Committee voted to extend several tax policies, including the PTC and the Investment Tax Credit (ITC), which support investments in renewables. The legislation now moves to the full Senate and the U.S. House of Representatives. "We hope for an extension as soon as possible for the longest term possible so we can continue to build on this momentum we have now," Hunt says.
For context, there was a 92 percent drop in installations of wind farms in 2013, the result of the expiration of the PTC at the end of 2012. Hunt says the situation caused a loss of between $2 billion and $3 billion in private investment and 30,000 jobs that year. In regard to the current lapse, "Companies that want to Invest in domestic manufacturing capabilities or project developers looking to increase their project queue … without any policy stability, they are having a hard time rationalizing those investments and bringing them into the U.S.," says John Hensley, manager of industry data and analysis, AWEA.
"Even without the PTC we believe wind will continue to grow on our system as an important energy resource," says Frank Prager, vice president policy and federal affairs, Xcel Energy. Based in Minneapolis, Minnesota, the company is a provider of electricity and natural gas.
Xcel Energy has been the country's No. 1 provider of wind energy for 11 years. "We have tried to take advantage of the PTC while it is available because it has been a great value to our customers in bringing down the price," Prager says.
Xcel Energy has many partners, including wind energy developers. "We have a lot of PPA agreements," he says. "I think as we look at the future we see a lot of opportunities for both wind developers and the company as wind continues to grow and be a bigger part of our system."
Xcel Energy forecasts more than 7,000 MW of wind energy on its system by the end of 2016. There are 5,735 MW currently on the system, and 1,900 MW are in process. The company committed to nine new projects in 2013. They include a 659 MW project that went online in 2014 in Limon, Colorado. There are also 1,000 MW underway in the second half of 2015 in Colorado, North Dakota and Minnesota, Prager says. Another project will go online in Minnesota in 2016.
"We are located in a part of the country that has tremendous wind energy resources, and we have been able to take advantage of that to provide wind to our customers in a way that works for them," Prager says.
Riding the Wave
According to a recent report by McKinsey, the United States is on course to install 12 gigawatts of renewable capacity in 2015, more than all conventional sources combined. (One gigawatt powers 700,000 American homes.) The report says wind capacity grew by 8.1 percent in 2014. Based on its analysis of projects in the works, the U.S. Energy Information Administration estimates capacity will grow another 13.1 percent this year, and 10.9 percent in 2016.
Hunt says there are more than 13,600 MW of wind energy under construction the United States, including the emerging Southeastern market. In May, Gulf Power signed Florida's first PPA, buying power from a wind farm in Oklahoma. Also, the Arkansas Electric Cooperative Corp. signed a PPA in the second quarter.
In July, an announcement was made in regard to the first utility-scale wind farm for North Carolina, which will also be the largest in the Southeast, Hunt says. The Elizabeth City region is the location for the announced project, which is known as Amazon Wind Farm U.S. East. Amazon Web Services will purchase power from Iberdrola Renewables at Desert Wind. The proposal calls for 300 MW at full capacity; the first phase will be 208 MW.
Once online, the North Carolina project will bring the total number of states with utility-scale wind projects to 40, according to AWEA research. Advances in the development of wind energy turbines, such as taller wind towers and longer blades, provide higher quality wind resources.
"The trends we see really highlight the growing interest of major U.S. companies and other nonutility groups to invest in wind energy, which is expanding the market for low cost wind energy," Hunt says. "With the support of policies such as the PTC, wind energy has matured into this mainstream energy source that is being invested in by companies and other nonutility purchasers."
"One of the points a lot of these companies tend to play up is corporate sustainability goals," Hensley says. "Companies like Google and Apple have corporate sustainability goals they want to meet in order to meet the demands of customers. Wind energy provides a clean and low cost option for meeting those goals."
In the second quarter, a utility-scale project with a corporate purchaser was IKEA for a 98 MW wind farm in Illinois. Mars Inc. will get power from a 211 MW wind farm in Texas. Facebook will purchase 200 MW from a wind energy plant to power its new data center in Fort Worth, Texas. Also in Texas, in July, Hewlett-Packard announced it will purchase 112 MW from a planned SunEdison wind farm project in the state to power its data centers.

It isn't just tech firms making these investments. Dow Chemical Co.'s Freeport, Texas, site has entered a PPA with a new wind farm in Texas. The manufacturing facility will purchase 200 MW annually. Press reports say Dow is the first company in the country to power a manufacturing facility with this scale of renewable energy.
Corporations and other nonutility groups have the advantage of flexible options when investing in wind energy generation. They can enter PPAs with wind farms for onsite or offsite generation, or they can choose to directly invest in projects or pursue direct ownership of wind projects.
Looking Ahead
"Several years ago, we did not believe we would get to the levels of wind penetration that we have now," Prager says. "We have found effective ways to forecast wind, making sure we have cost effective gas nominations for the next day's operation for our gas-fired plants. They need to be used to balance the wind [when it doesn't blow]."
Prager says the best way to think about wind energy is that it is a system resource which is best brought to the customers given the amount of transmission that has to go with it, the siting and the fact that you need other system resources to balance when the wind is not blowing. One asset is a pump storage hydro facility in Colorado, called Cabin Creek Generating Station, which is part of the overall system balancing effort. "It really is a resource that is best provided by a utility system," he says.
The wind energy sector continues to gain momentum, and in order to maintain this traction, it will require stable federal policies. "We are focused on Congress extending both the PTC and the ITC this year as soon as possible and for as long as possible," Hunt says. "We have opportunities to educate Congress right now about the benefits of wind power that comes from the domestic wind supply chain that supports 73,000 jobs."
For more information about the organizations featured in this article, visit:
American Wind Energy Association
Xcel Energy