A Huge Industry Begins Reworking Itself
03 Jul, 2021
The food and beverage processing industry is huge in this country—one of the stronger industries in many U.S. states. It is led by California, with 3,679 food manufacturing companies as of 2018; followed by New York with 2,034 companies; and Texas, with 1,888 companies.
The sector slowed for a brief period in the early part of this century, but is showing robust growth today. Last year broke records again for the number of food and drink business development transactions around the world after a record 2019, with 831 registered on the Zenith Global mergers and acquisitions database, or an average of 16 each week.
In many cases, changing processing plant technologies and the emergence of new-scale economies have helped accelerate this consolidation. Methods of vertical coordination are also changing, with a shift away from the use of spot markets toward greater reliance on contracting for some grain and livestock processing, according to the United States Department of Agriculture (USDA) Economic Research Service (ERS).
The USDA ERS also reports that this growing concentration in several processing industries raises questions about market power in the sale of agricultural products, and about the effects of concentration on innovation and productive efficiency.
High and increasing levels of concentration in some sectors of the food industry, coupled with changing methods of vertical coordination between producers and processors, have led to concerns about reduced competition—a sort of economic thinning.
To help offset those thinning effects of fewer purchases with lower trade volume, the USDA recommends more effective use of data, improving data collection and dissemination of information on prices and price mechanisms, quantities transacted, and the size and number of market participants.
But that bump in the road of food and beverage processing hasn't slowed down the pace of development across the country.
Business Expansion Picks up Steam
One state enjoying a surge in food and processing industry growth is Virginia, where more than 150 food and beverage processing companies chose to locate or expand over the last decade, creating over 7,300 new jobs and making capital investments totaling $2.3 billion.
According to the Virginia Economic Development Partnership (VEDP), Virginia's food and beverage processing industry employs more than 42,000 people; accounts for over 17 percent of Virginia's total manufacturing employment; and is the state's second-largest manufacturing sector.
Food and beverage processors like to locate near major seaports, which is part of why they choose states like California and Texas, along with other states on the east coast such as Virginia.
For example, in 2020, Acesur USA established its first U.S. production facility for blending, bottling, and packaging its edible oil blends in Virginia. The facility is located in Suffolk, Virginia with direct access to the Port of Virginia, enabling the import and export of over 630 TEUs (twenty-foot equivalent cargo units) importing and exporting through the port annually.
But there's more to Virginia's food and beverage processing story. By 2024, The Port of Virginia will complete $1.5 billion in modernization and expansion projects, including terminal improvements, dredging, and technology.
The port's completion of USDA's Southeast In-Transit Cold Treatment Program will allow Virginia to accept a broad range of imported perishable cargo, with a focus on supporting Virginia's food and beverage industry. Cold treatment is a process of subjecting fruits and vegetables to cold temperature for a prescribed amount of time to eliminate plant pests.
"The port is a big player in our food and beverage industry," Lindsay Hurt, managing director, Products Service Sectors-Business Development for the VEDP, says. "The port has a  history with the coffee industry, and it has certifications to handle fruits that would be perishable and would have a short shelf life. Timing and all of those things are important as you import them into the U.S."
The food and beverage industry has companies in all corners of the state, Hurt says. For example, food and beverage companies in the western part of the state have grown because of relationships with farmers and the use of technology for growing and harvesting; and food and beverage companies in central Virginia do well in the processing and packaging side of the industry.
She says that customers are demanding more sustainable packaging, which has created opportunities for companies such as Crown Holdings, Inc., in Henry County, building a new 355,000 square foot state of the art aluminum can manufacturing facility. The facility will use a sustainable production  process to manufacture recyclable aluminum beverage cans. "There is a lot of activity around recycling, and with the demand for those products from a lot of the consumers," Hurt says. "As these companies are growing, as they do their expansion, they are shifting a lot of that production to more sustainable and recyclable materials within their footprint."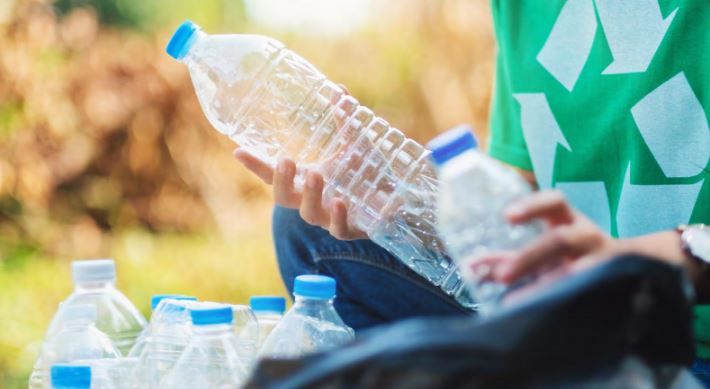 Sustainability a key
Sustainability is a big focus of food and beverage processors—managing sustainability in both their manufacturing operations and their packaging design and construction.
One example is Keurig-Dr. Pepper, with annual revenues of $11 billion on sales of more than 125 different brands, which is on track to meet commitments of making 100 percent of its packaging recyclable or compostable, and incorporating 30 percent post-consumer recycled content (PCR) in its packaging by 2025.
The company also recently expanded the availability of recyclable Keurig K-Cup pods in the U.S., remaining on track to transition all pods to recyclable polypropylene by the end of this year; and incorporating post-consumer recycled polyethylene terephthalate (rPET) in beverage bottles, with plans to begin transitioning the company's water portfolio and Snapple beverages to 100 percent rPET bottles in the first half of 2021.
Another example is the Coca-Cola company, which aims to use 50 percent recycled polyethylene terephthalate (PET) in its plastic packaging by 2030. Coca-Cola is focusing on the entire packaging lifecycle—from manufacturing of bottles and cans to recycling.
PET was first synthesized in the U.S. during the mid-1940s by DuPont chemists. Approximately 1.5 billion pounds of used PET bottles and containers are recovered in the U.S. each year for recycling, making it the most recycled plastic in America.
On average, a U.S. household uses 45 pounds of PET plastic bottles and jars in a year. If all of them were recycled, it would yield enough recycled PET fiber to make 12 dozen men's T-shirts, or enough carpet for a 12-by-15 foot room, according to the PET Resin Association, an industry trade association.
Conagra Brands, manufacturers of over 100 brands, is also stepping up its sustainability efforts, announcing that the company will be making 100 percent of their current plastic packaging renewable, recyclable or compostable by 2025.
In the summer of 2020, Conagra launched new Hungry-Man Double Meat Bowls and P.F. Chang's Ramen single-serve meals in serving bowls made from plant-based fibers.
Over the next few years, the company will work to avoid the use of an additional 33 million pounds of plastic through further development of plant-based packaging options and other packaging innovations.
Getting smarter for consumers
Food and beverage products are also leaning more into using social media. Promoting new products using social media platforms was practically nonexistent before 2012. In 2019, products with social media logos increased 13 percent over 2018 and ranked eighth among all new product claims, accounting for 4.4 percent of new product launches, according to the USDA ERS.
Food companies are now putting quick response (QR) codes on products so that consumers can access the company website or online services through their smart phones. Companies may use QR codes to facilitate consumer interaction with products by linking the code to product information, such as the presence of GMOs.
This is part of a movement in food and beverage packaging called connected packaging, according to Signals, an industry data analytics company. Producers can create products that make consumers feel connected to a brand. At the same time, producers can improve their supply chains, ensure greater quality control during the production process, and boost product visibility in the market.
There are currently three types of connected packaging on the market: active, interactive and intelligent.
The active category is designed to help producers build a relationship with consumers by helping them interact with the products they buy. This could mean providing more information on the product itself, or giving people access to promotions and loyalty programs.
Interactive packaging focuses on more technologically advanced offerings. For example, take counterfeit foods and beverages. By adding a tamper-proof QR code to packaging, producers can ensure only the right products enter the market—and build the type of consumer loyalty money can't buy.
The last category—intelligent packaging—is perhaps the most exclusive. Making use of near field communications (NFC, which is a method for two devices close to each other to communicate to each other for payment), or radio frequency identification (RFID) technology, this packaging acts as a two-way radio, sending information directly to consumers while collecting data for producers.
Connected packaging is more than just a passing trend, Signals reports, calling it the future of the food and beverage industry. With such potential, it should come as no surprise the market is expected to hit $46.25 billion by 2025 – rising approximately 4% from 2019.