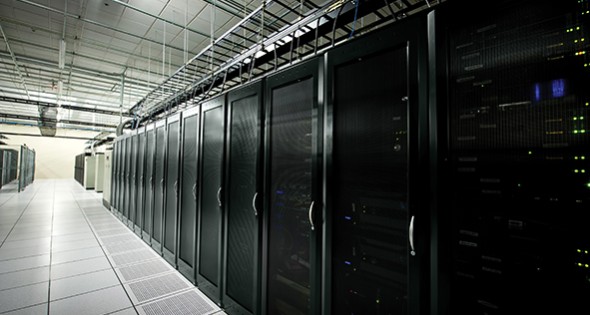 Data Centers Connect with Economic Developers
15 Aug, 2017
Data analytics continue to drive the need for better spaces and places for digital storage and use.
Data centers are being created or getting expanded because the internet-of-things needs to be supported by an increasingly dense pile of data analytics.
This country needs more data center services for streaming video, Facebook and Google searches, cyber security, research and development of all kinds – all of which have increased substantially over the last few years. Everything is going to the cloud, which is actually a data center that stores and manages billions of bits of data every second.
The physical buildings that store data on huge computers working at server farms create the need for upgrades or modernization of infrastructure – highways, roads, fiber, water and electricity.
Building a data center can be a huge shot in the arm to a community as these centers can be a sprawling complex taking the work of a local army of construction workers to build. The drawback? Once built, all they need is a small workforce of highly educated workers to maintain the machinery that makes the data magic happen.
How it happens
According to a report by Osstelco, a global telecom industry research and consultancy firm, states with formally adopted data centers incentive legislation are in the minority. But there is an increase in the number of U.S. communities taking an interest in the direct and indirect benefits a new data center project can potentially bring to an area.
Specifically, there has been a significant rise in the number of states and localities devoting specific personnel, tools and resources designed to attract data centers to their respective geographies.
Over the past couple of years, several states such as Alabama, Arkansas, Kansas and Nebraska have learned that directly marketing to the data center community can be positive for the state's bottom line.
For example, Mississippi recently added data center specific incentives by providing a state sales tax exemption for computing equipment and software. Additionally, Missouri House Bill 564 was introduced in early 2011 that would further strengthen their existing incentive offerings by adding a sales and use tax exemption for machinery, equipment and computers.
The Osstelco report also found that, at the local level, cities such as Kansas City, Oklahoma City and Omaha are offering infrastructure grants, property tax abatements or exemptions, and have partnerships in place with electric utility providers to offer reduced rates directly aimed at data centers and related targeted businesses.
Where it's going
Data centers is a technology cluster on the move. Mergers and acquisitions in the data center sector surged in 2016. A report by Jones Lang LaSalle (JLL), a real estate consultancy and investment firm, indicated that there will be faster movement to the cloud in the industry's hub markets, from Silicon Valley and northern Virginia to London and Tokyo.
Top cloud providers are expected to pull in a collective $120 billion by 2020. Already, some major cloud providers are anticipating they will need to triple infrastructure by 2020.
The report from JLL, "Data Center Outlook – Strong demand, smart growth – North America 2016," showed that data center stocks surged in the first half of 2016, gaining an
average of 19 percent in the first quarter, then an average of 50 percent in the second quarter.
As the most mature market, North America remains most competitive, representing approximately 44 percent of the global data center market.
The report also found that, with so much rapid evolution, everyone in the market is taking a fresh look at location decisions, rising to the challenge of a changing climate and leveraging new technologies to better capture the market opportunity.
Meanwhile in New York City, microgrids, which are a localized grouping of electrical sources and loads, are becoming a topic of greater interest within data center leadership circles. The pairing of data centers and microgrids is a natural evolution, considering the industry's dependence on quality, reliable power that can endure even when the central grid is unavailable or simply congested.
According to the JLL report, data center developers are no longer building for massive redundancies as they become more confident in their own forecasting of needs for space and power. And as more sophisticated analytics tools improve usage planning, data center users are
becoming less likely to over invest on more data server space – essentially using data analytics to come to these new conclusions.
The growing demand
These new tactics are pushing demand for data center space through the roof in many North American markets, causing demand to spread out across primary as well as secondary markets.
Harold Gutzwiller, manager of key accounts and economic development for Hoosier Energy, says that they have a keen interest in data centers coming to Indiana. One example is the Indiana Data Center in Fort Wayne, serving that community and the northeast part of the state. "Data centers is an interest and focus for us," Gutzwiller says. "We have a number of studies done by consultants to identify our competitive position for data centers."
One of the state's advantages is that they have a backbone of internet providers coming through the state, Gutzwiller says, where 73 percent of the state's citizens have access to broadband of 100 megabits per second, according to Broadband Now. The tax climate is relatively good as well, and energy costs are reasonable.
What these centers need to stay focused on is what is important to the customer. "The end customer is interested in reliability and redundancy of electric power," Gutzwiller says. "The other thing is renewables, what the power company has and what mix of renewables they are using. All of those things come into play, because different customers have different wants and needs. It's not necessarily that one size fits all."
Geography & tax incentives
It's a different story in Montana. Rick Edwards, director of key accounts and customer education for Northwestern Energy, says that they have had some success over the last few years with data centers, and that they are now seeing more interest from companies wanting to come to Montana.
NorthWestern Energy provides electricity and natural gas in the upper Midwest and Northwest, serving approximately 701,000 customers in Montana, South Dakota and Nebraska.
Edwards says that they are seeing a growing interest from mid-tier data centers to locate in the state.
Already there is a data center in Bonner, Montana, with more to come. "We are actually meeting with a company next week," Edwards says.
One of the attractions for the data centers looking at the state is the reduction in cooling costs. "The Bonner data center has open air cooling," Edwards says. "And that has worked out pretty well for them and helped lower their energy costs."
One of the biggest reasons for data centers to come to the state is because of the low tax rates for these businesses.
In the Montana legislative session that just ended, lawmakers signed what was essentially a data center incentive bill. They ended up with a .9 percent tax rate for data centers. "That is an 85 percent tax reduction from what it was previously," Edwards says.
Another bill from the session allows local governments to abate up to 75 percent of the tax bill. "So from a tax perspective, that has always been one of the concerns for data centers," Edwards says. "They always want to know, with all of the equipment, if they would be forced to pay an expensive property tax and business tax and those sorts of things," Edwards says. "So we brought forward some bills to hopefully remedy that concern."
The issue of employment – data centers typically don't need that many people working there because most operations are automated – is one that any state has to manage when bringing in data centers. "I see some real disparate views on that perspective," Edwards says. "Some people are very supportive of it because they see that there will be a lot of other economic developments that will come with these centers," he says. "While others say that, well, we are giving up a nice opportunity for increased taxes and things like that to a business that is not going to create a lot of jobs. So it's really a conundrum."
According to engineers at Intel, modern data centers are rapidly moving toward software-defined infrastructure (SDI) as the next-generation foundation for dynamic and agile IT operations.
Cloud architecture enabled by software-defined infrastructure provides a future-ready foundation that can deliver on-premises cloud applications, manage legacy workloads efficiently and scale to seamlessly integrate with hybrid clouds as needed.
Data centers are key to positioning any business to have access to and use predictive analytics in nearly every field of human endeavor today, making the world information more streamlined, more responsive, with more available and trusted results that change the way we do business and our expectations about when, where and how we use data.