Time To "Pivot, Stretch, And Adapt"
03 Jul, 2021
One of the global industries that has taken the biggest economic hit over the last year is the tourism industry. Tourism made up 10 percent of global GDP in 2019 and was worth almost $9 trillion, according to McKinsey and Company tourism report, making the sector nearly three times larger than agriculture.
That number dipped to $5 trillion in 2020.
Tourism spending is not likely to return to pre-crisis levels until 2024. "Our forecasts indicate that it will take four to seven years for tourism demand to return to 2019 levels," the report concluded.
But there are increasingly positive signs of recovery emerging now.
According to the Bureau of Labor Statistics, there are now 13,117,000 people employed in leisure and hospitality jobs this March, up from 8,691,000 in April 2020 when layoffs began in earnest.
According to the Washington Post, some large employers are signaling they plan to make do with fewer employees as they experiment with new business models that allow them to cut labor costs. "Due to the extraordinary levels of disruption, our industry experienced demand declines we've never seen before in our 101-year history," Hilton Worldwide Holdings, Inc. president and CEO Christopher Nassetta told investors during a meeting on February 17.
He went on to say that the positive momentum in demand that happened through the summer and early fall of 2020 was disrupted in November and December by rising COVID cases, tightening travel restrictions and hotel suspensions, particularly in Europe. "As we look to the year ahead, we remain optimistic that accelerating vaccine distribution will lead to easing government restrictions and unlock pent-up travel demand," Nassetta said in his speech. "We expect improving fundamentals heading into spring with essentially all system-wide rooms reopened by the end of the second quarter."
Conversations with large corporate customers, he said, indicates that there is "pent-up demand for business travel that should drive a recovery in corporate transient trends as the year progresses. The vast majority of our large corporate accounts agreed to extend 2020 negotiated rates into this year."
Despite the pandemic, he said, Hilton opened more than 400 hotels in 2020, or nearly 56,000 rooms, and achieved net unit growth of 5.1 percent. "We continue to see signs of optimism," Nassetta told investors. "I'm confident that there are brighter days ahead and that we are stronger, more resilient, and better positioned than ever before."
The reality still stings
The World Travel and Tourism Council (WTTC) spotlights the harsher reality of what has happened to the industry in an industry report, "To Recovery and Beyond." More than 121 million global travel and tourism jobs, and an estimated US $3.4 trillion in global GDP, could be lost as a result of COVID-19, according to WTTC.
The organization says that the industry needs to "re-imagine the future," following four trends: demand evolution, as traveler preferences and behaviors have shifted toward the familiar, predictable, and trusted; health and hygiene, as personal experiences, advice from experts, and concerns for distancing will guide consumer behavior in the short- to mid-term; innovation and digitization, as digital adoption and consumption are on the rise, with consumers now expecting contactless technologies, including biometrics among others, as a basic prerequisite for a safe and seamless travel experience; and finally, policy recommendations, where the consideration and implementation of diverse policies will be key to support the sector.
The recovery
The WTTC report also provided recommendations for going forward. Domestic tourism will be the first segment to recover, followed by short haul regional travel, then medium haul travel between regions and, finally, international travel.
To capitalize on the initial recovery, governments, tourism boards and tourism organizations should direct their early marketing and promotional reports to incentivize domestic and regional travel and inspire residents to explore nearby destinations and attractions. "Governments, tourism boards and organizations should also prepare and provide early marketing and promotional incentives to stimulate the earliest possible regrowth and recovery of travel and tourism," according to the report.
To activate demand, governments should offer early consumer incentives for travel spending, starting with domestic travelers and expanding regionally and internationally as quickly as possible.
"Consumer stimuli could include specialized insurance, subsidized holidays off from work, guarantees for medical care while traveling, as well direct cash or voucher subsidies for holidays." The report concludes that, while the road ahead may appear uncertain, "we anticipate that the challenges along the way can and will be converted into opportunities by the travel and tourism sector. The sector will pivot, stretch, and adapt and ultimately return stronger."
But.. the lingering fear…
Even when the pandemic subsides, there is a growing awareness that travelers may not be as willing to travel as they once were. A new study, "Too afraid to Travel? Development of a Pandemic (COVID-19) Anxiety Travel Scale (PATS)", describing a short and easy-to-use 5-item construct that measures the level of pandemic-induced anxiety, also examined that fear phenomenon. It is one of the first studies to examine tourism behavior and travel anxiety. That anxiety has been identified as "coronaphobia."
"The COVID-19 pandemic is one of the most impactful events of the century and has radically disrupted tourism markets and mobility on a global scale," the report stated. "Acknowledging that human mobility is inherently tied to health risks, tourism researchers are increasingly striving to understand the effects of pandemics on travel behavior. A growing body of empirical evidence demonstrates that pandemics have a severe and enduring influence on risk perceptions and related travel decisions to disease-struck regions."
The report also finds that 21st century consumer attitudes and risk perceptions toward international travel are "fraught with health concerns," and that "one can even argue that global travel patterns are undergoing a paradigm shift."
Carefree, adventurous and extroverted tourism practices, which characterized international travel in the late 20th century, are giving way to risk-aversive tendencies, according to the report.
"Consequently, people may be deterred from traveling, in order to minimize the risk of disease contraction, or compelled to search for technologically safe substitutes."
One of the authors of the report is Sebastian Zenker, professor in the Center for Tourism and Culture Management at the Copenhagen Business School, one of the largest business schools in Europe. "This (pandemic) has been a big game changer," he says. "But let's see the good things in it.'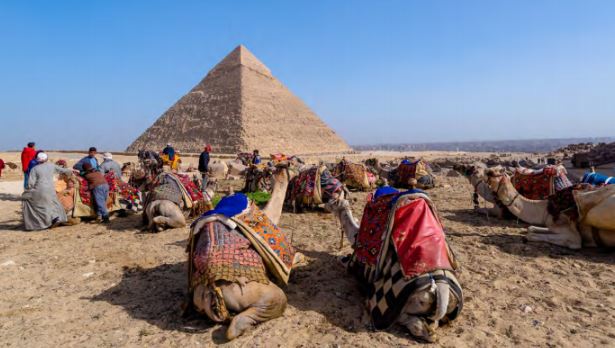 He says that, on the supply side of tourism, there is the hope that destination tourism groups will use the crisis to change how they operate and become more sustainable. "What has happened on the supply side is that destination tour groups are desperately searching for travelers," Zenker says. "But a lot of them have not changed for the good. So I am a little bit more realistic that this is not the game changer in terms of sustainable tourism. But it will be a pretty strong fight between companies and between destinations to say 'We are safe. Come here. Come here.'"
To win this fight, those companies will have to create some trust for traveler safety, he says. "For the traveler, there are two voices. One is the voice saying we want to go back to our earlier lives. Yes, there are some aspects that are good, like working from home. But for leisure, for traveling, for going out, I think we all desperately feel that we want back our old life. To have a short trip, or to go somewhere on a weekend, or to go to different country—that hasn't changed. But it has induced a stronger fear."
Zenker says he is doing another study in June on tourism and how the industry is coping, looking at the way people now think about tourism in the middle of the second year of the pandemic. "There is also a larger group of people that have a sort of fear inside. This fear is growing. That is something that this pandemic has fueled. It's the feeling that we also don't know these other people who are traveling into our country.
"People will probably choose, especially in the first years after the pandemic subsides, to go to places they perceive as more secure."
The places that were hit hard by the pandemic, like Brazil, will have a problem in creating that trust—and that will last for years. "The cruise industry will not recover like they were before," he says. "But there is a large majority of people that will keep the fear and will search for more secure options. That is something we will see going forward."
He says that, as a result of the pandemic, there has been 50 percent less business travel, and that will not change after the pandemic because companies have learned that reduction in travel actually works. Hotels and restaurants need to react to that new reality. "As a hospitality company, you have to spread your risks in different target groups, so you don't rely on one part of that travel, such as just the business traveler," Zenker says. "You have to make a business model so that with a small number of customers, you can survive. You can scale up if needed but also scale back down in case there is some kind of outbreak. Companies need to be flexible in scaling up and scaling down to survive."
He also believes that there will be a price war coming up among tourism companies.
There is a larger level of trust, he says, which is trust of the system on a governmental level. "Governments that had a pretty good crisis management reaction (to the pandemic) increased trust in that government," he says. "But in countries like the U.S., under the Trump administration, the trust level was going down, which means the likelihood of choosing the U.S as a tourist destination was going down back then. So now it's the thinking how can Biden re-establish the trust that the system of the U.S. works."
Side Note
We Think Business
The City of Ontario, located in Southern California, continues to create development opportunities and urban lifestyle districts that provide sustainable places to live, work and play. Just 35 miles east of downtown Los Angeles, the City of Ontario is ideally situated as the gateway to Southern California.
With 182,000 residents, Ontario is San Bernardino County's fourth-largest city – and growing. Ontario is also home to one of the hottest housing markets in the country, and that boom will only continue as master-planned communities are slated to add nearly 50,000 new homes in the next few decades.
At the center of the City is the Ontario International Airport, a full-service airport. UPS, FedEx and Amazon have hubs located at the Airport, making Ontario one of the top markets for outbound cargo shipments in the nation.
Ontario is centered on a transportation corridor that extends throughout Southern California and across the continental United States and sits 45 miles from the two largest ports in the country –the Ports of Los Angeles and Long Beach. Ontario provides strategic access to the ports through its interconnected freeway and rail systems. The Ontario Opportunity Zone is an ideal location for opportunity fund investments, utilizing privately sourced funds into eligible economic development and community reinvestment projects. Ontario also offers the advantage of being in the Foreign Trade Zone, which allows companies to reduce the costs associated with International Trade. The ability to increase international sales, realize greater importing and exporting opportunities, and succeed in global markets is often a deciding factor for location, relocation and expansion in Ontario.
The mass of freight transport – via both rail and road – run through the City of Ontario. Three major freeways crisscross the City and the surrounding areas: Interstate-15 from San Diego to Las Vegas and beyond; Interstate-10 from west coast to east coast; as well as State Route 60 for easy regional access.
Ontario's stable environment, lifestyle amenities, modern facilities, technical amenities, efficient infrastructure and leaders that continually work to improve the City's pro-business environment make Ontario the best place to develop your business. A talented workforce, reasonable lease rates, quality office and retail development, and over 110 million square feet of industrial, manufacturing and distribution space offers a large market for corporate headquarters, large professional firms and high technology companies.
To find out more information about the advantages of doing business in Ontario, California, visit www. ontariothinksbusiness.com or call 909.395.2005. You can also follow @OntarioEDA on social media.