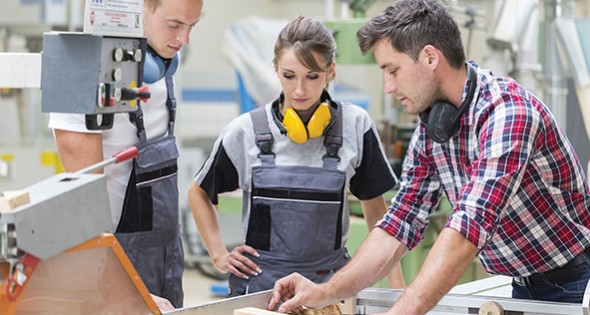 Workforce Development
12 Jan, 2018
The search for workers – whether in advanced manufacturing or cyber-security – is a matter of creating the right program with the right mix ready for the right job.
Workforce development has been a high priority for most business managers for the last ten years, especially in high tech manufacturing, with efforts to build a workforce pipeline generally reaching into the highest levels of both federal and state policy and initiative development.
For example, in this excerpt from a recent letter from Virginia Governor ,Terry McAuliffe, he talks about an estimated 500,000 new jobs in the state being created – and nearly a million jobs becoming available as the current workforce retires by 2022:
"Many of these jobs will be in scientific, technical, or healthcare careers, and will require postsecondary education or workforce credentials. Careers in these fields are readily accessible for those who are trained, credentialed, and ready to work. My administration is reimagining a workforce system that's more agile, responsive, and aligned to the needs of companies operating in a dynamic, global business environment. To be effective, employers must not only be engaged in that process, they must program the controls."
What McCauliffe is doing matches what many governors and legislatures are doing across the country – directly addressing the workforce issue head on. Some business owners in states where advanced manufacturing is king are beginning to call the issue a crisis.
But there are still thousands of people qualified and looking for work. It's just a matter of connecting them with the available jobs and the right training, or "upskilling," to do those jobs.
The Bureau of Labor Statistics recently reported that more than 2.2 million Americans between the ages of 16 and 24 are looking for jobs. The Bureau also reported that there were 7.6 million unemployed people in January, 2017. The number of long-term unemployed included 1.9 million people, and more than 5.8 million employed on a part time basis when they would have rather had a full time job employment.
According to a report from a congressional committee, "Budget Views and Estimates for Fiscal Year 2018 Committee on Education and the Workforce," released in March, 2017, industries critical to the U.S. economy have jobs to fill and not enough qualified applicants to fill them.
Nearly every state has enacted some form of legislation for workforce development. Virginia boasts of nine pieces of legislation centered around workforce development. California lawmakers enacted the "Creates the Strong Workforce Program" to expand industry-driven career and technical education and workforce development courses, programs, pathways and credentials, at community colleges. The bill appropriates $200 million for the program and directs the program to align with the state's workforce development plan and regional workforce plans.
Colorado lawmakers developed the "Creates the Industry Infrastructure Grant Program" administered by the Colorado Workforce Development Council. Grants will be awarded to industry associations to define industry competency standards and facilitate work-based learning. The bill creates a fund to pay for the program and appropriates $300,000 annually from the general fund for three years – a total of $900,000.
Not necessarily a 4-year college solution
Several early studies using national data showed that there are economic benefits for students earning associate degrees as well as shorter credentials from community college.
A report from the Brookings Institute in December, 2016, found that studies using national data sets were the first to suggest that there may be a benefit for students earning short, vocational credentials.
One of the first studies using state administrative data to examine the economic benefits of completing short, vocational credentials found that women completing associate degrees experience a return of $2,363, per quarter, on average while men have returns of $1,484, per quarter, on average, according to the report.
The largest returns are for students acquiring technical skills. They find that students earning short credentials in health, transportation, construction, manufacturing (mostly certificates) and security experience economic returns when they enter the labor market.
But where the workforce needs are greatest, community college courses may not fit the bill. The Brookings Report found that academic barriers may prevent many students from earning science, technology, engineering and math (STEM)-focused vocational credentials from public community colleges.
The curriculum of these programs often require college-level mathematics – not something that the majority of students who enter public community colleges have.
Finding funding
Getting funding can also be a challenge, but access to grants from various organizations have increased over the last ten years, such as the Achieving the Dream National Reform Network. The network includes over 220 colleges, more than 20 investors and more than 100 coaches and advisors – working throughout 39 states and the District of Columbia – to help more than four million community college students have a better chance of realizing greater economic opportunity and achieving their dreams.
The organization sponsors a number of initiatives, including the Working Students Success Network, a workforce strategy that supports 19 colleges in four states to help low-income students and their families achieve their academic and financial goals by providing "bundled" (integrated and sequenced) services in education and employment, income and work supports, and financial services and asset building.
But there are other, more traditional ways of increasing workforce training and availability.
For example, Alabama and South Carolina created a tax credit for employers that hire an apprentice. Colorado is providing financial incentives to schools that engage students in earning certificates or participate in apprenticeships for high demand industries.
The District of Columbia is evaluating youth apprenticeship programs and making recommendations to improve these programs. Maryland will create a program to offset the costs of hiring apprentices in the construction industry. Ohio is allowing employers of automotive and motor vehicle technicians to participate in the state's Incumbent Workforce Training Voucher Program. Rhode Island is reimbursing employers up to $5,000 annually for apprentice training costs.
Workforce academia/industry collaboration
One of the largest community college systems in the country, Northern Virginia Community College (NVCC), with over 75,000 students, offers 21 job-related certification programs and dozens of summer courses for workforce education in five campuses dotted across northern Virginia.
They also have a new, 55,000-square-foot Regional Center for Workforce Education and Training that includes a professional testing center proctoring hundreds of certification exams for business professionals, employee candidates and career switchers.
"We are focusing on building on the IT base, cyber in particular," says Steve Partridge, vice president of workforce development at NVCC. They already have one of the fast-growing cyber associate degrees in the country with 1,600 students currently in their program up from just 50 a few years ago, he says. "Two-thirds of all of the cyber security jobs advertised in the country happen in the D.C. market," he says. "This is both our opportunity and our curse because there are more jobs than there are people right now."
He says they are working with some people who have a bachelor degree and upskilling them with a series of credentials and in-classroom training skills like communication, something IT professionals sorely need. "Most jobs in IT now are not just about sitting in a cubicle crunching numbers all day," Partridge says. "It's about working with clients and interfacing with engineering departments and communicating what is happening with clients."
As in other parts of the country, apprenticeship programs are growing in popularity here. "We have a lot of people who start college and feel like it's not for them and leave, but then we don't have an alternative for them because we put all of our eggs into the college degree basket," he says. "So having an apprenticeship program is work-learn – it's a combination of classroom and on the job training. It's a good combination of the best of the academic world combined with the hands-on training that a lot of people like."
Apprenticeship programs are one of the big assets to workforce training provided by the 16-campus South Carolina Technical College System and their workforce program, Ready SC, which was created in 1961 and is one of the oldest workforce training programs in the country.
There are 26,000 apprenticeships in the state now, up from just 700 in 2007, according to Tim Hardee, president and executive director of the South Carolina Technical College System.
Here, advanced manufacturing is the focus. "We have been able to attract the Boeings, the BMWs, the Volvos, Mercedes, Samsung – all of those are heavily involved with advanced manufacturing," he says. "But once you have all of those companies here you have to plan not for just next year but the next decade."
At five million in population, the state is half the size of neighboring states Georgia and North Carolina, but they use that as an advantage to be able to coordinate workforce development and quickly solve issues, he says. "The vast majority of our training is for the hiring of 100 or less," Hardee says. "But you have to be ready to have a way of serving them and the larger companies like BMW or Volvo as well. So being nimble is an advantage in that."
He says they will continue to grow their apprenticeship programs for the next five to seven years. "It's a huge part moving forward," Hardee says. "At one time apprenticeships were viewed as an industrial program. But now we have apprenticeships in places like health care and other occupations. It's gone beyond the traditional trades type programs."
What the workforce of tomorrow means to industry
Keeping that workforce pipeline full of trained workers will always be a challenge. But it's currently not as bad as some have forecast.
The investment in automation that most manufacturers are making today is not displacing workers, and, in fact, is increasing the number of jobs available for workforce.
American manufacturing has more than doubled output in real terms since the Reagan era to over $1 trillion, according to an article about manufacturing in America in the Economist.
Output per hour rose by 47 percent between 2002 and 2015, outpacing Britain, France and Germany.
What's more, the United States is expected to be the most competitive manufacturing nation in the near future, moving China into the number two position by 2020, according to the 2016 "Global Manufacturing Competitiveness Index" report in 2016 from Deloitte.
Still, there are a few nagging concerns. Such as "finding competent instructors for IT faculty," Partridge says. "IT people have jobs in the private sector that pay a lot more than I can as an instructor." As the pipeline grows to include more students, the question becomes where will more instructors come from. Overall though the outlook is so much brighter than expected just a few shorts years ago.
For more information on companies that contributed to this article, please visit:
– Northern Virginia Community College nvcc.edu
– Northern Virginia Workforce Development   nvcc.edu/workforce/
– South Carolina Technical College System  sctechsystem.com