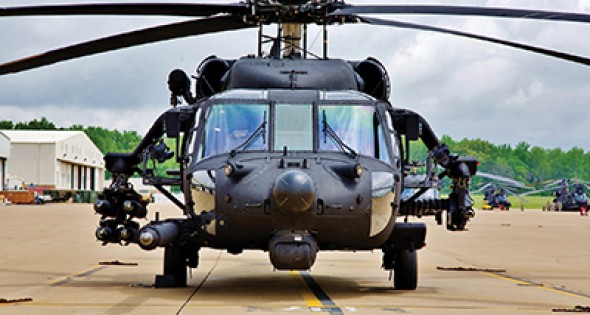 Aerospace Industry Taking Leaps and Bounds as it Rides New Tech Developments
19 Sep, 2016
Crossovers with other industries are now becoming commonplace as drivers of development
By David Hodes
Aerospace and aviation are two seemingly separate but somewhat equal industries that up until now developed along different pathways.
Today, as a result of high tech manufacturing, more data analytics and more commercial players in aerospace, these two industries have come together and blurred the lines of technological development, growth and economic influence.
"I think the main overarching movement in the space industry right now is that it is transitioning from a state sponsored business to a commercial activity," Dr. Martin Ross, senior project engineer with the Aerospace Corporation, says.
The Aerospace Corporation operates a federally funded research and development center for the United States Air Force, providing engineering and acquisition management support as well as objective technical analyses and assessments to the Air Force, other Department of Defense organizations and select civilian agencies supporting the nation's national security space enterprise.
"There are all of these structures and relationships in business and science and governments that are making these transitions," Ross says. "It is a very interesting period."
Government agencies like the Federal Aviation Agency are working to normalize the space business and make it more like the airline business now.
"The space transport business is becoming more like the airline business little by little," Ross says.
Ross says that the "holy grail" of aerospace development is reusability, which will make prices low enough in the space transport business that it will begin to grow quickly, with more launches to increase rapidly. The space race today is not one between nations, but between commercial entities competing for the space transport business.
"What we are doing now is trying to take the lid off of new development and new ideas and let things expand as they would naturally," Ross says.
Legacy reload
Florida has always been one of the main players in aerospace and aviation development, in part because of the many airfields in the state where aviation and aerospace research and development needs to happen, but also because of the workforce.
The Central Florida Aerospace Academy in Lakeland was created to promote the lifelong process of learning by challenging students with a rigorous curriculum and tailored hands-on experiences with special focus on science, technology, engineering and math. To date, the academy has a 100 percent graduation rate of students.
"They are really putting out high caliber students on the maintenance and pilot side," says David Petr, president and CEO of the Central Florida Development Council.
There is also a comprehensive aerospace program at Polk State College which has some aviation specific training. The college is developing an unmanned aerial system program as well. Polk offers degrees in pilot science, aerospace administration, aviation maintenance administration and aerospace sciences.
Even as aviation businesses continue to be big drivers of economic development in central Florida, more aerospace development has migrated to the east coast. Commercial aerospace companies like Jeff Bezo's Blue Origin have come to the state, building a 750,000 square foot rocket manufacturing facility at the Kennedy Space Center. Elon Musk's Space X has launch facilities at Cape Canaveral. Both developments signal a natural evolution of the commercial development of space.
"NASA is focusing more on getting people to Mars, which is the big lift," Sean Malott, vice president of the Central Florida Development Council, says. "Some of the smaller things – like research and development efforts that they need to invest in – are being farmed out to private companies."
Malott says that the area is going to continue to see some big developments in air cargo because central Florida is a good location when it comes to distribution, manufacturing and logistics. "That air cargo development is going to hit a real sweet spot as more things come in, more internet commerce is done and the need for more speed moving things faster to their destination," he says.
Building up in the south
In Knoxville, Bryan Daniels, president and CEO of the Blount Partnership, says that they are working with the new Cirrus Aircraft Vision Center for the delivery of all of their jets and aircraft. The Vision Center will be home to world class training, sales, delivery, maintenance, support, fixed base operations and more.
The nearby Oak Ridge National Lab offers more reasons for an aviation business to locate near Knoxville and to take advantage of developments coming out of the lab's materials science department.
"A lot of these aircraft are being made out of carbon fiber and chose our area to tap into that research," Daniels says. "Many of the tech companies located around Oak Ridge are also looking to do some collaborations on carbon fiber development and how to use that in aircraft development."
Technology like carbon fiber and other tech innovations are prevalent in aviation, even crossing over from aerospace and the aviation industry into the automotive industry. "When it comes to fuel efficiency, whether you are in space or in the air or on the ground, you have that technology and that needs to make the vehicle lighter and stronger," Daniels says.
Down deeper in the south, the aerospace industry is one of the best kept secrets, according to Leigh Billeaud, manager of business recruitment for One Acadiana in Lafyette. "We are known for energy in southern Louisiana," Billeaud says.
The Lafayette facility of Bell Helicopter will soon get the Bell 525 Relentless cabin subassembly operations, which are relocating from the Amarillo, Texas, facility, along with the Northrop Grumman MQ-8C Fire Scout unmanned aerial vehicle modification work, which is relocating from the Bell Helicopter facility in Ozark, Alabama.
Billeaud says that the relocation of the Bell unmanned vehicle to Lafayette was a great example of a public private partnership.
"They came here because they were impressed by our workforce," she says. "Pound for pound, our workforce just performs way higher than in other areas of the country."
Bell designed and built a $26 million, 82,300 square foot assembly facility adjacent to the Lafayette Regional Airport and employs 150.
"What is really cool was that, as that deal was developing, the local community college, South Louisiana Community College, as well as aviation partners in the region, started discussing how they can do training for the aviation industry."
Spreading out into the northwest corridor
In Idaho, there is an alliance of two aerospace organizations: the Idaho Aerospace Alliance and the Inland Northwest Aerospace Consortium. The two organizations recently put together the I-90 Aerospace Corridor Conference and Expo at the Coeur d'Alene Resort in Idaho to showcase the region's growing cluster of aerospace businesses.
The goal of the expo was to find more Tier 1 subcontractors in the Idaho/Washington area who could work on advanced manufacturing for aerospace companies.
"We are trying to get more companies into the whole inland northwest, eastern Washington and northern Idaho area who are suppliers that are not just commercial aviation but also private plane suppliers, along with all of the different segments of aerospace and aviation," says Gynii Gilliam, president of Jobs Plus Inc., the Coeur d'Alene-area economic development corporation. "And then we want to try to connect them with each other."
She says that in this emerging industry in the area, not everyone knows that a good high tech operation is nearby. Some are working with subcontractors that are five states away.
In her area are Aerocet in Priest River, makers of composite aircraft floats; and Tamarack Aerospace Group in Sandpoint making winglets for better aerodynamic performance.
"All of this aviation and aerospace needs information technology development, not just to build the system and gather the data but what to do with the data – where and how to store it, and how to protect it," she says.
In the past, the space industry had been concentrated in just a few areas of the country – central Florida and the Florida space coast including the Kennedy Center and Cape Canaveral; Houston; Los Angeles; and Washington State.
But now aerospace businesses are sprouting up all over the country, with certified launch sites like NASA's Wallops Island Flight Facility on the east coast of Virginia that is operated by the Goddard Space Flight Center in Maryland.
"We may not only see new manufacturing springing up for these new space commercial vehicles, but also see some launching sites spring up as well," Aerospace Corporation's Ross says.
Idaho's Gilliam says that the trend is for more aircraft to be built to meet an ever growing demand. "Baby boomers are all retiring but they are not just sitting on their rocking chairs," she says. "They travel, and their children also travel a lot. So that is just the direction of the world. Air travel is just part of life now."
Sidebar
Michigan flying high
There are more than 600 aerospace-related companies in Michigan, according to Tony Vernaci, vice president of Global Business Development for at the Michigan Economic Development Corporation. That includes such heavy hitters as GE Aviation in Grand Rapids, a world-leading provider of commercial, military and business and general aviation jet and turboprop engines and components as well as avionics, electrical power and mechanical systems for aircraft. GEA and its joint ventures just got $25 billion in new aviation business.
"We are just starting to show up on the international stage for our aerospace development," Vernaci says, adding that there is a growing interest in the convergence of the technology used for the automotive industry that also applies to aerospace.
He was asked to speak at this year's Farnborough International Air Show in England because organizers wanted to know how the aerospace industry could benefit from the automotive industry.
"When you look at what automotive had to go through starting in the mid-90s with the price initiatives from the big three, and how they sustained that, plus going through a deep recession, there is a lot of benefit there for the aerospace business which is going through the same thing today."
Michigan also has the oldest aeronautical engineering program in the U.S. at the University of Michigan in Ann Arbor, which is now more than 100 years old.
"There is a lot of history here with aerospace," Vernaci says. "It's just a good foundation for us. Most aviation companies will tell you that in their eyes there is no such thing as someone who is just an aerospace engineer. Engineering is engineering. That is what it is all about."
More details:
– aerospace.org
– blountpartnership.com
– cfdc.org
– oneacadiana.org
– michiganbusiness.org
– relocatetoidaho.org