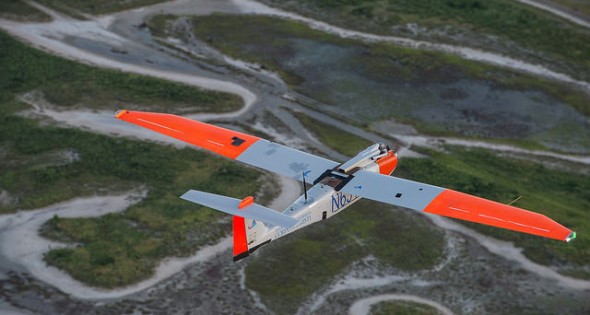 Commercial Drone Industry Poised for Liftoff
02 Oct, 2015
The Lone Star UAS Center's RS-16(right) flies over Port Mansfield, Texas during a mission in June of 2015. Photo: Texas A&M University – Corpus Christi/Marketing & Communications
By Mark Kleszczewski
The sky's the limit for emerging drone sector.
Though originally developed by the military decades ago, unmanned aircraft systems (UAS) and unmanned aerial vehicles (UAVs) — commonly referred to as "drones"— are now being applied to a myriad of uses in the commercial and civil aviation sectors.
Integrating commercial drones into the busiest, most complex airspace in the world is challenging for both the U.S. Federal Aviation Administration (FAA) and the aviation community. But as the FAA moves forward with formal testing and evaluation, industry leaders expect demand to accelerate further as new investment capital enters the space and the technology itself continues to evolve toward miniaturization and convergence with the "Internet of Things."
As a result, existing industry clusters are expanding and new ones are forming — many featuring regional partnerships and centers of research excellence — to support the sector's growth and take advantage of emerging opportunities.
Civilian Uses Proliferate
From inspecting pipelines and surveying bridges to filming movies and providing farmers with aerial views of their crops, UAS applications are virtually limitless and offer a superior way to see what needs to be seen, in less time and at less expense, notes Brian Wynne, president and CEO, Association for Unmanned Vehicle Systems International (AUVSI).
"Businesses across every industry sector have been waiting to use unmanned aircraft systems technology for years and are excited that commercial use is finally getting off the ground, as evidenced by the nearly 4,000 different users that have applied for exemptions from the FAA to fly their UAS commercially," Wynne says.
In 2014, the FAA announced it would consider granting exemptions for certain low-risk commercial UAS applications under Section 333 of the FAA Modernization and Reform Act of 2012. Since then, the agency has approved more than 800 petitions out of more than 2,200 requests so far.
AUVSI reports that the real estate industry received more than 150 of these first 500 exemptions, followed by agriculture, construction, infrastructure and utility inspection, and industries ranging from sports and mining to emergency management.
Though final federal rules are yet to be issued, the industry is capturing more and more attention from the tech and private sectors. Industry watchers report that some of the world's top industrial firms — including Qualcomm, Intel, GE and Boeing — have already invested in startups focused on drones, and the space is heating up as venture-capital money and international firms pile in.
Business Insider projects that the industry will be generating $2.3 billion in investments in the U.S. market by 2016, with the commercial and civilian drone market to grow at a compound annual growth rate of 19 percent by 2020, compared with 5 percent growth on the military side.
Though highly-fragmented, the industry is mainly concentrated in states with high-tech hubs and locations close to suppliers and highly-skilled labor. As a result, companies tend to cluster around aerospace industry hubs, observers IBISWorld.
That was a significant consideration for the FAA, which after a rigorous 10-month selection process, chose six UAS research and test site operators across the country. The sites are designed to collect operational data for the FAA and to assist UAS manufacturers and technology developers with research, development and commercialization of their products.
UAS Center of Excellence Lands In Mississippi
By Mark Kleszczewski

Although the Southwestern United States is a natural geographical fit for unmanned aerial systems (UAS) testing and evaluation, the U.S. Federal Aviation Administration (FAA) is also looking beyond its current test sites there to cultivate expertise from aerospace clusters in other parts of the country.

One of those areas is Mississippi, home to than 100 aerospace companies, including global unmanned aircraft systems leaders like Northrop Grumman Corp. in Moss Point and Stark Aerospace and Aurora Flight Sciences at Golden Triangle Regional Airport near Columbus.

Earlier this year, the FAA selected a Mississippi State University (MSU) team as the FAA's Center of Excellence for Unmanned Aircraft Systems (COE UAS), to focus on research, education and training in areas critical to the safe and successful integration of UAS into the nation's airspace.

The team brings together 15 of the nation's leading UAS and aviation universities that have a proven commitment to UAS R&D and the necessary resources to provide the matching contribution to the government's investment.

While research will take place at member universities throughout the United States and globally, the center's work will be concentrated at Stennis Space Center in Hancock County to take advantage of airspace over the Gulf of Mexico, and in the Mississippi Delta to conduct unmanned precision agriculture research around MSU's Raspet Flight Research Laboratory in Starkville.

"There's a great deal of work that still needs to be done, but there's much potential here for so many different classes of UAV systems," says Dr. David Shaw, vice president for research and economic development, MSU. "Mississippi has made the drone industry a priority area of investment for the state and wants it to be one of those places that automatically comes to mind when it comes it unmanned aircraft."

The FAA expects the COE to be fully operational and engaged in a robust research agenda by January 2016.

For more information, visit www.msstate.edu.
One of the country's main test sites and epicenters for drone research, systems innovation — and increasingly, production — is in Nevada where $3 million from the state's newly-created Knowledge Fund helped launch the Nevada Advanced Autonomous Systems Innovation Center (NAASIC).
"The vision for this initiative is to partner with the private sector to support innovation for advanced autonomous and manufacturing systems," said Manos Maragakis, dean, College of Engineering, University of Nevada-Reno, in a public statement. "This is a collaboration between our colleges and with the business community that will stimulate economic development."
The center will be based in downtown Reno at the new University of Nevada-Reno Innovation Center and will focus on relatively mature technologies with strong commercialization potential, notes Warren Rapp, business director, NAASIC.
"Our goal is to utilize the university's background with UAVs, robotics and advanced manufacturing and reach out to industry to link the two up," Rapp says. "Industry collaborations already underway include work with Drone America, Insitu, Flirtey and GloCal Venture Capital."
Companies can also benefit from the state's new tax abatement for aviation parts. The state also has a high concentration of UAS military experts from bases including Naval Air State Fallon, Creech Air Force Base and Nellis Air Force Base. Educational resources include the Desert Research Institute, Western Nevada College and the University of Nevada.

"We have an enormous cadre of UAV-trained pilots and experts with decades of technology experience –— we're working on leveraging that knowledge to see how Nevada can be the go-to location for application testing," says Thomas Wilczek, aerospace and defense industry specialist, Nevada Governor's Office of Economic Development. "What's also important is that we have a population that is accepting of what drones are and what they can do."
Such resources and expertise are a big factor in driving future growth for companies like Reno-based Drone America and niche specialists, says Steve "Endo" Endacott, CEO, Flight Test Concierges.
"There's a long track record here of folks making UAV systems work together without getting in each other's way, understanding which information to collect and knowing what to actually do with these assets," he says. "Access to more systems integration experience than probably anywhere else in the country is how we got into the drone testing business in Fallon."
In New Mexico, proven aerospace infrastructure throughout Mesilla Valley — in the form of NASA's White Sands Test Facility, New Mexico State University's (NMSU) Physical Science Laboratory, and Spaceport America — is also part of the tri-state "NMBorderplex" region, providing further access to talent, manufacturing and supply chain expertise.
"In terms of testing and evaluation, we already have some of the most unique and flexible airspace anywhere in the country that companies with payloads of any size can take advantage of," says Davin Lopez, president and CEO, Mesilla Valley (N.M.) Economic Development Alliance. "But we're also really focused on becoming an area where UAV companies, like ARCA Space Corp., which recently relocated here from Europe, will also want to include manufacturing and assembly operations, and potentially headquarters."
Formed through a partnership between the FAA and NMSU, Lopez continues, the Unmanned Aircraft Systems Flight Test Center (UAS FTC) also supports the integration of unmanned systems into the National Airspace System. The Las Cruces-based center is the hub for more than 15,000 square miles of coordinated airspace over mostly undeveloped government-owned land which features low aviation traffic volume.

UAS operators can access the airspace from several area airports including Las Cruces (LRU), where facilities include a 15,000-square-foot hangar dedicated exclusively to UAS operations, as well as Lordsburg (SLB), Grant County (SVC) and Socorro (ONM).
Over in Texas, placing a priority on innovation is yielding benefits, especially in applications related to precision agriculture, infrastructure and property inspections. The state is home to the Lone Star UAS Center of Excellence & Innovation (LSUASC) test site, founded at Texas A&M University-Corpus Christi in 2013.
"The market is promising in Texas and as we enter into 2016, UAS will continue to grow and expand in many different areas," says Jerry Hendrix, executive director, LSUASC. "Texas has a significant number of Section 333 holders and the LSUASC has already worked with both startups and well-established vendors, assisting them in learning how to use UAS to best complement their business case."
Offering wide-open airspace, advanced research capabilities, UAS operational experience, and an excellent aviation safety record, the test site includes 11 test ranges, covering more than 6,000 square miles of airspace from the Gulf of Mexico to the Big Bend region of Texas. It's also expanding operations at the Port Mansfield range, in proximity to the approved range south of Corpus Christi near Sarita, where the university regularly flies its 13-foot-wingspan RS-16.
Most prominent universities in Texas are involved in UAS research in one fashion or another, Hendrix says. Some are working in sensor or vehicle development (Texas A&M College Station), command link vulnerability studies (UT–Austin), new control apparatus like EEG-controlled or multi-variant UAS (Texas A&M Corpus Christi), while research institutions like Southwest Research Institute (SWRI) are using UAS to study material corrosion effects.
Preparing for Takeoff
During the next decade, although commercial UAS and UAVs need to solve several, unique safety concerns, new and evolving applications are certain to present significant economic opportunities for both the public and private sector, once regulations are fully clarified.
"I see an explosion on the horizon in the beneficial uses of the technology, especially for small UAS, which I think will be ubiquitous," says Nevada's Wilczek. "There will also be an increased effort to commence integration of large and mid-range platforms throughout the national airspace. This field is growing so fast that if you're not moving forward, you're moving backwards. So we're aggressively supporting the industry cluster and welcoming those who want to either expand or relocate here."
"Just as smartphones and tablets revolutionized our economy over the past decade, unmanned vehicle systems are transforming the way a number of industries operate, and are creating several new ones as well," Wynne notes.
His group estimates that in the first decade following the integration of UAS into the national airspace system, the UAS industry is expected to create 100,000 jobs and $82 billion in economic impact. "With the right regulatory environment, there's no question that these numbers could go even higher. However, the longer we take, the more our nation risks losing its innovation edge along with the billions of dollars of economic impact."
For complete details on the organizations featured in this article, visit:
AUVSI
Churchill (Nev.) Economic Development Authority
Lone Star UAS Center of Excellence and Innovation
Mesilla Valley (N.M.) Economic Development Alliance
Nevada Advanced Autonomous Systems Innovation Center
Nevada Governor's Office of Economic Development