Consolidation of Aerospace Forces Creating Huge Economic Development Clusters
24 Sep, 2019
There is a growing sense of excitement in the aerospace industry as more commercial aerospace companies are stepping up efforts to build a business that will establish a permanent base on the Moon and, perhaps as soon as five years from now, add services for the average person to go to space.
Those space tourism efforts got a boost as a result of the focus this year on the 50th anniversary of the Moon landing, and the growing importance of such commercial/NASA enterprises as SpaceX, which is on track to be the first American-based rocket service to deliver humans to the space station by next year.
For now, SpaceX is the industry workhorse. The Aerospace Corporation, a federally-funded research and development center based in El Segundo, California providing technical guidance for the aerospace industry, is overseeing the process of safely packing more than two dozen satellites into the nose cone of a giant SpaceX Falcon Heavy rocket, currently the most powerful rocket in the world that may be the first rocket to take humans to Mars.
It can generate about five million pounds of thrust through its cluster of three Falcon 9 rocket stages with 27 main engines – which SpaceX describes as "roughly the power of eighteen 747 aircraft." On February 6, 2018, SpaceX staged a successful test launch of the first Falcon Heavy and sent a Tesla Roadster and mannequin named Starman into space.
In late-June, on its third flight, the Falcon Heavy carried 25 satellites into orbit for the United States military, NASA, other government agencies, schools, and research institutions. Named STP-2, the mission involved one of the most diverse group of payloads ever launched into orbit on a single launch vehicle. The U.S. Air Force Research Laboratory's Demonstration and Science Experiments (DSX) was the last spacecraft to be released from STP-2.
Onboard is an instrument designed by JPL to measure spacecraft vibrations, and four NASA experiments that make up the Space Environment Testbeds (SET). SET will study how to better protect satellites from space radiation by analyzing the harsh environment of space near Earth and testing various strategies to mitigate the impacts. This information can be used to improve spacecraft design, engineering and operations in order to protect spacecraft from harmful radiation driven by the sun.
The Falcon Heavy delivered the STP-2 payloads into three different mission orbits before the rocket put itself into a "disposal orbit," a safe place in space where it isn't likely to encounter other satellites.
To the Moon to Stay
Plans to establish a base on the Moon beginning in 2024 have been announced by NASA, with a specific focus on making sure one of the first American astronauts going back to the Moon will be a woman. The permanent base will mine recently discovered ice at the Moon's pole to create both water and hydrogen energy, making the Moon sustainable for human life without needing a lifeline to the earth.
The Aerospace Corporation will be working with NASA on the project. The center of NASA's lunar plan is called the Gateway, which is a small space station that would orbit the Moon and serve as a staging platform for trips to the Moon's surface. Aerospace engineers are closely involved with the overall design as well as systems engineering and integration of the various modules that will comprise the Gateway.
Aerospace Corporation employees are part of the NASA Gateway Ground Test Team, which has been tasked with evaluating five habitation module mockups built by various contractors — Northrop Grumman, Boeing, Lockheed Martin, Sierra Nevada Corporation, and Bigelow Aerospace. A sixth firm, Nanoracks, has proposed a habitation concept.
Aerospace employees are participating as ground test experts, subject matter experts, and engineering test subjects to accomplish these evaluations. Astronauts and engineers will work in each of the mockups, performing activities that simulate three days of astronaut crewmembers living and working aboard the Gateway.
A Rush of Satellites going to low-Earth Orbit
Another advanced aerospace project comes from the Department of Homeland Security (DHS) called Polar Scout, a DHS Science and Technology Directorate (S&T) demonstration to evaluate technologies which could be leveraged to support the detection and reporting of search and rescue beacons in arctic regions. It launched from Vandenberg AFB in December, and successfully deployed two 6U CubeSats (named Kodiak and Yukon) into a polar orbit.
This joint project of DHS and the Coast Guard Research, Development, Test and Evaluation Program, aims to test the capabilities of small, inexpensive satellites to improve U.S. Coast Guard response to emergency distress signals.
The Polar Scout CubeSats will fly over the North Pole roughly every 100 minutes and will be able to detect emergency position indicating radio beacon (EPIRB) signals from stranded vessels for around 12 minutes during each orbit. Because the CubeSats will orbit the Earth 15 to 16 times a day, the Polar Scouts will provide more than three hours of arctic coverage daily.
The Aerospace Corporation reports that Polar Scout will demonstrate technologies that could be leveraged to expedite the reporting of search-and-rescue needs in remote and notoriously harsh arctic regions. The project will test the viability of using space-based sensors to assist with emergencies in a terrain further complicated by vast distances and lack of infrastructure.
DHS began test and evaluation of the CubeSats using emergency distress test beacons in the arctic in early 2019 and will continue through the summer.
Connecting the World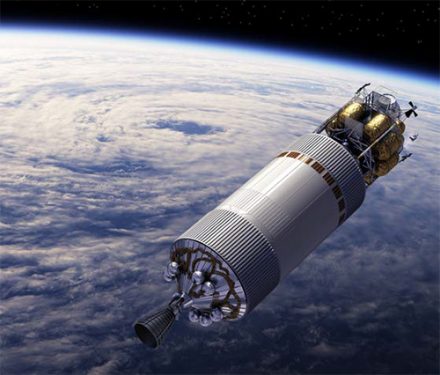 OneWeb, founded in 2012, recently partnered with Airbus, a large European aerospace company, to manufacture satellites to help bring internet connectivity to schools in remote areas. The new company, OneWeb Satellites, just broke ground on an $85 million, 105,500 square foot facility near Kennedy Space Center across the street from Jeff Bezos' Blue Origin facility.
The OneWeb facility has two production lines and expects to be able to manufacture two, 330 pound satellites per day at a cost of a million dollars or less each, with the goal of launching a constellation of up to 900 low earth-orbit satellites.
The new facility is considered a great catch for economic developers on Florida's space coast, which is still recovering from the loss of the space shuttle program. "It's really neat to be there and you turn around and see the massive Blue Origin facility that is undergoing an expansion," Sean Helton, vice president of communications for Enterprise Florida, says. Enterprise Florida is a partnership between Florida's business and government leaders and is the principal economic development organization for the state. "You look to the right and you can see the top of former shuttle space center. SpaceX is there, United Launch Alliance is there. Every direction, there is so much going on there right now," he says. Florida is home to over 2,100 aviation and aerospace companies.
Part of the attraction is the state's available workforce, estimated to be 85,000 engineers and former and active-duty military personnel, many of whom used to work in the space shuttle program. Aviation Week named The University of Central Florida (UCF) as the top supplier of graduates to the aerospace and defense industries for the fourth consecutive year. Over 550 students have graduated from UCF with aerospace engineering degrees over the last five years. "We have seen many suppliers to this industry come here, like Honeywell, to supply the launch and other space operations and satellite operations," Katie Hogan, manager of business development for Enterprise Florida, says. "We got Lockheed Martin and then we got Boeing here. I think the space initiative as a whole has grown, and we anticipate much more growth in the private industry over the next few years."
While Florida is making news with its recent announcements, the first home of aerospace, California, continues to grow. According to a study by the Los Angeles Economic Development Corporation, aerospace accounted for $61.6 billion in revenue in 2017, representing 9 percent of the global aerospace market and 21 percent of the U.S. industry. That's more than the agriculture and arts and entertainment industries combined in the state.
One example of what California has contributed to the industry is the Space and Missile Systems Center (SMC) at the Los Angeles Air Force Base. The SMC designs, develops and purchases more than $9 billion worth of space and missile systems annually and is credited with development and operation of GPS and the constellation of GPS satellites that have become essential to many commercial and military technologies worldwide.
Trickle-Down Effect
The trickle-down effect of the massive buildup of launch facilities to other aerospace companies has also gained speed as more and more repair and upgrade services for aerospace are popping up in and around major aerospace businesses in certain parts of the country, such as California, New Mexico and Florida.
There are dozens of aerospace component and equipment suppliers across the U.S., all making multi-millions or multi-billions in revenue year over year. These include Arconic, based in Pittsburgh, Pennsylvania, specializing in lightweight metals and parts; Amphenol, in Wallingford, Connecticut, makers of interconnecting parts for the aircraft engine market; Senior Aerospace, in Burbank, California, makers of turbine engine parts; and Jamco Aerospace, in Deer Park, New York, fabricating complex components and sub-assemblies for military and commercial uses.
For more information about companies mentioned in this article, visit: enterpriseflorida.com
Side Note One
THE PERFECT PLACE TO LAND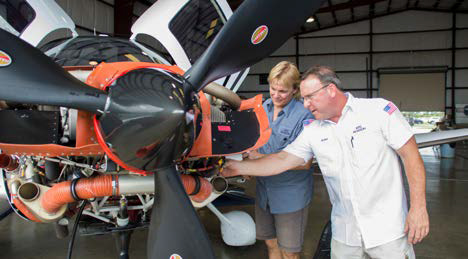 Charlotte County, Florida offers rich resources for growing aviation companies.
Just south of Tampa on the sunny Gulf Coast of Florida, Charlotte County has quietly built a bustling aviation hub. There's a fast-growing roster of firms engaged in component manufacturing, testing, flight and mechanic training, executive charters, medical care and more. Charlotte County teamed with Punta Gorda Airport (PGD) in negotiating with a major MRO to service large commercial jets, including Boeing 737's, Airbus A320's and larger aircraft.
Punta Gorda Airport was recently ranked as the third fastest growing airport in the nation. PGD offers three runways up to 7,195' with expansion underway. New hangars and a general aviation center are in design as part of a $50 million capital improvement master plan. The airport's commerce park encompasses several thousand acres and offers inside- and outside-the-fence land parcels for sale or lease. It's all minutes from I-75 for easy access to major markets like Miami, Tampa and Orlando.
Looking for a skilled labor pool? There's a workforce of 500,000 in a 45-minute drive commute. Last year, Charlotte County received a major grant from the state to begin Aviation Airframe and Powerplant Mechanics (A&P) certification leading to FAA licensing. Combined with nationally recognized flight training programs, a new generation of mechanics and pilots will earn their wings right here.
Bottom line? Land, entitlement and personnel costs are lower compared to major markets. The state of Florida and Charlotte County offer several financial incentive packages that may benefit expanding and relocating companies. The economic development office and airport are true partners in Charlotte County. That means fast-track approvals, expedited permitting and on-going support are as reliable as the nonstop, low-fare flights out of PGD every day.
Add in great flying weather year-round and Top 10 U.S. rankings for golf, boating and fishing and you can see why more and more aviation companies are landing here. To explore the possibilities for your company, you can call Dave Gammon, director of Charlotte County's Office of Economic Development, at 941.764.4942. Email: dave.gammon@CharlotteCountyFL.gov.
Side Note Two
Detroit Region Aerotropolis Development Corporation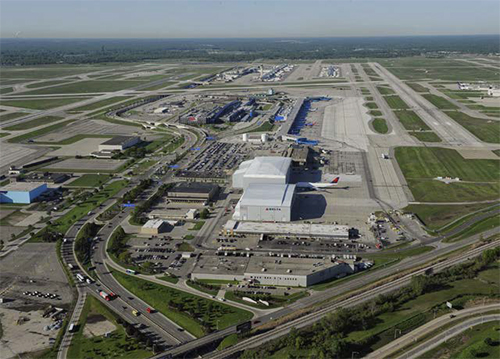 The Detroit Region Aerotropolis Development Corporation is a four-community, two-county public private partnership driving corporate expansion and new investment around Detroit Metropolitan and Willow Run Airports.
Primely located between Detroit and Ann Arbor – two of the hottest cities in America – the Aerotropolis region boasts 6,000 acres of development ready land amid a world-class network of transportation infrastructure, including five rail lines, three freeways, two airports, and one American Center for Mobility.
Additionally, the Aerotropolis region is part of the Detroit Foreign Trade Zone and less than 30 miles from the Port of Detroit – a network of 29 terminals handling 17 million tons of cargo every year – and the second busiest border crossing in North America.
Since 2012, dozens of companies have invested over $1.5 billion in the region.
In the last 6 months of 2017 alone, Amazon, Penske Logistics, and Brose North America collectively announced investments of over $350 million on 1.7 million square feet of new industrial space, creating 2,300 new jobs.
The Aerotropolis region is comprised of the cities of Romulus and Taylor, the townships of Huron and Van Buren, and both Washtenaw and Wayne Counties. Additional partners include CBRE, DTE Energy, the Michigan Economic Development Corporation, and the Wayne County Airport Authority.
All parties are committed to making investment in the region as easy and seamless as possible.
As a designated Next Michigan Development Corporation, the Detroit Region Aerotropolis is enabled to approve a suite of economic development incentives to help enable corporate investment in the region, including personal and Wayne County Airport Authority Jeff Ellis industrial property tax abatements and funding for public infrastructure projects.
Moreover, the Aerotropolis provides a suite of complimentary services to companies considering expansion, including site selection and infrastructure analysis, regional market data and demographic information, governmental relations, and private sector engagement.
For companies engaged in transportation, distribution, and logistics (TDL), advanced manufacturing, or next generation mobility technology development and deployment, the Aerotropolis region is the premier destination for greenfield expansion in Southeast Michigan.
Civilizations and the industries that serve them have long relied on the movement of people and goods to ensure strategic relevance and economic prosperity. From Silk Road to Amber Road and the Transcontinental Railroad, history is flush with examples of flourishing cities and affluent regions located along key transportation and trade routes.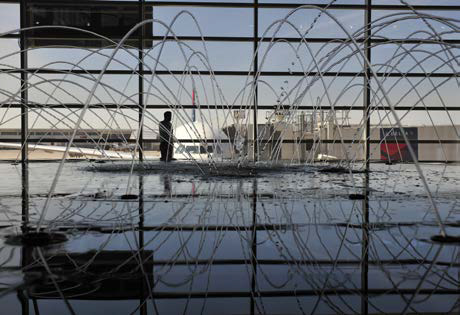 Today is no different and the Aerotropolis is one such region.
Consider the Detroit Region Aerotropolis for your next expansion project. An interactive real estate database showcasing 40-plus sites between 25 and 500 acres, as well as existing facilities for sale or lease, can be viewed at www.detroitaero.org/propertis. Information on an additional 50 sites between 10 – 25 acres is available upon request.