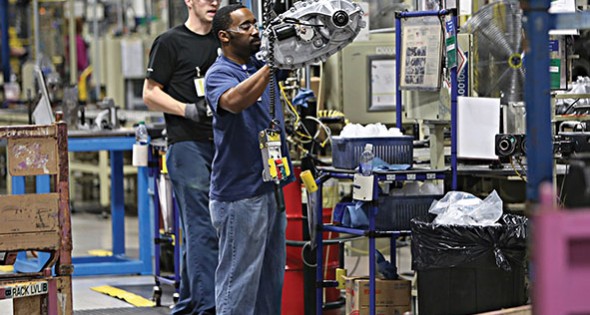 Getting Better All the Time
03 Oct, 2017
Steady growth in the automotive industry has helped shape the economic picture of communities that have rolled out the red carpet for these lucrative manufacturing businesses.
The automotive industry has come roaring back after years of stagnant growth, with great opportunities for expansion as it works to address many challenges.
The domestic auto manufacturing industry has completely rebounded from years of decline. According to the Alliance of Automobile Manufacturers (AAM), a trade association representing 12 automakers, production remains the country's largest manufacturing sector, with 13 automakers operating 44 assembly plants across 14 states.
The auto industry invested $46 billion in U.S. factories and facilities between 2010 and 2014. Exports of cars and parts amounting to over $99 billion were shipped from U.S. ports in 2015, almost double the $50.8 billion of auto products the U.S. exported just over a decade ago.
According to the Economist in their special report "Industries in 2017," for the automotive sector, the outlook at a global level is one of steady expansion, with car sales rising by a forecast 2.4 percent overall.
Today, nearly every major car maker is betting on the rise of electric vehicles. Future cars will increasingly be electric, connected and self-driving, and 2017 will bring progress on all three fronts, the special report found.
Forecasts
The report found that as car makers adapt to shifts in sales patterns in 2017, they will also have to step up their long-term investment plans. The broad outline of these will be unchanged: car makers have been lowering emissions, developing alternative-fuel vehicles, investing in connected-car technology and adapting to changing patterns of vehicle use.
Nearly every major car maker is stepping up its investment in electric vehicles (EV), according to the special report.
In Europe, EV sales are likely to top 200,000 units this year. Market leaders Renault, Nissan, Mitsubishi and GM are already investing heavily in EVs, while in 2015 Ford announced plans to spend $4.5 billion in EV development.
Volkswagen Group is promising 30 new EVs by 2025, when it expects its annual EV sales to reach two million to three million units.
Tesla, a U.S. electric car maker, has an ambitious plan to ramp up its annual EV production from around 50,000 to about 500,000 units by 2018. The California-based electric car maker plans to start production of the Model 3 in late 2017, which is the least expensive Tesla to date at around $35,000. Customers have already put in pre-orders for nearly 400,000 of the cars.
While they are stepping up their investment in EVs, the Economist report found that car makers will also need to devote an increasing share of their resources to connected-car technology.
Many are already doing so, souping up "infotainment systems" and vehicle-monitoring software, as well as high-tech driver assistance. For example, according to Tesla documents, all Tesla vehicles will be equipped with enhanced autopilot, which includes the latest software update such as autosteer, auto lane change, lane departure warning and automatic emergency braking, automatic high beams and parallel autopark, among other features.
Cars are also increasingly tapping into the "internet of things." In 2016, for example, Volkswagen teamed up with South Korea's LG as part of its efforts to link vehicles with connected homes.
A 2016 study from Strategy&, a consulting business created by Booz and Company combined with PricewaterhouseCoopers (PwC), "Connected Car Report," states that automakers, suppliers and various tech companies have already invested billions of dollars in developing new technologies and services that might differentiate their offerings.
The top five OEMs spent $46 billion on research and development in 2015, an eight percent increase year-over-year.
The study also identified four new trends. The first is radical new technology at low prices.
Technological innovation is accelerating, particularly with the quality of connectivity (based on fifth-generation wireless technology able to stream data from the cloud in near real time); in the computing speeds required to operate artificial intelligence and steer a self-driving vehicle; in the evolution of complex low-cost sensors that can make a car act as if it is aware of its surroundings; and in the software that binds all of this together.
This is especially true in the premium market, the study reported, where car makers like BMW and Tesla are pushing technology to the limit.
But other kinds of connected vehicles are being developed as well, including low-cost urban "pods," robo-taxis and even 3D-printed buses.
Another trend noted in the report is the entrance of nontraditional tech companies that are not just offering new services as add-ons to automobiles. They are gaining traction in the very technology that makes cars run — and in so doing, they are disrupting the traditional vehicle technology value chain.
Mobileye, for example, offers entire "system-on-a-chip" solutions for advanced driver assistance systems, and Nvidia makes systems for dashboard functions and autonomous driving and mapping.
Another trend: New mobility concepts and increasingly urban customers. The tastes and interests of potential car buyers are undergoing a substantive shift. Urban residents in Western markets appear to be losing interest in owning their own cars, a trend exacerbated by their desire to move to urban areas, where cars simply are not a requirement, and where public transport and ride-sharing apps can easily fulfill their needs.
The movement toward car-sharing and ride-sharing services will be driven in large part by the dramatic reductions in transportation costs that are expected with connected cars.
Suppliers & Challenges
Supply chains are getting more complex as both automakers and suppliers globalize their
production footprints. That's the finding in a report from Marsh and McLennan, "Insights on Automotive Supplier Excellence."
Value creation continues to migrate toward emerging markets, especially Asia or Mexico. In addition, suppliers are being integrated into automakers' production processes, creating global, cross-linked supply chain networks.
Such increased supply chain complexity exposes automotive suppliers to significant risks, including low quality, disrupted production, weak or failing controls, breakdown in logistics, and, in the worst case, financial default.
The report concluded that, to address these challenges and remain competitive, automotive suppliers need to adopt a holistic approach to managing costs, quality and risks. They should also look for methods to establish additional growth from the company's value chain.
"The entire purchasing ecosystem needs to be reviewed," the report added. "It should be synchronized in a digital environment, so it can be used to create joint potential for improvement and to implement any opportunity that emerges, be it a higher margin, better quality, reduced risk or a way to enable mutual growth. Automotive suppliers need to start this transformational journey today so they can cope with upcoming challenges and create real value through the sourcing process."
The Economic Bottom Line
Data presented by the AAM indicates that U.S. auto sales broke the all-time record in 2016, with 17.46 million units sold, representing a 0.4 percent increase of 2015.
Trucks outsold cars for the fourth straight year – jumping nearly four percent to a 60.6 percent market share, which was led by a record demand for SUVs with an all-time high annual penetration of 32.2 percent in 2016.
In 2016, light trucks sales increased more than seven percent, while car sales declined more than eight percent over 2015.
Growth is occurring in areas that have a rich history in automobile manufacturing – like the southeast – but are seeing more development recently.
Take the case of Oconee County, the westernmost county in South Carolina and a one hour drive from the BMW plant in Spartanburg. The county just landed their first BMW Tier 1 supplier, Baxter Manufacturing.
The area is also the location of BorgWarner, a Seneca-based power train supplier employing 900 making transfer cases for Ford trucks, the Toyota Tundra and the Dodge Ram; and U.S. Engine Valve in Westminster, making engine valves for the Japanese OEMs. "That company is just a shining example of our automotive success," Richard Blackwell, executive director of the Oconee Economic Alliance, says.
He says that they are in the process of developing three business industrial parks to help automotive companies come to the area.
One of the parks will be built with a workforce development campus. "There is nothing like that in the state of South Carolina," Blackwell says. Eventually the park will include a college campus,  high school and vocational school.
Blackwell says they are continuing to go after automotive component manufacturers. "That can be boiled down to metals related companies that are doing metal fabrication or machining or welding," he says. "But also plastics. Plastics is becoming a sweet spot for us."
He says all of this automotive manufacturing activity has contributed to the area having its best five years of economic development. "There has been over $330 million of new capital investments made, and over 1,300 new jobs. Unemployment is at a 17 year low. So there are a lot of positives to build on. At the end of the day, that is what we are focused on – the momentum."
What's Next?
Industry leaders confirm that the industry is doing well now, but they are concerned for the longer term. According to an automotive trends report from PwC, part of the answer lies in consolidation, which reduces industry capital requirements by eliminating competition and combines two manufacturing and design footprints into one.
Automakers will need to examine other strategic channels for growth, the report found. OEMs should consider one of three actions: share platforms and manufacturing, such as Nissan's deal with Daimler to jointly develop a platform used on the Infiniti QX30 model and a couple of Mercedes models; offload more development work to technology suppliers, such as BMW's iVentures venture capital arm, and Toyota Connected, a partnership with Microsoft; and redesign distribution models to cut costs by minimizing the number and expense of retail outlets, and use technology for better inventory control.