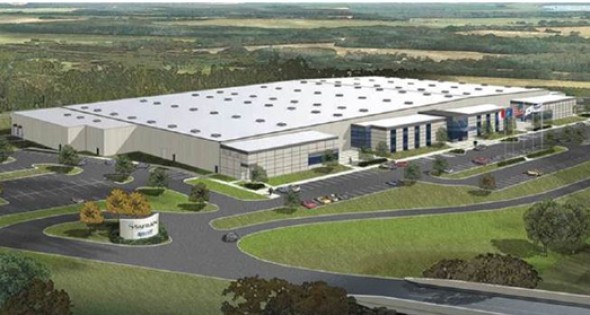 Granite State Business Park
01 Jul, 2014
Granite State Business Park is a 250+ acre, multi-use commercial and industrial park.  Planned by Matarazzo Design of Concord, NH, the park is designed logically and comprehensively with an emphasis on convenience and flexibility.  The site is intended for light and heavy manufacturing, research and development, warehousing and distribution, office space and service use.  Amenities include natural gas, on-site airport and railroad access and new water, sanitary and utility systems.  GSBP is the most recent addition to Rochester's collection of industrial parks and currently houses over 350 employees at the following companies:
Rand Whitney – Owned by Bob Kraft of New England Patriots fame, is the largest and oldest packaging company in New England.  The Worcester, MA based company employs over 60 laborers in Rochester.
Albany International Techniweave – A growing force in the research, development and manufacture of advance composite materials for aerospace and military applications.  Employs over 145 workers in Rochester.
Granite State Plating – Custom plating and coating applications, both large and small scale; employs 15.
Phase II Medical – FDA registered and ISO 9001 certified, Phase II Medical designs, tests, manufactures, packages, and ships a broad array of disposable medical devices.  Employs over 50 in Rochester.
Horne Construction – This award-winning general contractor and design-build firm works with both new and rehabilitated retail environments throughout Maine and New Hampshire.  Their own facility is an excellent example of their skills and abilities.  Horne employs over 45 employees at their Rochester firm.
Frisbie Medical Center Record Storage Facility – Frisbie Medical Center, Rochester's 100 bed hospital, enjoys the convenience of a record storage facility just a mile away at GSBP.
Spectex, LLC – Formed in 2001, Spectex performs converting services for major companies in apparel, automotive, medical and other industries.  Products include bumpers, filters, ink pads, lubricators, protective and orthopedic pads, seals and washers.
Key Site Features:
LOCATION
| | |
| --- | --- |
| Highway | Adjacent to Route 16 and only a short distance from the highway. |
| Airport | Adjacent to Skyhaven Airport, Manchester/Boston Regional Airport (43 miles) |
| Rail | Rail Access – New Hampshire Northcoast |
| Distance to Major Metros (miles) | Boston, MA (72 miles), Hartford, CT (160 miles), New York City, NY (280 miles) |
| Tax Climate | Ranked 7th Overall in US for Business Tax Climate, No Sales or Use Tax, No Internet Sales Tax, No Tax on Manufacturing Equipment or Inventory |
| Work Force | Labor Pool of 130,350 with 35% Bachelor's Degree or Higher, 7,000+ new STEM Degree Graduates Annually, State of the Art Composites Training Lab at Great Bay Community College – ATAC Certificate, Associates and Bachelor's Degree Programs in Manufacturing, Customized Training Available, State Training Grant Program Fully Funded |
| Region | 300+ firms in Aerospace, Defense and Composites Manufacturing. Healthy State Government – Rates Aa1/AA, Tax Burden 7.6%, Ranked #1 in US Overall for Quality of Life. |
UTILITIES
| | |
| --- | --- |
| Electric | Redundant Electric Loop |
| Gas | Natural Gas |
| Water | Municipal Water |
| Sewer | Municipal Sewer |
| Telecommunications | Broadband Internet |
CONTACT INFORMATION
CITY OF ROCHESTER
Karen G. Pollard, Director of Economic Development
31 Wakefield Street
Rochester, NH 03867
(603) 335-7522 – Office
www.thinkrochester.biz