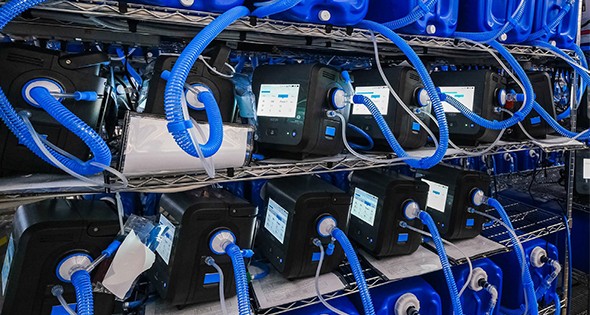 The Economic Fallout from COVID-19—and what business is doing about it
12 Sep, 2020
As a global pandemic rages on with continuing uncertainty, projections for a positive, beneficial outcome are a moving target.
Every day now, there is another forum of people in politics, in business, in healthcare, and in societal or media analysis talking about the COVID-19 pandemic and what to do about it.
Though the source of the novel virus has been generally agreed on as a city and/or market in China—but disagreements still arise—real difficulties exist about what the virus is made of, how quickly it infects, and how it works within the human body.
All of these difficulties become part of a focused discussion that soon gets disrupted when more facts are discovered, which then refocuses the discussion around what to do to address new facts, with goals of saving lives, ending the pandemic and rebuilding the world's economy.
From small business managers to big corporate industry titans, Americans want quick solutions that completely solve problems. That's how proper business development works in this country and in many other countries around the world.
We now know that can't happen. It's going to take time for the healthcare infrastructure that this country relies on for precisely this pivotal moment attempts to pioneer a new vaccine.
AMERICAN INDUSTRY TO THE RESCUE
American industry has kicked in to help even as their core business declines.
One example is General Motors (GM), announcing in July that their total vehicle sales in the second quarter of 2020 were down 34 percent, delivering just 492,489 units, with full-sized pickup truck sales a highlight of that sales picture.
Meanwhile, GM launched a new partnership with Ventec Life Systems under contract from the U.S. Department of Health and Human Services to produce 30,000 ventilators by the end of August. Ventilators are critical devices for the treatment of COVID-19 patients.
The Ventec ventilator is a multi-function system of five devices—a critical care Ventilator, 6 L/min equivalent oxygen concentrator, touch button cough assist, hospital grade suction, and a high-performance nebulizer—all in one lightweight and mobile respiratory system.
The first ventilators produced by the GM/Ventec partnership were delivered to Franciscan Health Olympia Fields in Olympia Fields, Illinois, and to Weiss Memorial Hospital in Chicago in April, 2020.
Another shipment of GM-produced ventilators was delivered by United Parcel Service (UPS) to Federal Emergency Management Agency (FEMA) at the Gary/Chicago International Airport for distribution to other locations, also in April, 2020.
OTHER BUSINESSES HAVE ACTUALLY THRIVED BECAUSE OF COVID
One example is Amazon, which hired 175,000 workers to manage a surge in online shopping, according to The Economist, an international business and economics publication.
Another thriving industry is alcohol, with sales up 25.4 percent in the third week of June, 2020, compared to the same period in 2019, according to the Republic National Distributing Company, the second largest alcohol distributor in the U.S.
Edison Trends, a business analysis company, found that food delivery sales increased by 51 percent since early March, with Door Dash holding the total market share lead (45 percent), followed by Uber Eats (28 percent) then Grub Hub (17 percent).
Even marijuana sales were boosted by the pandemic, declared "essential" in the 33 states and Washington, D.C. where medical marijuana is legal, serving a national patient base of 4.3 million. It's on track to rise 40 percent this year, to $15 billion in sales by December, 2020, according to trade Final component assembly of ventilator publication Marijuana Business.
THE HARD ECONOMIC REALITY
But there were downsides to the overall employment picture as well.
For example, professional and business services added 306,000 jobs in June, but employment is 1.8 million below its February level. Also in June, employment rose in temporary help services (up 149,000), services to buildings and dwellings (up 53,000), and accounting and bookkeeping services (up 18,000). But employment declined in computer systems design and related services (down 20,000).
Employment was also down in food services and drinking places by 3.1 million since February, with restaurants and bars taking serious financial hits, and some restaurant chains going bankrupt (including Brio Italian Mediterranean, Bravo Fresh Italian, Le Pain Quotidien, Sweet Tomatoes and Bamboo Sushi).
The revenue hit that the states have taken offers an even bleaker look.
Ronald Alt, the senior manager for research with the Federation of Tax Administrators (FTA) reported that, once April-July revenues are considered, the FTA estimates a net loss of $91 billion.
State revenues in states such as Louisiana dropped by 43 percent in April 2020 compared to April 2019, The Economist reported; California's income tax receipts were down by 85 percent.
Statistics from Harvard University found that while spending has rebounded over May and June, especially for low-income households, spending among high-income households remains considerably lower than pre-COVID-19 levels (down 17 percent) and appears to be connected to perceived health risks.
A LOOK AHEAD
The Congressional Budget Office (CBO) reported that the economy will grow rapidly during the third quarter of this year. Gross domestic product (GDP) is expected to grow at a 12.4 percent annual rate in the second half of 2020 and to recover to its prepandemic level by the middle of 2022.
Unemployment rate is projected to peak at over 14 percent in the third quarter of this year and then fall quickly as output increases in the second half of 2020 and throughout 2021. In June of 2020, the unemployment rate had already fallen to 11.1 percent, according to the U.S. Bureau of Labor Statistics (BLS).
Employment also increased over the month in miscellaneous durable goods manufacturing (up 26,000) and machinery (up 18,000). Within the nondurable goods component, the largest job gain occurred in plastics and rubber products (up 22,000).
The overall unemployment rate is forecast to decrease to 5.9 percent by the end of 2024.
CBO projects the interest rate on 10-year Treasury notes will gradually rise from an average of 0.9 percent in 2020 to 1.6 percent by 2024, and that output is expected to grow at an average annual rate of 2.1 percent over the 2025–2030 period.
THE UNCERTAINTY FACTOR
The CBO report indicates that some uncertainty exists from the nature of the pandemic and the behavioral and policy responses intended to contain its spread.
The report cites several important epidemiological characteristics of the COVID-19 that remain unclear: its transmissibility and lethality, the immunity on people who have recovered from it, and other factors that will affect the pace of economic recovery. "A further contributor to the overall uncertainty is that the speed and intensity of the recent downturn have greatly increased the difficulty of recording and compiling reliable economic data," according to the CBO report.
A report released in April by Deloitte, an international business consulting firm, states that the COVID-19 pandemic is changing or has already changed "our collective calculus of uncertainty because there is no reference case for the COVID-19 crisis in living memory. But from our vantage point, the COVID-19 pandemic is more global in scope, more profoundly impactful and far-reaching, and more complex than any other crisis that today's decision-makers have experienced or contemplated."
To address this uncertainty, the report states that CEOs must step up. "Exceptional circumstances, such as those of COVID-19, require a blend of courage, clarity, and humility. The biggest enemies of good decision-making in times of deep crisis are neither uncertainty nor ambiguity; they are, rather, over-confidence, procrastination, and incomplete or biased data."
SO WHAT NOW?
According to a report by McKinsey and Company, a business management consulting firm, there are four key trends for the private sector that may continue to shift over the next 18-24 months: 1. Customer sentiments and preferences have shifted online due to the pandemic, and may continue to shift; 2. Workplace norms have temporarily become remote, with several tech giants entertaining a permanent shift to an altered workforce; 3. The deployment of massive government stimulus packages and the rise of trade tensions will contribute to regulatory uncertainty that could persist for a few years; and 4. Our knowledge of how to test, trace, and treat the virus across different public health realities is changing each day with no silver bullet.
It's clear that ways of doing business in this country and indeed, around the world, have changed and may become permanent. The World Bank Group's "Global Economic Prospects" study confirms that efforts to avoid viral contamination may linger long after the pandemic dissipates. "This could lead to changes in the structure of production on a much larger scale than those which past recessions have triggered," the study stated. "Certain restrictions, and adjustments in consumer behavior, to reduce the risk of infection may prove highly persistent. For example, the experience with widespread remote working may permanently change the nature of workplaces."
Addressing the changing nature of employees in every business should be a top priority going forward, according to an article by McKinsey and Company about organization practice. Organizations should focus on safety and security, relationships, culture, and purpose, the article stated.
The article went on to say that leaders should continue to meet the need for safety and security of employees by demonstrating compassionate leadership. "They should exhibit deliberate calm and bounded optimism; strike the right balance between realism about the challenges ahead and confidence that the organization will find its way through the crisis; invest in developing of employee-to-employee relationships; cultivate inclusion and psychological safety; and take a personalized approach to fostering culture and enabling change in this new world, such as driving new mindsets and behaviors like adapting to a new virtual-working model at scale."