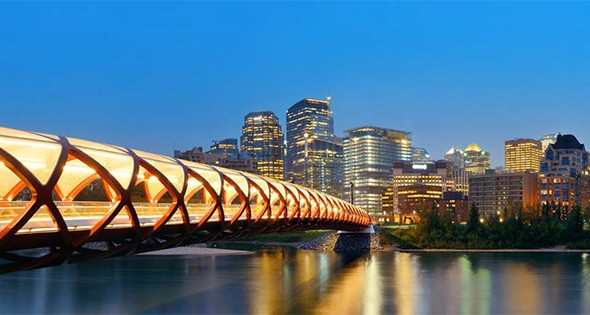 ALBERTA, CANADA: Diversity and Growth
12 Sep, 2018
The Government of Alberta fosters sustainable economic growth throughout the province by actively engaging with small business, entrepreneurs, industry and communities across Alberta on economic development initiatives including:
Providing economic and statistical information on a regional basis;
Supporting Regional Economic Development Alliances (REDAs);
Developing information resources related to regional development and community development; and
Hosting economic development conferences and symposiums for industry and community leaders.
Developing a Small Business Strategy to help foster a better climate that empowers small business and entrepreneurs in Alberta.
Alberta has one of the best transportation systems in Canada, and is well served by road, air, rail and pipeline. The province's transportation systems provide effective and efficient movement of commodities and passengers. Alberta's diversity is evident in its many thriving industry segments. Aerospace and defense offers a wide range of aerospace goods and services.
Agri-food has an international reputation for quality. Alberta is the third largest producer and exporter of agri-food products in Canada. Building products and technologies has gained a worldwide reputation, particularly in the areas of cold-weather construction and green building technologies. Engineering and construction significant to the Alberta GDP, through its development and application of engineering and construction technologies, project management skills, and its long-established excellence in civil, mechanical, municipal and environmental disciplines Financial services are a critical part of Alberta's growth, scalability and productivity of the province's traditional and emerging industrial sectors Industrial manufacturing is one of Canada's major industrial manufacturing centers thanks to a strong demand from Alberta's energy sector Information and communication technologies.
Alberta has a large, sophisticated and growing information and communications technology (ICT) industry with an international reputation for innovation. Life sciences award winning researchers, outstanding infrastructure, and innovative company developments are the core elements of this growing sector. Oil and gas Alberta's technologies and services are in demand all over the world. Few people know that Alberta is a leading petrochemical manufacturing province, home to four major ethylene plants with a combined annual production capacity of four million tons. Renewable Energy Alberta's Climate Leadership Plan has provided the momentum to push this sector to new heights as the province moves toward renewable energy from sources like wind, solar power, hydro-electric and biomass. Tourism is one of the leading industries in the province, supported by a range of hospitality and service-related businesses that cater to Albertans and visitors.
INNOVATION IN CALGARY LEADING TO POSITIVE CHANGE ACROSS CANADA
The energy in Calgary is stronger than ever thanks to the innovation happening across the city.
Technological advancements are setting off a wave of creativity and spurring an influx of opportunity for emerging industries, new companies, and top talent. The innovation ecosystem in Calgary brings together clusters of educators, governments, think-tanks, established companies, and ambitious entrepreneurs to make industries more efficient and effective.
Driving innovation is something Calgary prides itself on.
"The energy sector has a well-established ecosystem and is recognized as a centre of excellence globally, and as the tech ecosystem builds out, it's encompassing all of our key industries," says Mary Moran, President and CEO of Calgary Economic Development.
Aimsio is one firm driving digitization in Calgary's oil and gas sector, but the five-year-old company has customers all across North America using its software to manage their field operations. It's expanded into sectors like renewable energy and construction and CEO Ash Esmaeili sees future growth in forestry, mining, and agriculture.
The entrepreneurial energy and creativity in Calgary are critical to Aimsio's success, notes Esmaeili who, along with his co-founders, is a University of Calgary graduate.
"Everybody is talking about the digital transformation," he said. "Our intention was to build the next tech giant in Canada and that's where we are headed."
Zedi Solutions is a well-established energy company that is repositioning its remote sensor technology for industries including agriculture and retail. CEO Matthew Heffernan is nominated for a 2018 Ernest C. Manning Innovation Award for repositioning its energy-related technology for growing sectors. FLYHT Aerospace Solutions recently received a Canadian patent for FLYHTStreamTM, a commercial data streaming application that combines smart electronics, global satellites, and secure, Internet-based data delivery to stream black box data to aircraft accident investigators, airline executives and operations and maintenance centers in the event of an in-flight incident.
"FLYHT is the industry leader in real-time data streaming," says CEO Tom Schmutz. A number of patents filed by companies like FLYHT is why CD Howe Institute recently named Calgary the "most innovative city in Canada."
CHANGES FOR THE FUTURE
Innovation in Calgary is focused on industrial sectors where disruptive technologies such as artificial intelligence, blockchain, autonomous vehicles, and 3-D printing are transforming how companies do business.
To support the innovation ecosystem, the City of Calgary created the Opportunity Calgary Investment Fund to distribute $100 million to companies making investments in the city that will be catalysts for transformative growth in key sectors.