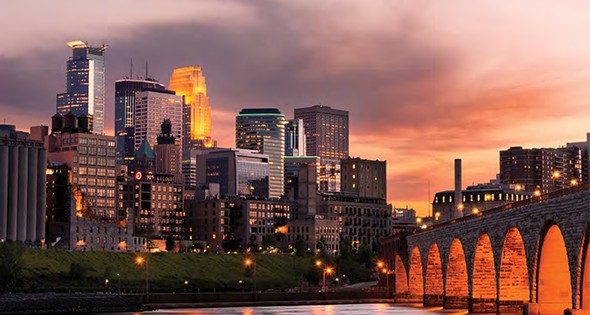 MINNESOTA: FIRST IN FIVE-YEAR BUSINESS SURVIVAL RATE
21 Jan, 2021
Minnesota ranks first in the nation in its five-year business survival rate (2015-2020), based on data from the U.S. Bureau of labor statistics. The state's rate was 55.3%. In comparison, the national rate for the same period was 50.0%.
"This ranking confirms something we know to be true – people who start things in Minnesota tend to stick to it. It's part of that Minnesota work ethic that we're known for," said DEED Commissioner Steve Grove. "This ranking bodes well for our economy, as we know that small businesses account for 47% of the jobs in our state."
In the third quarter, business starts in Minnesota were up nearly 60% compared to a year ago. Since the pandemic began, Minnesota is above the national average in incorporated business starts.
Supporting the state's strong economy is a modern transportation network that includes marine shipping, road, rail, air and digital infrastructure. The state has nearly 4,500 of freight railroad miles operated by 21 railroad companies. Minneapolis- St. Paul International Airport serves 167 non-stop markets, 137 domestic markets, and 30 international markets.
For more information, please call 651-259-7432 or email economic.development@state.mn.us
MINNESOTA : CITY OF LAKEVILLE, THRIVING IN THE TWIN CITIES METRO
---
The City of Lakeville experienced a record year of growth in 2020 with over $400 million in total building permit valuation and over 600 single-family home permits issued. With a population of approximately 65,000, Lakeville is one of the fastest growing cities in the Minneapolis-Saint Paul metropolitan area and is a place where businesses and families thrive! Lakeville is conveniently located along I-35 in Dakota County, in close proximity to Minneapolis and Saint Paul, as well as the Minneapolis-Saint Paul International Airport and Mall of America.
Encompassing 38 square miles, Lakeville is home to one of Minnesota's largest industrial parks, which has over 500 acres of land ready for development and is home to Airlake Airport, which expanded in 2020 with new hangars and a runway extension is planned for 2023. Lakeville has an active and growing business community with more than 1,300 businesses that employ over 17,000 people and the industrial park is home to approximately 150 manufacturing and industrial business which employ over 4,000 people.
Lakeville's vision for the future is to increase economic sustainability through diversified economic development. In the last five years, the city experienced growth across all sectors with the addition of retail, healthcare, breweries, restaurants and manufacturing. The private sector invested over $61 million into industrial park development – including a new 750,000-square-foot Amazon XL facility – and over $8 million into commercial development in the City of Lakeville in 2020. In response to the COVID-19 pandemic, the City of Lakeville infused nearly $1 million public grant dollars into local small businesses and nonprofit organizations who were negatively impacted by the challenging economic conditions in 2020.
The Lakeville labor shed (30-minute drive-time area) has seen its population increase by 4% over the last five years, growing to a total population of 953,135. The community is predicted to increase in population by 20,000 within the next 20 years, and the labor shed population is expected to increase by 31,000 as of 2022.
Lakeville has led the metro area in single-family home permits for the last eight years (2012-2020). As of November 2020, the city issued 579 single-family home permits which exceeds the 2019 total of 521. In addition, the city saw 628 market-rate apartment units and 215 senior housing units constructed or permitted in 2020.
Lakeville combines a peaceful and safe small-town atmosphere with big city opportunities. Lakeville has over 1,600 acres of public park and open space, including 100 miles of pedestrian and bike trails and a 5-acre dog park. The city also has five recreational lakes for fishing, boating, swimming, and motorized water sports. The community offers three award-winning school districts within its boundaries. The Lakeville Area Arts Center, a city owned and operated facility, provides a variety of options for live music, entertainment, theater, art, pottery classes and more. Lakeville, Minnesota is certainly Positioned to Thrive – making it a great location for any project.