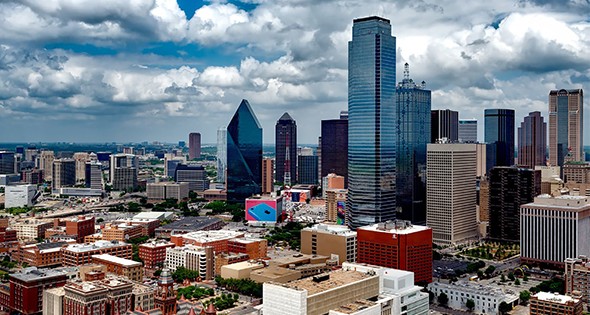 TEXAS ENTERS 2021 AS WORLD'S 9TH LARGEST ECONOMY BY GDP
29 Apr, 2021
"This serves as proof of the success of a long-term strategy to make Texas the best place to start or relocate a business," said Robert Allen, president and CEO of the Texas Economic Development Corporation.
TxEDC is an independently funded non-profit organization in partnership with the Governor's Office of Economic Development and Tourism charged with marketing Texas as a premier business location, the cornerstone of Texas Governor Greg Abbott's economic development agenda.
"While 2020 brought about unique challenges, Texas continued to shine as a beacon of hope and opportunity," Abbott said. "Texas' ranking as the world's ninth largest economy is because of the hard-working men and women of the Lone Star State, our commitment to economic freedom, our state-of-the-art infrastructure and business climate. As we cultivate an environment of growth and opportunity, Texas will continue to build an even brighter future for all Texans."
Gross Domestic Product is a measurement of the size and strength of an economy. As of 2019, the United States has a GDP of $21.4 trillion, making it the world's largest economy, followed by China, Japan, and Germany, according to IMF. Texas has a GDP of $1.9 trillion.
In 2020, Amazon, CBRE, Tesla, HP and Oracle moved to or expanded their operations in Texas, which has further bolstered the strength and size of Texas's economy. This trend is expected to continue in 2021, Allen said.
TEXAS: CROCKETT Crossroads of East Texas
……………………………………………………………………..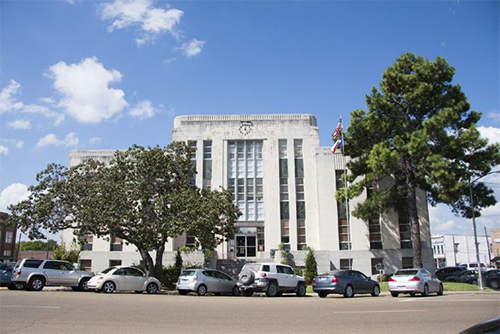 Welcome to the best of both worlds: state-of-the-art manufacturing and local hamburger joints; International commerce and Friday night football; multimillion-dollar deals and downtown parades; excellent logistics and easy access. Discover what makes Crockett, Texas a place you and your business can call home. A close-knit community with a storied past and drive for the future is what you'll find when you come to Crockett.
Crockett is referred to as the crossroads of East Texas, as several highways converge on the city, and is a multimodal transportation channel. Crockett offers access to Highways 7, 21, 19, and 287. There is air access to three nearby airports: Dallas/Fort Worth International (DFW), George Bush International (IAH), and Crockett Municipal (DKR). Dallas is only 150 miles away; Houston is 120 miles; and Austin is 175 miles.
Crockett Economic & Industrial Development offers aggressive incentive packages to attract new business. They will negotiate with local, state and federal governments to provide financial assistance to your company. For more information, please call 936-546-5636 or visit www.crockettedc.org
TEXAS: HARLINGEN
………………………………………………………………………………
Strategically situated in the Rio Grande Valley in Southern Texas, the city of Harlingen and the surrounding region might be one of the best-kept secrets of the Lone Star State.
Harlingen is in a great location in terms of market accessibility, which opens the door to draw in more investors to the area. Harlingen is connected to major metro areas through its airport, proximity to Mexico, the Port of Harlingen, and the interstate system. Plus, Harlingen also boasts a low cost of living, which can be enticing for outside companies looking to relocate or expand.
With an in-city population of up to 1.3 million within a 45-minute radius, Harlingen also benefits from several other advantages, such as being located in a Foreign Trade Zone, Freeport Tax Exemption, no personal state income tax and no corporate income tax. All of these factors point to Harlingen as a strategic location for a large business interested in expanding its operations or an aspiring entrepreneur looking to establish a new small business.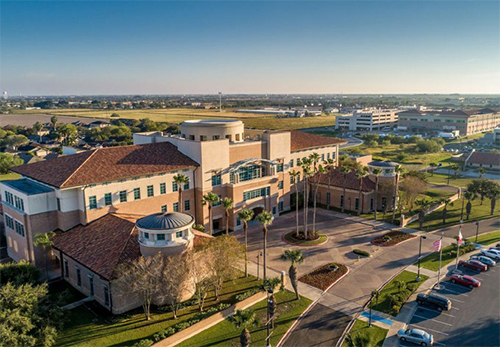 Harlingen's business climate is perfect for companies specializing in logistics, distribution, manufacturing, healthcare, technology and those that are also interested in launching something new – literally. The Harlingen Economic Development Corporation (HEDC) has spurred major growth in aerospace with companies like United Launch Alliance (ULA), that has chosen Harlingen for more than 20 years, and has helped companies from many sectors to either relocate or expand into Harlingen and the Rio Grande Valley. Those companies include United Healthcare, Penske Logistics, Qualfon, and CARDONE Industries, the world's largest auto parts manufacturer.
The HEDC has a lot to proud of and their industrial sector has made great strides in 2019. The HEDC worked with Poly Sachi Polymers to set up a relocation of the plastics firm to the Harlingen Industrial Park from their location in Taylor, Texas. Harlingen is also proud of the expansion happening at Valley International Airport through the addition of new airlines, more frequent flights, and FedEx's Express facility, which brought the airport up to rank as 71st in the nation in terms of cargo facilitation.
There are many other major projects creating jobs, improving our workforce, and contributing to local economy.
Harlingen may not be a secret much longer. Learn more about why your business should choose Harlingen for business and much more by visiting our website for more information: www.harlingenedc.com.
TEXAS: LA MARQUE
………………………………………………………………………………
Job creation is one of the primary goals of any economic development organization, so when city officials were able to drop the Amazon announcement on January 28, 2021, La Marque city and economic development corporation staff were doing figurative backflips.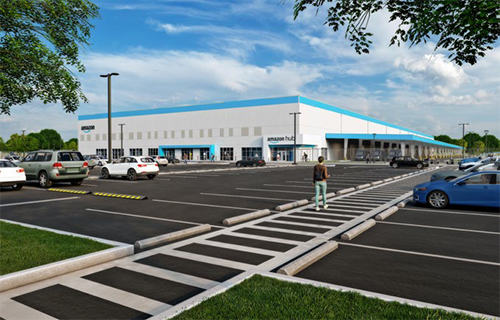 Amazon is a gamechanger. The influx of quality jobs combined with economic impact will have a longstanding positive impact on the city, and Galveston-Bay Area Houston region. There's no doubt about it – Amazon choosing La Marque solidifies them as an optimal distribution hub location.
The 180,000 square foot warehouse is under construction and expected to open later in 2021. The new Delivery Station will power Amazon's last-mile delivery capabilities to speed up deliveries for customers around Galveston County.
Amazon will generate about 400 on-site jobs, ranging from drivers to management positions and team leads.  Projections show 150 additional indirect jobs created by the development, such as janitorial suppliers or employees in restaurants built to accommodate the expanded workforce. The addition of these jobs will lead to an annual economic impact of $56.7 million across the region.
The ripple effects of this development are yet to be realized. Just to build the Amazon facility, 231 construction workers are needed, which leads to a one-time regional economic impact of $76.3 million.
La Marque boasts 14.3 miles of prime real estate along the expanding Interstate 45 corridor, right in the center of the Houston-Galveston-NASA-Kemah tourism market. More than 7 million visitors pass through La Marque to visit Galveston Island each year, and with the expanding cruise ship terminal in Galveston that number will continue to grow.
The City of La Marque serves as the southern anchor to the economically strong Houston/Galveston region with quick access to four deep water ports, two rail lines, three airports, and the ever-expanding Houston-area highway systems. There are projected to be $1 billion in area road infrastructure improvements over the next 10 years, and neighboring Texas City is home to one of the largest petrochemical complexes in the world.
Businesses can locate here, and rest assured their investment is protected by a coastal flood levee system. Investors can cash in on opportunities, employees can enjoy coastal lifestyle and owners can focus on growth. Win-win-win.
Amazon Chose La Marque. Who's next? Call them at 409-938-9258 if you want to build your business in La Marque. DATA SOURCE: Calculations by the Greater Houston Partnership Research Department based on multipliers supplied by the IMPLAN Group Inc.
TEXAS: MARBLE FALLS Business Friendly. Family Friendlier
…………………………………………………………….
Marble Falls is perfectly situated in the Texas Hill Country, 50 minutes from Austin, 90 minutes from San Antonio, and 3 hours from Dallas/Fort Worth and Houston. All roads lead to Marble Falls.
Taxable sales set a new record at just over $476 million, an increase of about $34.1 million, or 7.72% over the previous year. For reference, the state as a whole grew by 4.71% in 2019.
The retail sector grew by 11.22%. Construction is up an astounding 176.78%. Because Marble Falls is the economic hub of the Highland Lakes region, development activity along the lakes and throughout the large unincorporated areas of Burnet and Llano Counties benefits Marble Falls more than any other area community. Also contributing to the upward economic trajectory are strong population and household income growth in Marble Falls's primary retail trade area. The percentage of the RTA population with an associates degree or higher has increased from 30.1% to 33.4% in the last three years. Workforce development remains a key focal point for area economic development agencies.
Downtown Marble Falls is the city's third largest employer. It also happens to be the community's largest concentration of locally-owned businesses. Efforts have been focused on developing Downtown Marble Falls into a destination for both locals and visitors. Strategies have included supporting existing business owners, preserving and enhancing historic buildings, partnering on parks projects, and welcoming new investments in the area. Downtown Marble Falls is poised to be the perfect blend of heritage and progress.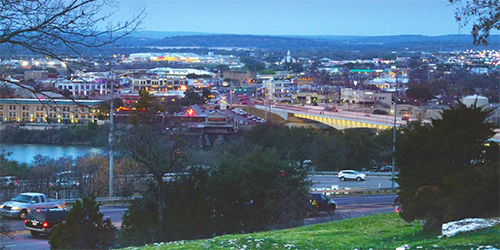 Now in 2021, the Marble Falls Economic Development Corporation remains committed to enhancing the community's appeal as a destination through the commencement of Phase 1b of the Park Improvement Plan and finalizing a development deal to bring a hotel and conference center to the Downtown area. The recent expansion of the Business & Technology Park should result in several new businesses. A couple of new, master-planned subdivisions on the south side of town should deliver their first lots in the coming year, and some exciting retail and entertainment projects are expected to be announced very soon. Community leaders have very high expectations for 2021.
For more information, please contact the Marble Falls EDC at 830-798-7079 or visit their website at www.marblefallseconomy.com
TEXAS: NEW BRAUNFELS Making An Impression!
……………………………………………………………………………..
In the heart of the Texas Hill Country lies the beautiful community of New Braunfels. Refined by old-world German heritage and complemented by an unrivaled quality of life, it's no wonder this town of 90,206 is visited by more than three million tourists each year and has grown by 102% since 2003.
The city's strategic location in Central Texas puts it at almost equal distances between the seventh largest city in the U.S. (San Antonio) and the State Capitol (Austin). This opportunistic placement, along with access to a strong education system, an affordable cost of living, a stable economic climate, and a plethora of recreational opportunities, has created an environment people are flocking to. Ranked as the 2nd fastest growing county and the 9th fastest growing city in the nation, the New Braunfels area is experiencing unprecedented growth.
Industry is thriving in New Braunfels, despite the weak economy nationally. New Braunfels is in the heart of the Austin-San Antonio corridor, offering a low-cost, strategic location directly on Interstate 35 and minutes from Interstate 10. Population growth exceeds the state average, giving ever-growing markets. The workforce within commuting distance is over 450,000. City employment has increased 75% since 2003.
The New Braunfels community boasts a diverse base of businesses, including distribution, manufacturing, data centers, healthcare related, and the aviation industry. Increasing sales tax revenues allows the city to invest heavily in infrastructure and quality of life assets desired by the current and future talent workforce. Businesses utilize the Alamo Colleges – Central Texas Technology Center and nearby colleges and universities to upgrade skills and values.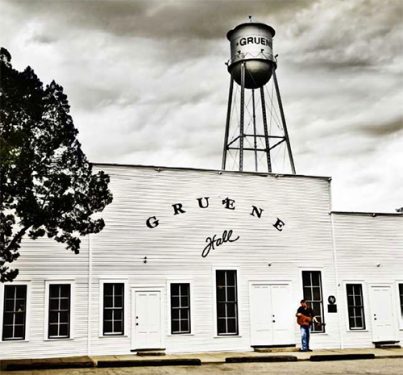 Plus, with over 300 days of sunshine a year and 550+ acres of outdoor water recreation, New Braunfels is a premier destination for work or play, year-round. "Making an Impression" has been a New Braunfels tradition since 1845! To learn more, please visit their website at www.businessinnewbraunfels.com or call 866-927-0905.
TEXAS: TOMBALL
………………………………………………………………………………
Tomball, Texas is where the best of business, lifestyle, education and transportation converge. Those who experience the Tomball community instantly recognize its uniqueness. A strong history blends with innovation; a sense of community combines with a thriving business environment; and local partnerships have global impacts.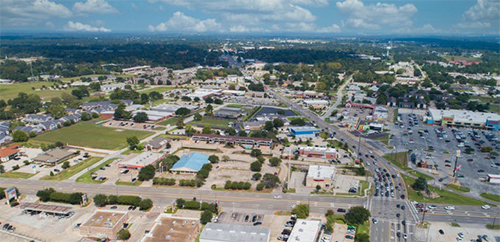 From corner stores to Fortune 500 companies, Tomball is focused on business! A skilled workforce, low property taxes, and a well-connected transportation system provide an ideal backdrop for your business to prosper. The Tomball Economic Development Corporation promotes job creation by encouraging attraction, expansion and retention of business by way of: assisting with site selection; identifying incentives; connecting to workforce resources; and providing business and industry data.
The Tomball Business & Technology Park, a project of the Tomball Economic Development Corporation, encompasses 99.5 acres of land within the City of Tomball. The Park is Master Planned and Deed Restricted with a Light Industrial zoning classification. The Park is fully served with all utilities and provides off-site detention. Its flexible lot sizes and competitive pricing combined with low property taxes and a skilled local labor force make the Park an attractive location for new and expanding businesses. There are +/- 58.5 usable acres still available.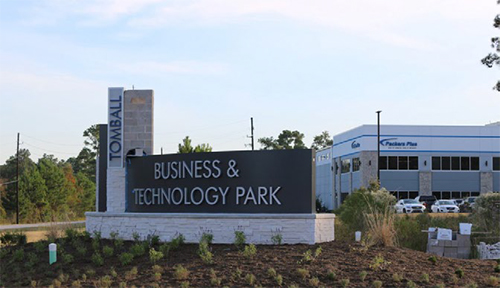 For more information on all the opportunities in Tomball, please call the Tomball Economic Development Corporation at 281-401-4086 or visit their website at tomballtxedc.org .