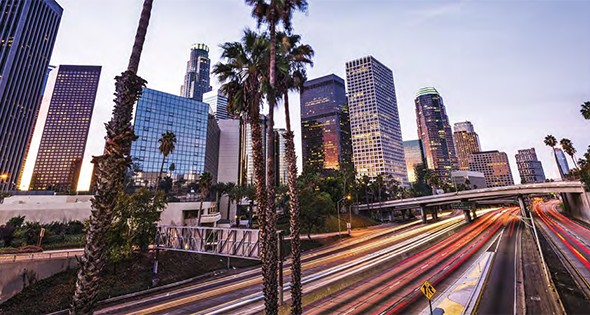 CALIFORNIA: 5TH LARGEST ECONOMY IN THE WORLD
21 Jan, 2021
California handles over $580 billion in exports and imports; relies on the skills and talents of 40 million residents including 11 million immigrants; and leverages its leading position in the world to propel the economy forward. California is a leader in the U.S. for two-way trade, agriculture exports, and foreign-direct investment. These numbers translate to millions of jobs across the state.
Whether your goods move through ports, trucking companies, airports, railroads, or warehouses, California has some of the best logistics infrastructure in the world. The supply chain runs deep, driving one-third of the State's economy creating millions of direct and indirect jobs.
A wealth of nationally and internationally recognized universities and colleges are preparing the workforce needed to keep California businesses competitive. California has nearly 3 million currently enrolled students, is home to the nation's largest 4-year public university system, and accounts for half of the nation's top 10 public universities. Maintaining a skilled labor force is paramount for the continued success of California. As a leader in emerging innovations in everything from clean technology to agriculture, California's available workforce is a world-class asset for business. For more information visit www.business.ca.gov or call 877-345-4633.
CALIFORNIA: CITY OF ONTARIO, WE THINK BUSINESS
---
The City of Ontario, located in Southern California, continues to create development opportunities and urban lifestyle districts that provide sustainable places to live, work and play. Just 35 miles east of downtown Los Angeles, the City of Ontario is ideally situated as the gateway to Southern California.
With 182,000 residents, Ontario is San Bernardino County's fourth-largest city – and growing. Ontario's population is set to double in the next 20 years, and local leaders have their sights set firmly on the future.
At the center of the City is the Ontario International Airport, a full-service airport. UPS and FedEx have hubs are located at the Airport, making Ontario one of the top markets for outbound cargo shipments in the nation.
Ontario is centered on a transportation corridor that extends throughout Southern California and across the continental United States and sits 45 miles from the two largest ports in the country –the Ports of Los Angeles and Long Beach. Ontario provides strategic access to the ports through its interconnected freeway and rail systems. The Ontario Opportunity Zone is an ideal location for opportunity fund investments, utilizing privately sourced funds into eligible economic development and community reinvestment projects. Ontario also offers the advantage of being in the Foreign Trade Zone, which allows companies to reduce the costs associated with International Trade. The ability to increase international sales, realize greater importing and exporting opportunities, and succeed in global markets is often a deciding factor for location, relocation and expansion in Ontario.
The mass of freight transport – via both rail and road – run through the City of Ontario. Three major interstates crisscross the City and the surrounding areas: Interstate-15 from San Diego to Las Vegas and beyond; Interstate-10 from west coast to east coast; as well as State Route 60 for easy regional access. Ontario has a vast business infrastructure in place, and their leaders continually work to improve the City's pro-business environment. With a highly skilled and trained workforce, and more than 110 million square feet of industrial, manufacturing and distribution space, Ontario is the best place to grow develop your business.
To find out more information about the advantages of doing business in Ontario, California, visit www.ontariothinksbusiness.com or call 909.395.2005. You can also follow @OntarioEDA on Twitter.
CALIFORNIA: CITY OF TRACY
---
Approximately two of every three North American manufacturing companies surveyed by Thomas reported COVID-19 business disruptions. Interrupted supply chains and delayed product deliveries have increased significantly during the last nine months. Business executives across the country are reevaluating cost savings strategies like offshoring in the current environment.
For four decades, companies have offshored manufacturing operations overseas in order to save costs. The COVID-19 crisis has essentially reversed the race to cut costs as onshoring has been increasingly embraced to reduce the risk of future disruptions and supply chain delays. Though not every company looks to return entire operations to the United States at once, gradual reopening of the U.S. manufacturing facilities has increasingly taken place. In addition to companies onshoring directly, an increased number of suppliers are seeking domestic sources, which has created expansion opportunities for U.S. manufacturers.
Tracy, a community of 90,000, is strategically located as the gateway to the Northern California megaregion. It has a readily available and diverse commercial real estate supply, large and affordable labor force, business friendly environment, new infrastructure, and high quality of life. Tracy is uniquely positioned to accommodate the reshoring trend and enable business growth.
Prior to the COVID-19 crisis, Tracy had already built significant momentum drawing new businesses like Thermo Fisher Scientific and Medline. City leaders had planned for the future with a 30-year infrastructure master plan, providing a roadmap for water, sewer, drainage, roads, parks, and other public facilities. The City also streamlines the entitlement process with zoning permits approved at staff level.
These advantages allowed Tracy to conceive a bold vision for one of the largest industrial parks in the nation, which is now about half built out. Another eight million square feet are in the planning process over the next couple of years as the business community has recognized Tracy's unique ability to enable business growth. With the COVID-19 reality settling in, Tracy has become an increasingly recognized location for strategic location advantages and onshoring.
Tracy is situated just an hour from San Francisco, San Jose, and Sacramento. A diverse supply of available commercial space and build to suit opportunities exist in Tracy with many in the International Park of Commerce and Northeast Industrial area. Both major master planned industrial parks are some of the largest in the region and take advantage of Tracy's central location in northern California with the Port of Oakland and Port of Stockton nearby.
The City has invested in truck-friendly infrastructure to connect both business parks to access major transportation routes like I-5, I-205, I-580 and Hwy 99. With strategic investment into transit, Tracy is also integrating into the regional Valley Link light rail service that will enable connection to the Silicon Valley and the East Bay via a downtown station.
A large, dedicated, and affordable labor force resides in the local area, with a significant portion of employees skilled in Industrial/Manufacturing sector. Tracy's strategic location offers the opportunity to draw on the broad skills of 1.7 million regional workers.
Tracy is also highly regarded for its exceptional quality of life. Businesses operating in Tracy know their employees will experience a safe community with high-quality schools, ample recreation amenities, lively restaurant and shopping scene, and affordability. WalletHub ranks Tracy in the top 40 best places to live in California for families, as well as being in the top 20 for affordability.
Local schools rank consistently high in terms of graduation rates and college readiness. Additionally, culture and recreation can be found everywhere in the City. Those interested in the arts find a lively environment, highlighted by the Grand Theatre Center for the Arts. The location offers live theatre, art galleries and classrooms all in one location.
Tracy offers an unmatched dining scene with a cluster of restaurants in downtown and elsewhere. Establishments such as the Morgan Territory Brewing and Ramon Rios Winery are examples of local beer and wine scene. The City places a high priority on supporting local businesses.
COVID-19 has demonstrated the scope and scale of the impact a global pandemic can make, but it is not the only disaster that can disrupt supply chains. Environmental factors are another one. The world has suffered an increase in severe hurricanes, earthquakes, and fires, all of which are unpredictable natural disasters. Unfortunately, many of the same countries with U.S.-based manufacturing operations have been hardest hit by these catastrophes, highlighting the unreliability of their infrastructure. For example, the 2001 earthquake and tsunami in Japan and floods in Thailand had crippling effects on the electronics and automotive manufacturing sectors. Put simply, the global supply chain is fragile. Businesses seeking lower risk have increasingly started prioritizing the total cost of doing business over the cost of production. The former reflects the value of protected supply chains and risks associated with pandemics and natural disasters.
Tracy is committed to a strong, growing business climate. While business relocation process may seem daunting, the City staff understand business needs like site selection, permit processing, data collection, entitlements and construction, financial incentives, and hiring and training. The City has collaborated with the business community to enable success across all of these categories. Whether capitalizing on onshoring or generally seeking site locationenabled business growth, Tracy advantage has proven to be a winning strategy for large and small businesses alike.