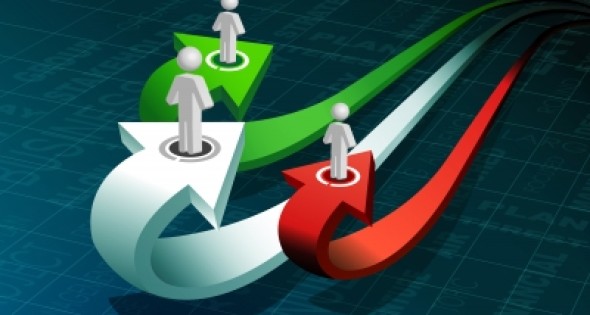 Demographics Shape New England's Economy
01 Apr, 2015
Interview by Rachel Duran
At the moment, consumers are driving the nation's economic bus.
When it comes to the nation's economic performance, 2015 is shaping up to be a better year than 2014. And 2015 will potentially be a better year than 2016, says Ken Goldstein, an economist for The Conference Board, based in New York City.
A review of business investment and trade activities finds these areas will remain weak for most of the year. And while consumers will continue as the driving force in the economy throughout most of the year, it will not continue, tapering off late in the year or in early 2016.
Behind the positive economic outlook is the fact that job growth wasn't just good in 2014 — it was very good. The nation was well above the 200,000 new job rate per month in 2014, and the numbers are expected to remain the same in 2015. What's more, the economic forecast calls for the growth to continue in 2016.
In addition to healthy job creation numbers, 2015 will usher in small increases in wages, as well as continued breaks in terms of gasoline prices.
"Based on the results of our consumer confidence survey, we see the job market, and even wages, moving up from a 2 percent rate of growth to a 3 percent rate of growth by the end of the year," Goldstein says. "
Below, we learn that New England's economy will fare well in 2015; however, its economic picture looks different than the rest of the nation. Goldstein discusses the region's decline in population, the shifts in its economy and main industries, and what these features point to in 2015.
Rachel Duran: The Conference Board's "Employment Trends Index" for January came in at 127.86, up from 127.17 in December, and a 7.6 percent increase from a year ago. What does all this mean for the economy, and in particular, New England?
Ken Goldstein: I think New England is not terribly different from the rest of the country. One big feature, and it is not necessarily an economic feature, is the region's demographics.
In New England, baby boomers are retiring — not slowly — there are massive numbers of folks who are leaving the workforce. In fact, if you look at the country as a whole, the civilian labor force increased by nearly 1 percent over the last 12 months. New England's civilian labor force declined by nearly 0.7 percent.
New England's population is declining. Now, maybe some of that is due to folks who want to get away from the weather up there. I think it is more about the workforce. In the Northeast Corridor, which we define as Washington, D.C., up to New England, the population is a little older than the rest of the country. Retirements are a little higher.
Dover, N.H.: What's Advancing This State's Fastest Growing City?
Dover is a small city of 30,000 people, but one where $100 million in investment activities are underway. The economic expansion is highlighted by mixed-use developments (housing, restaurants, services) in the downtown, and the opening of 50 new businesses in the last five years. Most of those operations are small to medium-sized advanced manufacturing companies.
"We like that demographic because it gives us industry diversity and attracts a more highly educated and more highly compensated workforce, working at high-tech jobs," says Dan Barufaldi, director, Dover Business and Industrial Development Authority.
What's more, a community with well-paying jobs is able to attract and retain talent. Dover is not only New Hampshire's fastest growing city, it also claims the lowest median age in the state. In Dover, 10.4 percent of the households include children less than 18 years old.
This future talent base is vital to the area's advanced manufacturing companies, which have partnered with area technical schools, high schools and a staffing company.
Through the program BizEdConnect, students learn what it is like to work in a real world setting through paid internships, Barufaldi says. "We have had a 100 percent success rate, where all the participating students were offered jobs at the places they worked," Barufaldi says. "Two of these former interns are now in supervisory positions."
For complete details, visit www.dover.nh.gov.
Duran: What other factors are distinctive to New England's economy?
Goldstein: Another thing that is true for New England is the composition of the workforce is different than the country as a whole. For example, the biggest industries in the region are health and education.
By the health industry, I mean those who are delivering health services, and administering health services, such as insuring for health. This workforce has declined over the past year. It is part of the reason health care inflation has been running at or a bit below overall inflation — after decades of running significantly faster.
The fact that health care is not much more expensive than anything else, which is the way it used to be, is contributing to the decline in the New England workforce. In this region, 29.9 percent or 1 out of 5 people are working in health or education.
Also noteworthy in regard to New England's economy is the region's second-biggest industry, which is trade and transportation. So, if 2015 is the year of the consumer, and not the year of the investor or of the trader, it creates an overall drag on U.S. growth, and is probably a bigger drag in New England than anywhere else.
The finance industry, which was the last industry to really recover from the Great Recession, is a larger issue for the whole of the Northeast Corridor than it is for the rest of the country. Not just banking, but in insurance, beyond the cluster in Hartford, Connecticut. And that comes back to health care insurance.
So, what is not happening in health and education, and trade and transportation, affects the housing market in New England. The region didn't suffer as much as other regions during the housing downturn. When you do not lose that much, you don't gain that much.
Duran: What is next for New England?
Goldstein:  They will have a good year, just not as good a year as the rest of the country.
One of New England's strengths is in research and development, which includes the research ring surrounding Boston. They will benefit, unless the federal government cuts back on funding, and it does not look like that will be the case.
There is also economic growth potential in some parts of Rhode Island and some parts of Connecticut; but not in Hartford. Vermont and New Hampshire could also experience a little more growth than New England overall.
And for Maine, if 2015 is the year of housing recovery, then there is a chance that the forestry sector in northern Maine will support the demand for construction materials.
Ken Goldstein is an economist with The Conference Board, and can be reached by emailing goldstein@conference-board.org. The Conference Board is a global, independent business membership and research association working in the public interest. Learn more by visiting www.conference-board.org.
Image by digitalart at Free Digital Photos.net