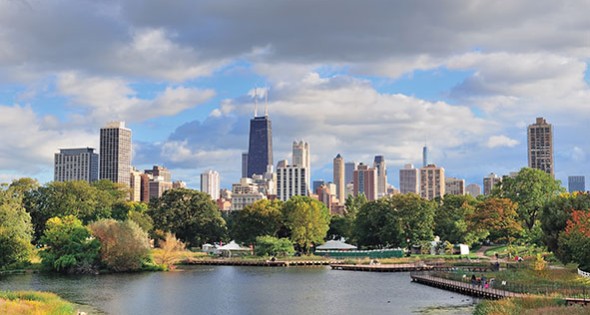 Illinois: Thriving Research & Innovation Hub
18 Oct, 2017
With a $784 billion economy, Illinois is an international center of global commerce that has leveraged its assets to create a growing economy. Strategic location, world-class transportation and logistics infrastructure, a well-educated workforce, major research and higher education institutions, and a focus on innovation allow the diverse business climate to thrive.
Illinois is home to 37 Fortune 500 companies and more than 5,600 foreign-owned company locations. Research and innovation hubs in the state include Argonne, Fermilab, 1871 and UI Labs as well as more than 200 incubators, technology parks, accelerators and co-working spaces for innovators and startups.
The state has a thriving entrepreneurship and innovation ecosystem that includes world class research and innovation hubs, such as incubators and technology parks. In Illinois, $2.4 billion is spent annually on research and development (R&D) funding, and 5,028 patents were issued by inventors in 2015. Approximately 275 digital startups are launched annually, and there are over 440 corporate R&D facilities.
The state is home to more than 192 higher education institutions, a 6.6 million person labor force, 38 percent with at least an associate's degree, and top ranked universities in computer science, engineering and other fields.
In addition to the industry clusters that currently thrive in the state, the Illinois Department of Commerce has identified six industries for targeted growth in Illinois: advanced manufacturing, agribusiness and food processing, transportation, distribution and logistics, life sciences and biotechnology; business and professional services; and energy.
Regional Sidebars
By Rachel Hamilton
City of Litchfield
Litchfield is in central Illinois along Interstate 55 between St. Louis, Missouri, and Springfield, Illinois. There are two full or nearly full industrial parks in Litchfield already, with a third underway on the west side of the interstate, according to the Litchfield Economic Development Office.
The new park will target light manufacturing, assembly, warehousing and distribution. Companies can choose Litchfield for direct access to Chicago and St. Louis via the interstate and for the intermodal access in Peoria.
Manufacturers and distributors already in Litchfield are diverse. Worksaver manufactures agricultural equipment, and Schutt manufactures sports gear, from NFL football helmets to MLB base pads. Midwest Powersource remanufactures diesel engine components and rebuilds locomotive engines, and Sierra Supply Co. distributes SeaStar Solutions' marine engine components.
Litchfield has already begun to add a technology sector to its successful manufacturing and warehousing sectors. Litchfield's fiber optic internet network is in place and running.
Litchfield has a campus of Lincoln Land Community College (LLCC) to help provide workforce training. The city partners with LLCC to meet the training needs of the local employers.
The city offers programs and incentives to support business growth and development in Litchfield. For information on industrial, commercial or residential development, contact the Litchfield Economic Development Office at 217-324-5253, tflannery@cityoflitchfieldil.com or www.cityoflitchfieldil.com.

Village of Arlington Heights
A notable feature of economic development in Arlington Heights has been Arlington Downs, a multi-phase 30-acre mixed use project that already includes residential and an 11,000-square-foot co-working space, says Business Development Coordinator for the Department of Planning and Community Development at the Village of Arlington Heights, Michael Mertes.
The village is in the northwest Chicago area near O'Hare International Airport and Chicago Executive Airport. It has a "population of nearly 76,000 residents and an average household income of over $100,000," Mertes says.
Because of its proximity to both airports and its access to Interstates 90, 290 and 355 and industrial rail, Arlington Heights attracts wholesale warehousing and logistics.
Harper College, located just southwest of Arlington Heights, has a small business development center that provides resources to small businesses and startups, including information on business plans, marketing and internet presence, according to Mertes.
The college also has an apprenticeship program, new for 2017. "Businesses can sponsor a student working toward an associate's degree," Mertes says, explaining that the student gets part-time employment at the business that can lead to a full-time career there.
"Arlington Memorial Library also offers a business center free for Arlington Heights businesses to use," says Mertes. Robert Morris University has a satellite campus in the village.
Over 50,000 workers are employed in Arlington Heights and there are more than 3,100 for-profit businesses there, making the village one of the Chicago area's largest business communities, according to Mertes. "The village itself offers a zero-interest loan program. Businesses are eligible to receive an interest-free loan of up to $20,000."

Village of Park Forest
U.S. Highway 30 marks the northern border of the Village of Park Forest in the southern Chicago area, and the village is not quite three miles east of Interstate 57. As part of the Chicago metro, the workforce population in the area is in the millions.
"One thing that makes us stand out in terms of manufacturing is workforce development partnerships," says Director of Economic Development and Planning, Hildy Kingma. An example is Park Forest's Manufacturing Career Program, which trains high school students to fill jobs that otherwise go empty due to lack of workers with certifications.
"Our entire commercial and industrial zones are an Enterprise Zone," says Kingma, explaining that Park Forest can offer tax incentives to companies during first construction or expansion. Park Forest can also offer the resources of the region as members of the Chicago Southland Economic Development Corp. (CSEDC).
An example of a company that Park Forest is helping in the region is Continental Midland Group, which makes fasteners and is currently treating their water from a nearby aquifer on-site, says Assistant Director of Economic Development and Planning Sandra Zoellner.
"The village is partnering with them to extend a 12-inch water line," Zoellner says, explaining that the water line construction, scheduled to begin in early 2018, will open up more land in Park Forest for development—roughly 120 to 150 acres.
Access to dark fiber, a backbone of which runs into nearby Governors State University, can be built out into that land, says Zoellner. Dark fiber is fiber optic internet that is available for private lease.