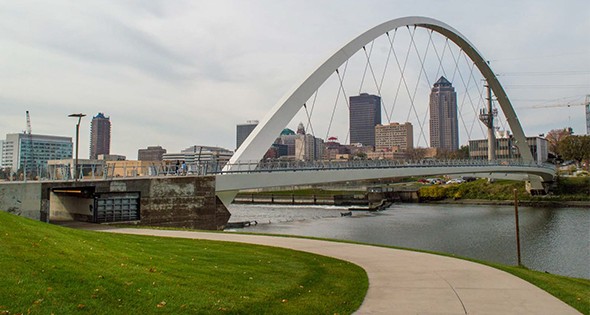 IOWA: Future Ready
24 Jan, 2019
Iowa wants you to know their state is more than just cornfields.
A recent U.S. News and World Report study listed Iowa as the top state in the nation. Iowa secured the number one ranking in infrastructure—an improvement from the previous year's number 15 position—due in large part to the state's recent advances in broadband access. Iowa also had top 10 rankings in other key categories including health care (3rd), opportunity (4th), education (5th), and quality of life (9th) that contributed to their overall top grade.
On top of these impressive statistics, the state boasts low operational costs, a pro-business climate and an educated labor force all combining to make Iowa a great locale for both job-seekers and new business opportunities.
Despite advances in other industries, Iowa still continues to be thought of as a farm state. And with good reason, too; they are the leading producer of corn, eggs, pork and soybeans in the country. It will surprise many to know that advanced manufacturing has become Iowa's largest industry, contributing three times more than the state's agriculture industry.
Many rural areas are enjoying the benefits from construction of new, large processing and production facilities well outside of city limits. Iowa's diverse economy includes other non-farm sectors such as, health care, insurance and finance, biotechnology research and development all of which are driving growth in metropolitan areas.
Two business development programs supported by the state that are encouraging growth are Iowa's Targeted Small Business (TSB) program and Future Ready Iowa. TSB is designed to help women, individuals with minority status, service-connected disabled veterans and individuals with disabilities overcome some of the hurdles to start or grow a small business in Iowa. Qualified businesses may receive loans with favorable interest rates, and benefits for state of Iowa procurement opportunities. And the Future Ready Iowa program has the goal of ensuring that 70 percent of Iowa's workforce has education or training beyond high school by 2025.
IOWA: Clinton Regional Development Corporation
Upon arrival in the Greater Clinton Region, the feeling of optimism and potential are palpable. Economic and community development are priorities for the wide range of stakeholders who collaborate to get things done. Here, every company and prospect is treated like a VIP with direct and immediate access to decision makers. "Our number one priority is to accommodate our businesses' needs regardless of their size," said Erin M. Cole, President and CEO of the Clinton Regional Development Corporation. "In the Greater Clinton Region, each company is valued and appreciated. We go out of our way to leverage all local, state and federal resources for the benefit of our employers."
The Greater Clinton Region is a bi-state territory that straddles the Mississippi River. It offers economic opportunities in both Clinton County (Eastern Iowa) and a portion of Whiteside County (Northwest Illinois). Its prime Midwest location along U.S. Route 30 is in close proximity to I-80 and I-88, with Chicago less than three hours away. The region is served by 3 Class 1 railroads and barge transportation is available on the Mississippi River. The Greater Clinton Region's top-notch location has attracted a wide range of industries already, from chemicals processing to agricultural processing and from consumer products to pet food.
Within the Greater Clinton Region, there are three business parks available for development, all of which are located within TIF districts. The Lincolnway Industrial Rail and Air Park is a State of Iowa Certified Site for heavy industry and currently houses several innovative biofuel and manufacturing facilities. The Lyons Business and Technology Park is a fast-growing site for light industrial and back office operations. On the Illinois side, the Fulton Industrial Center is a prime location for both heavy and light industrial operations, which also benefit from the park's Enterprise Zone status.
Cole says: "We are pro-actively attracting new businesses involved in advanced manufacturing, biotechnology, logistics/warehousing, food and beverage production (including distilled spirits) and back office operations." Abundant available land, generous incentives, and the recent addition of two federal "Opportunity Zones" in Clinton, IA is making it easier to entice new investment into the region.
In order to retain and attract new businesses, a community must have an adequate, reliable workforce. This is made increasingly possible by the "Home Base Iowa" program, which offers generous housing, tax and other incentives to U.S. military veterans who move to Iowa. Furthermore, if a veteran moves to Clinton County, then the County offers additional tax and housing incentives making the Greater Clinton Region a very affordable place to live. In 2018 alone, Clinton County experienced a 500% increase in out-of-state veterans settling here due to the Home Base Iowa program.
Come visit and witness all that the Midwest has to offer—hard-workers, extensive transportation options, high quality of life, low cost of living, and warm, welcoming people who genuinely care about their community. For more information, Clinton Regional Development Corporation, 563.242.4536, clintondevelopment.com