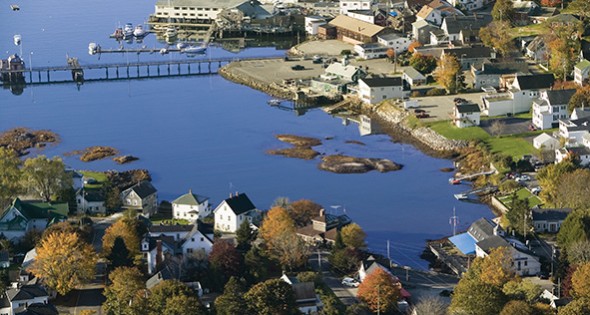 Maine: Strong Small Business Culture
31 Oct, 2017
By Lori Culpepper
Many cities in Maine, especially Portland and the surrounding areas, rely on a strong business culture of small to mid-size, privately owned companies. The downtown district in Portland and the Old Port historical area provide a variety of business opportunities, and there is an emphasis on business growth throughout the greater Portland area.
There are some large companies that maintain their headquarters in Maine, including Fairchild Semiconductor in South Portland; IDEXX Laboratories, a large veterinary biotech company in Westbrook; and outdoor supply retailer, L.L. Bean in Freeport. Maine is also the home of Jackson Laboratory, a non-profit institution that is the world's largest mammalian genetic research facility.
Maine's key industrial outputs include paper, lumber and wood products, electronic equipment, leather products, food products, textiles and bio-technology. Naval shipbuilding and construction continue to be important as well, with Bath Iron Works in Bath and Portsmouth Naval Shipyard in Kittery. Portland International Jetport was recently expanded to provide the state with increased air traffic from carriers such as JetBlue and Southwest Airlines.
Seafood (notably lobsters), poultry and eggs, dairy products, cattle, blueberries, apples, and maple sugar are the primary agricultural products of the state. Western Maine aquifers and springs are a major source of bottled water.
Tourism and outdoor recreation have begun playing an increasingly important role in Maine's economy. The state is a popular destination for sport hunting, sport fishing, snowmobiling, skiing, boating, camping and hiking, particularly during the summer months.
Regional Sidebars
By Rachel Hamilton

Downeast Economic Development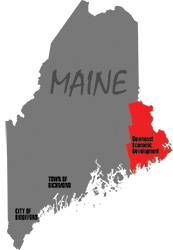 Eastern Washington County, in the heart of the St. Croix Valley, is strategically situated on the border of New Brunswick, Canada along the banks of the St. Croix River. The Port of Eastport, in the Gulf of Maine, is one of eight natural deep-water ports on the Atlantic seaboard.
"The area has some great options for the movement of goods to market and offers a robust transportation infrastructure," says Julie Jordan, the Director of Downeast Economic Development. "Shipping, rail, a regional airport that can clear customs and refuel jets, and an east/west highway connector to I-95." For those companies that are looking to expand into international markets, Calais is a great stepping stone to Canada, Europe and Asia.
Baileyville, which lies nine miles north of Calais is the manufacturing hub of the St. Croix Valley and offers an array of tax incentives, including tax increment financing (TIF) and tailored financing packages. The local community college will develop employee training curricula that is specific to a particular company. Jordan stresses the area's "open for business" attitude and willingness to accommodate the needs of any incoming business – large or small.
"Our research shows that we have some unique investment opportunities that are ripe for development and financial success. We are actively recruiting entrepreneurs and investors for private label bottled water and hard-cider, data storage facilities, cold storage facilities and a 55+ active living planned retirement community," explains Jordan. "Our low cost of living (13 percent below the national average), available workforce, numerous financial incentives and 'home town' atmosphere all work together to create a strong business climate for employers and a great living environment for employees and their families."
For more information, contact Julie at ewced@outlook.com, 207-214-5926 or visit their website at downeasteconomicdevelopment.com.

City of Biddeford
The City of Biddeford may be one of the most talked about places in Maine. It is located along the Saco River, 18 miles south of Portland. Long a center of textile manufacturing, the downtown and the Mill District here are now attracting millions of dollars of new investment, both public and private. In the past five years, more than $90 million has been invested in the downtown. Local and out-of-state developers are clamoring to be a part of what is called the "Biddessance."
The Saco River drops 47 feet at Biddeford, and for years these falls powered the looms of the textile industry. After textiles moved south, a new industry came to town: waste-to-energy, and for a long time "the Maine Energy Recovery Company was burning municipal waste, just a few blocks from City Hall,"says Brad Favreau, Biddeford Economic Development Coordinator. "It prevented good development, but also stopped bad development," he says. "Our downtown has largely retained its character of 100 years ago."
The city purchased and razed the facility in 2012. "Since then we have seen a tremendous amount of investment dollars pour into the downtown. Biddeford is now considered a cool place," says Favreau. "The 6.5-acre site has been cleaned up to residential standards, the highest level of environmental standards in Maine, and we're now aggressively marketing the site for mixed-use, campus-like redevelopment."
The overall economy remains strong. "Textiles are gone, but we've maintained a strong manufacturing sector," says Favreau. "And we're positioning ourselves for the future."
Town of Richmond
Richmond is one of Maine's Certified Business-Friendly Communities. "What that means is we really support business in a number of ways," says Darryl Sterling, community, business and economic development director for the Town of Richmond.
Those supports include incentive programs, tax increment financing, grants for gap financing and partnerships with educational institutions like the Maine Technical Institute.
"Richmond's location is central to commuter patterns for the regional workforce. […] What that entails is a population of 350,000 to draw on within a 30 mile radius." says Sterling. The town is located between Portland and Maine's capitol, Augusta, at Exit 43 off Interstate 295.
Just south of Richmond is Bath Iron Works, which builds large ships—notably destroyers for the Department of Defense, according to Sterling. Richmond is targeting companies interested in composites and advanced materials as well as any marine and aquaculture companies that might fit into the supply chain or benefit from DoD contracts.
Richmond is also working to attract "light industries or clean industries" such as call centers, says Sterling. "We have significant investment in commercial and industrial sites."
"Richmond is turnkey ready for companies," says Sterling. "We have fully revitalized our downtown and waterfront. […] All the transportation infrastructure is primed and ready to go."
The waterfront in downtown Richmond overlooks the Kennebec River, across which is the Steve Powell Wildlife Management Area on Swan Island. The river also provides access by boat to the coast of Maine.