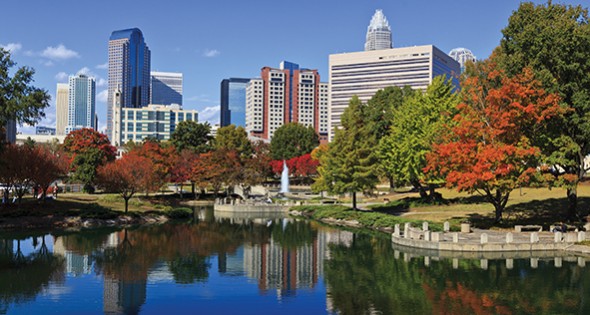 North Carolina: Consistently at the Top
03 Apr, 2017
By Lori Culpepper

North Carolina has ranked as one of Forbes' Top 5 Best States for Businesses for 10 consecutive years, making it one of the best business climates in the country. This success is due to a competitive tax climate, low business costs, a favorable legal and regulatory environment and the availability of skilled labor.
Site Selection named North Carolina the #1 state for workforce development in 2016 for the Atlantic region. With more than 460,000 workers, the state has the largest manufacturing workforce in the southeast.
The state also has one of the nation's most renowned education systems, supplying companies with a pipeline of skilled workers and facilitating access to research and development resources. North Carolina has 53 colleges and universities, including three Tier 1 research universities: North Carolina State University, Duke University and the University of North Carolina at Chapel Hill.
The North Carolina Community College System (NCCCS) offers comprehensive and advanced vocational and technical programs with more than 800,000 students enrolled at one of 58 campuses each year. NCCCS and North Carolina's Department of Commerce developed NCWorks a free, customized job training and recruiting program for new and expanding businesses.
North Carolina is also home to major interstates, international airports and deep-water seaports. The nation's fifth-busiest airline hub is located in Charlotte, and there are four additional international airports. The state is also home to 11 regional and more than 100 general aviation facilities.
Cleveland County
By Rachel Hamilton
Cleveland County has a population of approximately 100,000, and it has seen success in many industry sectors, including automotive, aerospace, advanced materials and consumer products, according to Kristin Reese, executive director of the Cleveland County Economic Development Partnership.
"It's really phenomenal for a rural community like ours to have this type of success," Reese says. She attributes that success to several factors, including the "very engaged local governmental leadership who have given us the tools and the ability to develop shovel-ready product that new companies are looking for."
"Another thing that has benefited us is our distinct geographical location," says Reese. The county is situated between Charlotte Douglas International Airport in Charlotte to the east, Greenville-Spartanburg International Airport and the South Carolina Inland Port Greer to the southwest.
"We've established a pretty phenomenal reputation in our community for being business-friendly," Reese says, citing low operating and utilities costs, affordable tax structure and real estate, and the area's skilled workforce. "Truly, we wouldn't have been successful without collaboration; economic development is a team sport."
"The highest compliment a company can give us is to expand here," says Reese. "The success we've had is an indication that we do have a good labor draw here. […] We're pulling from eight or nine other counties."
The county is partnering with local manufacturers and educational institutions to help secure the labor pipeline in the future. "Industry has to drive the strategy," says Reese. Efforts already underway include paid internships for school teachers to work in manufacturing settings in the summer to expose them to opportunities they can bring to their students.