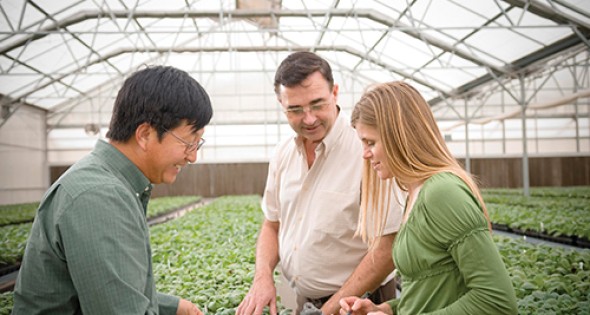 Agribusiness
27 May, 2016
Communities Add Value to Ag and Food Sectors
by Mark Kleszczewski
Like any major industry that plays a vital role in today's economy, agriculture and food processing are not exempt from globalization and ever-changing market conditions. New federal labeling requirements, shifting safety regulations and dietary guidelines, the movement toward natural and "clean" foods and fast-paced business consolidations are but some of the main concerns and trends facing industry companies today.
Despite such challenges, increasing demand from hundreds of millions of consumers at home and abroad continues to make the transforming of raw agricultural materials into value-added products, an economic windfall for companies and communities alike.
"If there is such a thing as a recession-proof industry, the Food and Beverage (F&B) industry is it," observes Jay Garner, president and founder of Garner Economics. "Whether the economy is experiencing unprecedented growth or recession, folks continue to consume food and drink products."
According to the U.S. Department of Agriculture (USDA), agriculture and related industries contributed $835 billion to the U.S. gross domestic product in 2014. That figure ties into a food and beverage manufacturing sector that employs about 1.5 million people in more than 31,000 plants located throughout the country.
The USDA reports that meat and poultry plants employ the largest percentage of food and beverage manufacturing workers, followed by bakeries, and fruit and vegetable processing plants.
Every one of those types of plants can be found within a seven-county region of east-central Indiana where more than 4,000 workers are employed at 40-plus food processors, including Nestlé, Tyson Foods, Purina, Sugar Creek Packing and others.
Adding to that sizeable cluster is Henry County, where Florida-based Boar's Head Brand chose to construct its new premium delicatessen product manufacturing and research facility on 66 acres of land in New Castle. The 150,000-square-foot production center will produce turkey, ham and chicken delicatessen products when fully operational by the end of this year's second quarter. The company's $80 million investment there is expected to create at least 200 new jobs by 2018.
"Boar's Head will build a state-of-the-art manufacturing facility in New Castle, and we would like to thank Henry County and the state of Indiana for their support in making this possible," said Michael Martella, president of Boar's Head Brand, at the company's initial project announcement. "We look forward to the beginning of a long-term, cooperative business partnership with the state of Indiana. The state offers many opportunities including a low-tax climate and an experienced workforce that create an ideal business environment for our company."
Although Boar's Head currently owns six other production centers elsewhere, the Henry County facility will be the first site the company has built outright.
"Being situated right along the I-70 corridor with a large food employee base right next door, along with logistics and supply chain experience, is certainly a competitive advantage for us," says Corey Murphy, president and CEO of the New Castle / Henry County (Ind.) Economic Development Corporation. "Having reliable access to our extensive water and discharge handling capacity was also a big deal for Boar's Head."
Not only does the county offer water resources to spare, Murphy continues, food producers also can benefit from the nearby Purdue University Center for Food and Agricultural Business and the New Castle / Henry County Industrial Park, located directly across the street from the Boar's Head site.
Murphy says the park's new shell building can readily accommodate expansion from its current 50,000 square feet to 200,000 square feet. He notes that total flexibility for customization and final build-out makes the site a prime candidate for additional food processing investments.
Heading west, one of the most actively growing U.S. regions in feeding the world lies in southern Idaho. It's where everything from trout farming and cheese making to sugar refining and large-scale production of frozen French fries takes place, thanks to world-class raw materials and a robust food-processing workforce.
Billing itself as "America's Most Diverse Food Basket," the six-county "Magic Valley" region leads the state's agribusiness industry by contributing more than 54 percent of the state's record $9.7 billion total ag receipts for 2014.
"Not only do we have production agriculture, but we also have a manufacturing and science cluster with significant research and development going on here," says Carleen Herring, senior vice president and chief operating officer at Region IV Development Association.
Industry leaders Con Agra, McCain Foods, Amalgamated Sugar, Frulact, Glanbia, PerforMix Nutrition Systems and Clif Bar are some of the companies making and selling finished products that end up on dinner tables from New York to the Pacific Rim and beyond, adds Herring.
For such prowess in food production, manufacturing and supply chain capabilities, southern Idaho earned the prestigious Federal Manufacturing Community Designation in the food category, further cementing this small, but dynamic region's leadership in the global ag and food marketplace.
The six counties are particularly strong in dairy, boasting output of 72 percent of Idaho milk production in a state that passed New York last year as the number three dairy-producing state, notes Herring.
The latest dairy investment to further growth in the region comes from yogurt maker Chobani, which recently announced a major expansion to its manufacturing facility in Twin Falls in order to magnify production capacity and meet demand for new and existing products.
Chobani commissioned its second domestic yogurt manufacturing there in 2013, making it the largest yogurt manufacturing facility in the world. The company had previously invested more than $450 million to build the 1 million-square-foot operation, which is now gearing up to pursue growing foodservice opportunities and launch products this year in new international markets, including Mexico and Puerto Rico.
A significant boost to food companies, Herring says, are local educational institutions like the College of Southern Idaho which offers a highly regarded Food Processing Technology program and a state-of-the-art food-processing and automation lab at its $8.5 million Applied Technology and Innovation Center. The college also received a $2.5 million federal grant to create a new degree program in Food Quality Management, part of $474.5 million awarded to community colleges nationally to expand demand-driven skills.
Pure Food Profits
In addition to greater food safety and transparency, consumers have also been increasing their desire for more sustainable and organic products—one of the fastest-expanding categories within the food and agriculture industries.
Indeed, U.S. consumer demand for organic food products has grown by double digits every year since the 1990s, with sales exceeding $39 billion by 2014, according to the Organic Trade Association.
This trend is an appropriate fit for the long-standing agricultural cluster centered around Gilroy, California, just south of Silicon Valley.
Though known for its annual Garlic Festival which attracts more than 100,000 attendees each July, Gilroy's well-trained food workers and specialists are the engine for a growing number of agribusiness, food processing and distribution companies, including those involved in the natural segment, explains Tammy Brownlow, president and CEO at Gilroy (Calif.) Economic Development Corporation.
The area's most recent addition is a new distribution center built by United Natural Foods (UNFI), the country's largest distributor of organic and natural foods. Completed in 2015, the 400,000-square-foot facility—which can be expanded to 800,000 square feet—began operations earlier this year. Brownlow says the company chose Gilroy due to its excellent highway access and proximity to the Bay Area and expects to employ close to 500 workers locally upon full build-out.
One of Gilroy's biggest and best-known food manufacturers is Christopher Ranch, a grower and processor of garlic products and employer of 650 people when in full production. Another major Gilroy food employer is garlic and onion processor Olam International.
Joining them is Pulmuone (Monterey Gourmet Foods), which opened a local facility in 2011 that now employs 270 workers making gourmet pastas and sauces. Other local companies include Silva Sausage, Wheat Valley Bakery and Blossom Valley Foods.
Unlike other locations in the Bay Area, Gilroy's infrastructure is ready to accommodate new growth and has an abundance of land that is ready for development, including parcels zoned for commercial or industrial use, Brownlow says.
In addition to Gilroy's many food producers, the region's Hecker Pass corridor is also home to a research outpost of Swiss multinational Syngenta, which performs seed research for flowering plants. Brownlow adds that her group has also gotten interest from regional wineries looking to establish production operations in Gilroy's industrial areas, adding to the area's already successful Santa Clara Valley Wine Trail.
Getting Into Growth
As agriculture and food processing evolve beyond just commodities and mass-market products, opportunities in the sector abound for those with the right resources and growth outlook.
"Indiana is very competitive from an agricultural input standpoint, so working with our state partners to help leverage new opportunities is very important," says Murphy. "Also, because of our experience in automotive manufacturing, there is a good crossover of skills here, which makes food production a good fit for our workforce. There are always going to be changes in business, but everyone has to eat, so doing more in the food industry helps us be a bit more recession-proof as well."
For complete details on the organizations featured in this article, visit:
Gilroy (Calif.) Economic Development Corporation gilroyedc.org
New Castle / Henry County (Ind.) Economic Development Corporation http://nchcedc.org/
Southern Idaho Economic Development Organization southernidaho.org
Side Note 1
Federal Designation Will Yield Big Results for Madison Region Agriculture Industry
The Agriculture, Food and Beverage (AFB) Industry in Wisconsin's Madison region will receive a boost as a result of a federal initiative designed to support long-term economic development strategies. In July 2015, the Madison Region Economic Partnership (MadREP) was named one of 12 new Investing in Manufacturing Communities Partnership (IMCP) designees by the U.S. Department of Commerce and is now only one of 24 such designees in the nation. As an IMCP designee, MadREP and its partners will receive coordinated support to navigate federal resources from dedicated liaisons at 11 federal agencies, which combined have more than $1 billion available in economic development assistance. MadREP applied for the designation in the AFB manufacturing sector, which has a long legacy and employs more than 12,000 in the Madison region. MadREP included 30 projects in its strategy, spanning workforce and training, supplier network, infrastructure/site development, research and innovation, trade and international investment, and operational improvement and capital access. Projects include a certificate program in dairy processing at the Center for Dairy Research at the University of Wisconsin-Madison, an expansion of the small-batch food-production facility Innovation Kitchens in Dodgeville and expansions to the Babcock Hall Dairy Plant at the University of Wisconsin.
Side Note 2
Agri-Synergy
By Laurie Arendt
While producer proximity naturally fuels the food production industry in Wisconsin's New North region, it's a synergy with other existing industries that gives it an added advantage. "Our region has a unique marriage between two distinct industries: paper production and food," says Jerry Murphy, executive director of The New North, Inc., the regional and marketing development organization representing northeast Wisconsin. "The connected logistics of the paper industry, as well as the packaging and printing technology, are value-added elements for the food production industry."
Manufacturing of all types remains a vital part of the Wisconsin economy, making up 16.3 percent of the state's employment base. Within the 18 counties of the New North, manufacturing in all its forms comprises 25 percent of the region's GDP. "Our manufacturing, printing and technological advances directly benefit our food production industry, as well," says Murphy, citing the 2011 expansion of flexible food packaging printer Prolamina into the region. "The food industry suppliers are right here with them. It was a very strategic move for them to establish a presence here in the New North."
The region has remained a hub for the nation's leading paper and packaging producers. As this industry grew, so did the need for advanced transportation in and out of the region. Transportation leader Schneider, a $4 billion international logistics company known for its distinctive orange trucks, is based in Green Bay.
One of the region's oldest food production companies, Sargento Foods, is another example of a company that started small but now thinks big from its New North headquarters. Formed in 1949 as a small, family-owned cheese store in Plymouth, Wisconsin, the company now distributes cheese nationwide and is one of the key reasons why 25 percent of the cheese sold in the United States is from Wisconsin.
"This is a region that has been very good to us, and we believe in it," says Mike McEvoy, executive vice president for Sargento Foods. "We are a national company, but we're centrally located within the country. That works out very well for us in terms of product distribution, too."
In 2015, Sargento announced $30 million in expansion plans at two of its existing locations, which will add 140 jobs to its workforce. While cheese seems like a natural fit given the state's reputation for dairy production, it's just one part of a much larger regional food manufacturing industry. The New North region is home to a diverse range of food manufacturers, from Sheboygan Falls, Wisconsin-based Johnsonville bratwurst to meat processor American Foods Group in Green Bay. Lakeside Foods, an industry-leading producer of private-label frozen and canned foods company that distributes its vegetables to 14 countries.
Dairy manufacturers include specialists in Italian-style cheese, such as Grande Cheese in Brownsville and BelGioioso in Denmark, Wisconsin, as well as makers of ice cream and frozen dairy products.
"There is such great support from the manufacturing industry in the New North for our industry," says McEvoy. "I don't think you could find a single food producer in our region that would disagree with that. We're very fortunate."