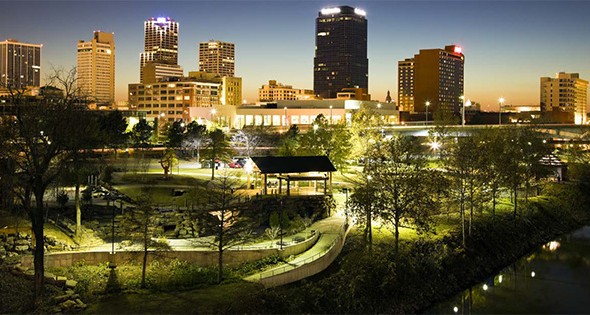 Arkansas: Melting Pot of Industries
21 Jun, 2018
Arkansas is in the middle of the U.S., centered between Canada and Mexico. This location means it is positioned to reach millions of people easily and efficiently. As home to more than 141 international corporations, the state is a melting pot of different industries.
These major industries include: advanced food manufacturing and packaging; aerospace and aviation; biosciences; data centers; distribution and logistics; firearms and ammunition; paper and timber products; regional headquarters; smart grid technologies; software development and data management; steel production; sustainable building products and fixture; technical support services; transportation equipment manufacturing; and Wal-Mart suppliers.
The entrepreneurial mindset in Arkansas has made the state a center of international commerce. Start-up hubs like Arkansas Made, Arkansas Innovation Hub and Innovate Arkansas bridge the gap between innovation and commercialization, while accelerators like The ARK Challenge are funding and supporting new tech companies.
A recent report from the U.S. Department of Labor's Bureau of Labor Statistics shows that Arkansas added 32,700 non-farm positions to the state's economy last year. With continued job growth and an all-time low unemployment rate of 3.4 percent, Arkansas is ranked among some of the best-performing states when it comes to job creation.
Bank of the Ozarks recently announced that it plans to build a new 247,000-square-foot corporate headquarters in Little Rock for initial development and future expansion to support the bank's continued growth. Approximately 500 employees are expected to work in the new building when construction is complete in late 2019 or early 2020, with capacity to eventually accommodate 800 to 900 employees. Bank of the Ozarks is the largest bank headquartered in Arkansas, and it is among the top 60 banks in the U.S. based on asset size.
Arkansas Governor Asa Hutchinson recently announced the completion of a yearlong, $1.2 million virtual geographic information systems (GIS) mapping venture, the Arkansas GIS Project. The program involves a digital map that details each of the state's 75 counties with important information about roads, new developments and other infrastructure projects through aerial images.
County officials have the most up-to-date aerial maps of Arkansas, which will better prepare counties for future infrastructure and economic development projects. The maps will also provide for faster response times from local law enforcement and emergency personnel.
Chaffee Crossing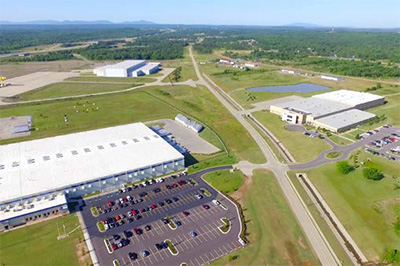 Chaffee Crossing is a thriving community in western Arkansas. From 1997 to 2017, more than $1.5 billion in capital investments resulted in 15 corporate and regional headquarters, generating more than 3,500 jobs, 24 residential developments, and numerous amenities.
"There is much about our community that gives companies an advantage," says Fort Chaffee Redevelopment Authority Executive Director, Ivy Owen. "Our location on the Arkansas River, two major interstates, an airport, and a new river port facility to be built give us an extra edge from a transportation and geographic standpoint."
The community has been rather selective of the industries it has targeted, focusing on advanced manufacturing. Some of the area companies include Graphic Packaging International, which print heavy food container cartons; Mars Petcare Corporation, which manufactures dog and pet food; Glatfelter Incorporated, an absorbent paper products company that repurposed an unused Mitsubishi Hitachi Power Systems facility in the community; and Umarex USA, a renowned manufacturer of air guns, air rifles and air pistols. "Most of the companies that have come to Chaffee Crossing have already expanded," Owen says. "In fact, Umarex has doubled in size since they located here."
"Going forward," Owen says, "We hope to recruit aerospace related companies, as well as companies that can support the manufacturers already here."
Another major benefit of Chaffee Crossing is its workforce. The area has long been known as a manufacturing community, so it has a well trained workforce — or retrained. "We have a great university in the University of Arkansas-Fort Smith, that has a retraining program and a career training center," Owen says. "About five years ago we had a big manufacturing plant close, and there were many people unemployed. But most of those workers went to the university, got retrained, and are now employed again. So our unemployment rate is one of the lowest in the state. Our community is willing to be trained to do whatever work is needed."
The community also recently welcomed an installment of the Arkansas Colleges of Health Education, the Arkansas College of Osteopathic Medicine, which served 160-plus students in its first class in the 2017-2018 school year. The medical school is already planning to add a second college, the Arkansas College of Health Science, in the next two years. "By 2021, the school will have graduated its first class of medical students, and that college is completely supported by private healthcare organizations," Owen says. "We are very fortunate to have this college, and it has already been ranked as one of the top new osteopathic medical schools in the country."
East Arkansas Crossroads Coalition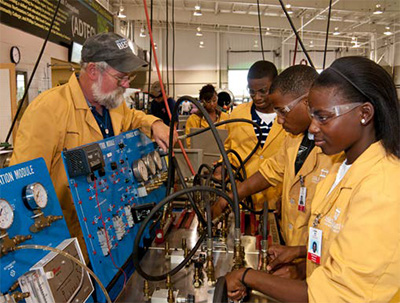 The East Arkansas Crossroads Coalition is an alliance of eight counties in eastern Arkansas, which is also known as the Delta. The area has convenient access to two Interstates 40 and 55 — an abundance of water thanks to the Mississippi River Valley alluvial aquifier, inexpensive land, competitively priced utilities, and access to multiple ports. The area can also be reached by approximately 40 percent of the United States population within just one day's drive.
"The state's convenient geography, low cost of living, thriving business climate and the abundance of natural resources make Arkansas an ideal location for a variety of businesses," says East Arkansas Crossroads Coalition Executive Director, Mark O'Mell. "Arkansas has created a business climate, workforce, and quality of life that continues to bring jobs and investment from new and expanding companies."
The right-to-work state has the numbers to prove it's serious about providing the ultimate business climate possible. The state, O'Mell notes, has the second highest percentage of manufacturing employment in the south, the seventh lowest cost of doing business, the second lowest cost of living in the nation, and an impressive number of Fortune 500 companies headquartered in the state. The state also has the 11th best and most educated workforce in the country, and its nationally recognized and award winning workforce training model, Arkansas Delta Training and Education Consortium (ADTEC), allows businesses to specify their workforce needs and the local community colleges are equipped to quickly fulfill the training requirements within the existing workforce capacity.
"ADTEC and its participating colleges can customize training programs to meet any industry need and provide training on campus or on location, resulting in a highly trained, highly skilled labor pool," O'Mell adds. "The Arkansas Delta is also engaged in the ACT Work Ready Communities Initiative, and we are looking forward to all participating counties being designated as 'Work Ready' within the year."
Not surprisingly, the region is home to numerous industries, from major transportation and distribution hubs to technically advanced manufacturing facilities. The area's principal industries include manufacturing, transportation and logistics, warehousing and distribution, agriculture and aquaculture, food processing, tourism, automotive assembly and suppliers, aerospace technology, and renewable energy. In addition, the region — specifically Mississippi County — has become the leading steel producing region in the United States.
"East Arkansas presents prospective businesses with the best of both worlds from an economic standpoint," O'Mell says, "because we offer small-market advantages combined with large-area resources."
Mississippi County
Long before its grand reinvention, Mississippi County was flooded in marshland. Across the vast, unbroken stretches of cultivated fields, the blessings of old swamps remain.
The northeastern outcrop of Arkansas, the County is bordered (and named) by the Mississippi River, and sits near the crest of the Mississippi Alluvial Plain. This low-lying valley (now properly drained) has emerged as one of the world's most agriculturally prolific regions. The County has been a global leader in cotton production, and still maintains a strong agricultural base, primarily in rice, corn, soybeans, and yes – good ol' cotton.
But today, steel is king in Mississippi County – the second largest steel-producing county nationwide – and more than 11,000 manufacturing jobs serve in varied and supportive industries. Over the last decade, demand for these types of quality jobs has increased by over 40 percent.
In the last few years, steel corporations NUCOR and Big River Steel have invested roughly $1.5 billion into the area. Already in 2018, Union Partners (Metals & Logistics) Corporation has announced construction of its new facility in Osceola, to work collaboratively with Big River Steel, bringing together the most advanced innovations in industry technology.
"It's just one more asset that we've got that will make the economy even stronger," Osceola Mayor Dickie Kennemore says. "We played to our strength, and our strength is the Mississippi River. That's how we at tract these heavy industries and these good-paying jobs."
In an effort to fight the export of steel manufacturing overseas several years ago, County residents banded together. "The people were willing to reinvest their own money in their own county," says Clif Chitwood, Mississippi County Economic Developer. "They voted in an Economic Development Tax, the
funds from which are used as incentives for companies that will either expand or locate here. We've been very successful."
Of cultural interest, at least 800 archaeological sites can be found in the County. Blytheville is home to a 1930s-era Greyhound Bus Station, one of only three still standing. The Dyess community, established by FDR during the Great Depression, was a planned, agrarian township of 500 farms, tended by Arkansas sharecroppers and tenant farmers. This tiny town is best known as the childhood home of Johnny Cash; tours of the house and museum are popular among country music fans. For the outdoorsmen in the area, fishing, deer hunting and duck hunting are always enjoyable.