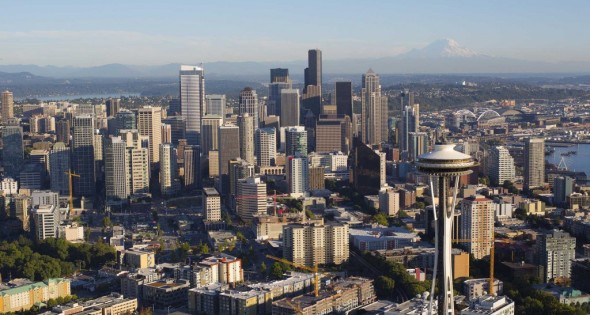 Innovation and Connections Energize Washington State
23 Nov, 2015
By Rachel Duran
Washington state's economy continues to be driven by a culture of innovation, where small companies continue to grow into global powerhouses. We know about historically successful companies such as The Boeing Co., Starbucks Corp., Nordstrom's, REI, PACCAR, Costco, Amazon and Microsoft. They are joined by information technology companies including Expedia, Redfin and Tableau Software, for example.
"The success of these companies points to the culture of innovation and entrepreneurship in Washington," says Allison Clark, managing director of the business development division, Washington State Department of Commerce. "We are a growth-oriented economy and one of the fastest growing states. Seattle is one of the fastest growing cities in the country."
The state's business climate is increasingly attractive to international projects. For example, Delta Air Lines is utilizing Seattle's airport as a major international hub because the city is equidistant to both Asian and European markets in terms of direct flights. "This is a once in a generation shift that an airline undertakes," Clark says. The airport is now the fastest growing airport in North America.
Another noteworthy international project is a Chinese entity that is a combination of state-owned and private sector enterprise. The commerce department is partnering with the Chinese Academy of Sciences Holdings Co. for two gas-to-methanol plants proposed by NW Innovation Works at the ports of Tacoma and Kalama.
Currently the projects are in the permitting phases. The Chinese entity will tap into a major natural gas pipeline that runs through the state, which originates in Canada, to convert natural gas to liquids (methanol) for use in the production of olefins used in plastics for household goods.
"The company will invest upwards of $6 billion and create 1,000 jobs," Clark says. Washington state was an ideal location for the projects due to its proximity to Asian markets; the company will export the methanol to China. "Ultimately, with their advanced technologies, they will displace carbon emissions that would take place in China," she says. "In China, they traditionally use coal-fired plants to produce the olefins."
Washington and Seattle's business climate is also attractive to Chinese financial groups, where the Industrial and Commercial Bank of China has opened its first Northwest U.S. branch.
Industries and Innovations
Among its major industry sectors, Washington's aerospace cluster is well known throughout the world. The aerospace industry is comprised of 1,400 companies, employing nearly 150,000 skilled workers. The industry is supported by a number of unique public and private partnerships located throughout the state, focused on different aspects of the industry.
Noteworthy industry expansions include the opening of a Seattle-based office by Mitsubishi Aircraft Corp. The office is staffed by 150 engineers who are studying test flight data. "They are working with another company called AeroTEC and will be doing test flights for Mitsubishi Regional Jet." AeroTEC is building a 65,000-square-foot hangar at the Grant County International Airport; Mitsubishi has operations at the airport.
The advances in the aerospace industry have contributed to the state's robust composite materials cluster, which includes nearly 100 advanced materials companies, and a variety of materials scientists. "Our advanced manufacturing sector is constantly pioneering new materials with a variety of cross-sector applications," Clark says. "We have unique tax incentives around advanced manufacturing."
SGL Automotive Carbon Fibers LLC in Moses Lake builds composites parts for the BMW I-car series. The company is a joint venture of BMW Group and the SGL Group, based in Germany. "With recent expansions taking place there, Washington is one of the leading states for composites manufacturing in the world," Clark says.
Advances in the composites industry are also playing a role in the expansion of the state's luxury yacht cluster. "We are a major producer of high-end luxury yachts; 80 percent that are built in the U.S. come from Washington," Clark says.
Another leading cluster in Washington is its ever innovating information and communications technology sector. Noteworthy expansions include Amazon's new headquarters construction project in Seattle. The company plans to hire 20,000 new workers, with estimates of up to 50,000 staff members by 2019, Clark says.
Washington is home to 14,000 software companies involved in a variety of fields. The state is home to companies such as Nintendo of America, F5 Networks Inc., Tableau and many more.
Other leading industry clusters include life sciences and global health, and emerging clean technology sector.
There are 400 organizations and trade associations, and nearly 5,000 scientists and researchers involved in the life sciences and global health cluster, Clark notes. "The Bill and Melinda Gates Foundation is located here. And amazing new companies are setting up shop and expanding, including those involved in medical devices and cancer research," Clark adds.
The clean tech sector features innovations when it comes to using the smart grid, and energy efficiency initiatives in product development and building management. Advances in battery storage technologies are supported by research taking place at the University of Washington, Washington State University, and the Pacific Northwest National Laboratory.
Rounding out the state's leading industry sectors is the ag and food processing sector. The state is home to the country's second largest wine industry after California. Washington is also a leading producer of hay, wheat, potatoes and a variety of fruits. "We are a state with a strong export environment in the ag and food processing space," Clark notes.
Talent and Education
In Washington, 31.9 percent of adults have a bachelor's degree or higher, and three-fourths of the students at the state's largest university call Washington home after graduation, according to www.choosewashington.com. "We have a diverse and integrated system of workforce training partners around the state, and a robust community college system involved in building curriculums that meet business needs," Clark adds.
Operating from Richland, the Pacific Northwest National Laboratory is one of the 10 U.S. Department of Energy national labs. PNNL also performs work for the U.S. Department of Homeland Security, the National Nuclear Security Administration, other government agencies, universities and industry.
Assets
Washington state's governor and Legislature have recently passed measures to support an overhaul of the transportation funding structure to support major new infrastructure developments. The improvements will expand the state's major commerce corridors, which will ultimately benefit freight mobility and access to the ports of Seattle and Tacoma, Clark notes.
Another boost to the state's seaport assets is the formation of the Northwest Seaport Alliance, which is the merger of the ports of Seattle and Tacoma. The merger creates the third-largest cargo gateway in the United States. What's more, the ports are a full day closer to Asian markets than other U.S. ports.
Lifestyle
Foodies will find Washington offers plenty of culinary delights resulting from its food and beverage cluster, which includes wild salmon, fresh oysters, orchards, farms, vineyards, spirits distillers and breweries. For those seeking hardcore climbing or mountain biking or for those looking for a peaceful hike or a good spot for a family picnic, the state's two major mountain ranges offer plenty of opportunities. In the winter, the Olympics and the Cascades offer everything from black-diamond runs for skiers and snowboarders to bunny slopes for inner tubing with the family.
And, yes, it does rain in Washington. However, consider this tidbit: 40 major cities in the United States get more rain than Seattle, including Houston, Mobile, Alabama, and New York City.
More Info
Washington State Department of Commerce
Cover image: Seattle and King County are home to some of the world's most influential companies and industries. Top-tier talent is one of the key reasons out-of-state companies, such as Google, Facebook and Apple, are attracted to the community. Photo: Washington State Department of Commerce