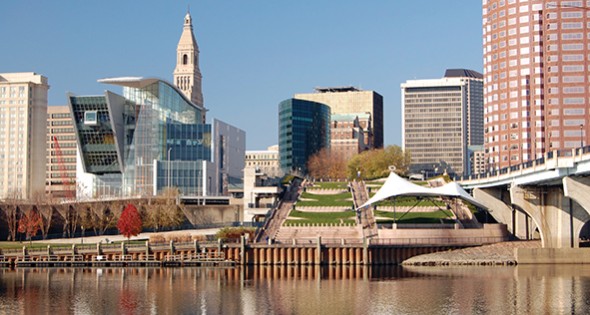 Connecticut: Strong in Manufacturing & Tourism
05 Jan, 2018
With an economy that has largely been based in finance, insurance, tourism and manufacturing, Connecticut has recently had big economic news.
Amazon will expand its presence in Connecticut with the creation of a new state-of-the-art, 855,000-square-foot fulfillment center in North Haven. The company plans to spend $255 million on the project, where it will create 1,800 jobs. Amazon already has a fulfillment center in Windsor and a sorting center in Wallingford where it currently employs approximately 2,000 people.
A recent economic impact study conducted by the Connecticut Office of Tourism found that total direct and indirect business sales supported by the travel industry reached $14.7 billion in 2015. This is a 4.6 percent increase since 2013.
There are nearly 4,000 manufacturers in Connecticut, which in 2015, accounted for 10.5 percent of the state's total output of $27.22 billion, according to the National Association of Manufacturers. Connecticut currently employs almost 160,000 people in manufacturing, or 9.5 percent of the workforce.
Original equipment manufacturers (OEM) such as Electric Boat, Pratt & Whitney and Sikorsky Aircraft are based in Connecticut and driving a large part of the supply chain and jobs.
Sikorsky Aircraft is expecting a huge boost in helicopter production at its Stratford factory in response to the Trump administration's pledge to increase defense spending by at least 10 percent, and in 2012 Pratt & Whitney, a United Technologies aerospace company in East Hartford, introduced a new fuel-efficient regional jet engine. Currently, the company has more than 8,000 on order, and 80 percent of the content is produced by subcontractors that are mostly located in Connecticut.
Regional Sidebar
By Rachel Hamilton
City of Ansonia
Ansonia is in the lower Naugatuck Valley on State Highway 8. The city is creating space for new growth, says Ansonia's Economic Development (AED) Director, Sheila O'Malley.
"We are 6.4 square miles," O'Malley says. "You can't manufacture space." The Ansonia Recharged project is tracking the progress of refurbishments of the city's existing assets and the creation of new ones.
Ansonia's downtown has an approximately 50-acre site; it is one of the largest parcels in the Lower Valley, O'Malley says. The AED is working with federal and state governments to infuse funding to repurpose the site by 2019.
Farrel Corp., which is now Farrel Pomini (FP), has been in Ansonia since the 1840s. When FP needed to expand, they started looking out-of-state, O'Malley says. Ansonia's Fountain Lake Industrial Park had the land they needed, but no road.
Ansonia brought in over $2 million in state and federal grants and built that road. FP now has a 90,000-square-foot facility; they "have retained over 90 high-tech manufacturing jobs and they expect to add another 10-15 over the next five years, O'Malley says.
That dedication extends to companies relocating into Ansonia as well, says O'Malley, citing Better Packages Inc. (BPI) as an example. BPI is "adding on another 15,000 square feet" to their facility with the help of tax abatements from the city.
RugPadUSA, which manufactures pads for large residential or commercial carpets, is leasing two facilities and bringing 50 employees to downtown Ansonia with plans to create more jobs. "They're going to renovate and have an option to buy the spaces," O'Malley says.
"We'll do whatever it takes to attract, retain and expand business in Ansonia," O'Malley says, crediting much of Ansonia's success to the diligence and enthusiasm of Mayor David Cassetti and the city's Corporate Counsel, John Marini.
Emmett O'Brien Technical High School in Ansonia has just completed a $97 million expansion, O'Malley says. Emmett O'Brien offers skills training to students from all over the Naugatuck Valley area in several industries including carpentry, health technology, mechanical design and engineering technology, and precision machining technology.