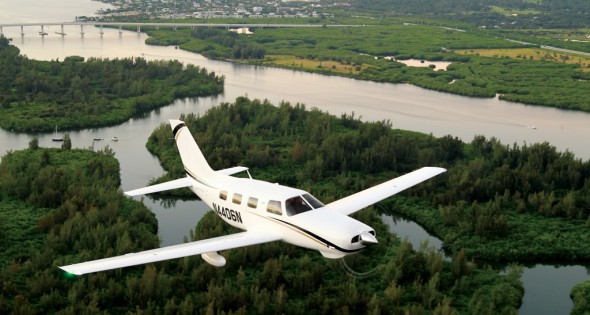 Florida: Aerospace Flies Higher, Jobs Take Off
23 Nov, 2015
By David Hodes
Florida is continuing on a path of major economic developments begun essentially in 2010, when the recession faded away and more businesses were either retooling their operations or reworking their development objectives. The result has been an explosion in jobs in the state.
Florida Gov. Rick Scott wrote in his monthly newsletter in September that Florida businesses created more than 20,000 private sectors jobs during the month of August. "In total, more than 940,000 jobs have been created across our state since December 2010, which is great news for Florida families," he wrote.
In addition, Florida's private-sector job growth month-to-month has been positive for 46 consecutive months. The private-sector industries gaining the most jobs over the month in August were education and health services with 14,600 new jobs, leisure and hospitality with
7,800 new jobs, and professional and business services with 3,900 new jobs.
Also in August, Florida's workforce system, which includes the 24 regional workforce boards, reported more than 37,900 Floridians, including 2,174 veterans, were placed in jobs. "We want Florida to be first in the nation for jobs," Scott wrote. "I believe that we are well on our way to reaching that goal."
In Enterprise Florida's Annual Report, 2013-14, Scott wrote that in addition to good jobs, Florida families want two other things: a good education for their children, and to keep the cost of living low. "That's why we cut $500 million in taxes and fees for Florida families this past year alone, made historic investments in education, and continue to hold the line on college tuition," Scott wrote in his introduction to the report.
The administration has worked to remove nearly 3,000 regulations on small businesses, and turned a $3.6 billion state budget debt into a $1.2 billion surplus. "While Florida was among the hardest hit states during the recession," Scott wrote, "now Florida's amazing turnaround makes our state a leader in job gains, unemployment rate decline, and growing job demand."
Some of the competitive economic projects that include multiple-year wins: Hertz Corp. (700 new jobs, $68.75 million in capital investment); Northrop Grumman Corp. (1,000 new jobs); Navy Federal Credit Union (1,500 new jobs, $200 million in capital investment); Verizon Wireless (750 new jobs; $50 million in capital investment); and The Boeing Co. (550 new jobs; $163 million in capital investment).
Industries and Innovations
Space and aviation have long had a home in Florida. The state ranks first for aerospace manufacturing attractiveness and is home to more than 470 industry leading companies.
Embraer, one of the world's largest manufacturers of commercial jets, is creating 150 jobs and making a $3.5 million capital investment in Titusville on Florida's Space Coast. The company recently broke ground on its new Aero Seating Technologies facility, which will house the design, development and production of its executive jet seating solutions.
Embraer has already invested more than $50 million in capital investment in established buildings in the county. In 2011, an 80,000-square-foot manufacturing and assembly building and associated paint facilities were opened for Embraer's Phenom 100 and Phenom 300 aircraft, and later that year, a 58,000-square-foot customer delivery center was added.
Blue Origin, the aerospace company of Amazon's founder and CEO, Jeff Bezos, has selected Florida as the site for the launch, manufacturing and support facilities for its orbital launch vehicle (OLV) program. The project will create 330 new jobs and a capital investment of $200 million in the region over the next five years. Along with human spaceflight, Blue Origin's vehicles will provide streamlined launch opportunities for satellites and research payloads. The company will refurbish Complex 36 at Cape Canaveral, the site of 145 launches, including the Mariner missions, Pioneer 10 and Surveyor 1 — the first U.S. spacecraft to land softly on the moon. "The Blue Origin spacecraft will be manufactured here and there will be some staging areas as well," says Greg Weiner, senior director of business development for the Economic Development Commission of the Florida's Space Coast.
Weiner says that Elon Musk's SpaceX also has a presence in the Space Coast area. "One of the things that we were successful in doing was making the access rules on Florida State Road 136 (an access road from Interstate 75) a little more commercial friendly," he says. "Had that not been in play, SpaceX may have made another decision."
Weiner says officials are working with the state to bring the Space Coast into the mix with other projects people don't expect to see there, such as customer service centers, financial services centers and back office operations. "We also have an excellent communications cluster here, third or fourth largest in the country," he says. "We would like a more balanced approach to industry development here."
Piper Manufacturing, makers of general aviation aircraft, has been based at the Vero Beach Municipal Airport in Indian River County since 1957, inspiring the growth of smaller manufacturers in the area, including the personal submarine manufacturer Triton Submarines LLC. The company makes two and three person submersibles for ocean discovery and eco-tourism — and for big yacht owners, says Helene Caseltine, director of economic development for the Indian River County Chamber of Commerce. "The yacht owners like to have these toys because they fit nicely on the back of their yachts. The interesting part is that Triton is located just off of Interstate 95, not on the water."
Talent and Education
Scott says that because the state's economy is growing officials have been able to make record investments in the Florida education system — including $480 million for teacher pay raises. That investment has inspired new technology and engineering-related developments.
In Osceola County that includes the Florida Advanced Manufacturing Research Center, a $200 million, 100,000-square-foot project inside the new 225-acre business park, where work is being done on sensors for use in cars, smart phones and other IT devices. "This fits nicely into what the state's economic strengths are," says Bill Martin, the executive director of the Greater Osceola Partnership for Economic Prosperity. "Such as modeling, simulation and training, photonics, computer science and engineering."
The center is a partnership between the county and the University of Central Florida, the Florida High Tech Corridor Council, Enterprise Florida and the Metro Orlando Economic Development Commission.
Greater Osceola is in the process of securing partners for the center, recently announcing Harris Corp. based in Melbourne. "We expect that there will be companies involved in aerospace, advanced manufacturing, energy, agriculture and others because these sensors have applications to just about everything that is happening in the world right now," Martin says.
Caseltine says that Indian River State College in Fort Pierce, with five campuses in the four county region, features the Kight Center for Emerging Technologies, where a manufacturer can build prototypes. There is also a mentorship program there. "But it's not like a mentorship program you might think of for high school kids," Caseltine says. "This is for professionals already in manufacturing utilizing people from some of the major manufacturers around the region, including Piper, to talk to them and teach them."
Assets
Gov. Scott says because of the strengthening economy, Florida has also been able to invest in transportation system priorities, such as ports; and in environmental projects, such as the state's historic $880 million plan to restore water quality in the Everglades.
The Port of Palm Beach in the Riviera Beach area in Palm Beach County provides about 42 percent to 45 percent of all of the food that is consumed in the Bahamas, says Manuel Almira, executive director of the Port of Palm Beach, and a deputy port director. Much of that transportation of goods comes through their No. 1 tenant, Tropical Shipping and Construction Company Limited. Almira says officials are expanding the port, creating a 17th berth and putting $28 million into refurbishing their third slip.
The port will also add 200 plugs for Tropical Shipping to power the refrigeration units on their refrigerated containers when making call in the port.
One new potential business that the port is looking at is a ferry service to and from Cuba. Almira says that they have already had at least three inquiries about that, and it is "something that we are working on feverishly" in order to accommodate that potential expansion of service. "My feeling is that it is coming, but when exactly we don't know," Almira says. "But every day you hear news about old policies and trade restrictions being slowly lifted to make it much easier for establishing trade between the U.S. and Cuba. We want to participate in that."
The port, at a depth of just 33 feet, handles small and medium-sized ships, around 1,350-foot long.
Lifestyle
Martin says that Osceola is the 10-fastest growing county in the Orlando metro area. "We are trying to plan for future growth because we think by 2030 we will double in population from 300,000 to 600,000," he says. One of the largest sector planning projects underway right now that is in the final stages of approval. "So we got a lot of things that are going on to help us redevelop some of the aging parts of the county right now," Martin says.
Castletine says that Indian River County is a vacation destination with many European visitors. "But what they are finding is that the beaches here are not as crowded as they are in other parts of the state," she says. "We also find that a lot of people, especially C-suite executives that come down here to vacation with their families, take a look around and think, 'Gosh, I could have my business here.' Then, they do that."
The cost of living in Indian River is extremely reasonable, Caseltine says, with two bedroom apartments coming in between $850 and $900 a month, and brand new single-family homes at $250,000. "We have ordinances limiting high rises you see in other coastal communities," she says. "I used to live on the other coast and they call that the canyonization effect. That won't happen here."
The burst of economic development in large part led by aerospace is just part of the story driving Florida's growth today. There is also the competitive spirit of business people here. "Every day is a new day," Weiner says. "We have to earn each and every one of the economic wins we get, and pursue them aggressively and creatively."
For complete details on conducting business in Florida, visit:
Enterprise Florida
Economic Development Commission of the Florida's Space Coast
Greater Osceola Partnership for Economic Prosperity
Indian River County Chamber of Commerce
Port of Palm Beach

Cover image: Piper Aircraft is headquarterd in Vero Beach, which is also the location of its only manufacturing plant. The photo backdrop is the Indian River Lagoon, part of an intercoastal waterway. Image: Piper Aircraft