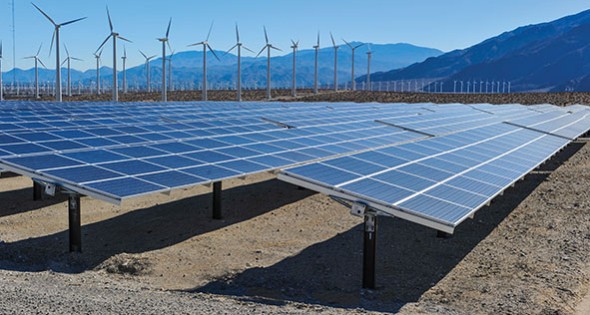 Clean Tech and Renewable Energy
12 Dec, 2017
More wind, solar and other sources of sustainable energy are being utilized by industrial operations of all sizes, often backed by incentives to help spur usage.
The growth of sustainable and clean technology renewable energy is creating economic opportunities for businesses while driving down costs of operations.
According to the U.S. Department of Energy's Information Administration (EIA), wind electricity generating capacity at the end of 2016 was 82 gigawatts (GW) – enough energy to power about 57 million homes. EIA expects wind capacity additions in the forecast to bring total wind capacity to 88 GW by the end of 2017 and to 96 GW by the end of 2018.
The increase in wind development in the United States over the past decade reflects a combination of improved wind turbine technology, increased access to transmission capacity, state-level renewable portfolio standards and federal production tax credits and grants.
Wind generators accounted for eight percent of the operating electric generating capacity in the United States in 2016, more than any other renewable technology, including hydroelectricity. Wind turbines have contributed more than one-third of the nearly 200 gigawatts (GW) of utility-scale electricity generating capacity added since 2007.
The EIA reports that the average wind generating facility in the United States consists of about 50 turbines. However, the Alta Wind Energy Center in Kern County, California, is the largest wind power site in the United States with 586 turbines and a combined 1,548 megawatts (MW) of capacity across several separate projects.
Until late 2016, all U.S. wind capacity was on land. The first U.S. offshore wind project, Block Island Wind Farm, began commercial operation off the coast of Rhode Island in December 2016 with a generating capacity of 29.3 MW.
More than half of U.S. wind capacity is located in five states: Texas, Iowa, Oklahoma, California, and Kansas. In three states – Iowa, Kansas, and Oklahoma – wind makes up at least 25 percent of in-state utility-scale generating capacity.
Sun power
Total utility-scale solar electricity generating capacity at the end of 2016 was 22 GW. EIA expects solar capacity additions in the forecast will bring total utility-scale solar capacity to 29 GW by the end of 2017 and to 33 GW by the end of 2018.
Utility-scale solar installations, including both photovoltaic (PV) and thermal technologies, grew at an average rate of 72 percent per year between 2010 and 2016, faster than any other generating technologies.
Utility-scale solar (plants with a capacity of at least one megawatt) now makes up about two percent of all utility-scale electric generating capacity and 0.9 percent of utility-scale generation. The first utility-scale solar plants were installed in the mid-1980s, but more than half of the currently operating utility-scale solar capacity came online in the past two years.
As of December 2016, more than 21.5 gigawatts (GW) of utility-scale solar generating capacity was in operation across the United States, with more than 7.6 GW of that capacity coming online in 2016.
Although California has the highest total installed capacity of any state, a number of other states have deployed significant utility-scale solar capacity in recent years. Several states have policies such as renewable portfolio standards or state renewable tax credits to encourage solar deployment. Since 2005, the federal government has provided a 30 percent investment tax credit, which is scheduled to phase down or expire by 2022.
According to EIA estimates, California, New Jersey and Massachusetts had the most small-scale solar capacity with 5.4 GW, 1.3 GW and 1.0 GW, respectively. Monthly generation from small-scale solar capacity is estimated to have been 1.6 million megawatt hours (MWh) on average in 2016, or about two-thirds of the amount generated by utility-scale solar generators.
Other renewables
Data from the Department of Energy show that biofuels are biggest in the Midwest, particularly in Iowa, Nebraska, South Dakota and Illinois. This is predictable, as biofuels are produced through agricultural products like corn, which is the staple crop throughout that area.
Biofuels remain the newest sustainable fuel process, with some newer, larger scale projects underway. At the end of 2016, a number of commercial-scale facilities were planned in the U.S. to produce renewable hydrocarbons from wood. For example, Fulcrum BioEnergy in Nevada and Red Rock Biofuels in Oregon are planning on converting municipal solid waste and woody biomass, respectively. Both expected to break ground on construction in 2017 and begin operating to produce primarily jet fuel in 2019
Aside from biofuels, other renewable energy sources are produced in every state and Washington, D.C.
For instance, hydroelectric power makes up well over 50 percent of these resources in the United States.
States like Washington and Oregon lead the way in hydroelectric power. One example is the Grand Coulee Dam on Washington's Columbia River, which is the largest hydroelectric power producer in the United States, with a total generating capacity of 6,809 megawatts
The corporate renewables strategy
Sustainable energy, and cleaner uses of energy, have quickly become the focus of businesses across the country – and the world – for a variety of reasons as identified in a report from the sustainability think-tank World Resources Institute (WRI), "Aligning Profit and Environmental Stability: Stories from Industry."
Some 23 Fortune 100 companies have set renewable energy procurement targets representing billions of dollars of investments, according to the report, and many are leading the charge for more work in this area by calling for policy changes and adjustments through such groups as Corporate Leaders Network for Climate Action, which includes a partnership with the U.S. Climate Action Partnership.
Companies are also continuing to investigate using sustainable technology solutions to save money by reducing their use of fossil fuels and limiting their real estate footprints.
The WRI report also outlined critical challenges companies need to address to create business value while reducing environmental impact.
For instance, WRI research found that some companies interviewed for the report had suppliers who were able to demonstrate that improved sustainability performance can benefit from increased access to markets. Natura for example, selects suppliers based on their economic, social and environmental performance. Alcoa has a set of long-term goals covering a range of environmental performance metrics related to CO2 emissions, energy, waste and water, among other impacts. According to Alcoa's Chief Sustainability Officer (CSO), the company's track record in pursuing these goals has helped Alcoa gain access to attractive growth markets like Brazil.
The WRI report also found that companies have discovered real value in creating a corporate culture among employees that encourages environmental sustainability performance through long-term comprehensive goals.
One example: Mars Inc., a privately held company, has established climate targets for the company through its "Sustainable in a Generation" program, committing to a 100 percent reduction in fossil-fuel use and greenhouse gas emissions from its operations by 2040. For Mars, the key to accomplishing its combined environmental and business targets has been to build a culture of sustainability performance within the company.
City-wide project for solar
Moreno Valley is the second largest city in Riverside County, also part of the greater Los Angeles metro area, with a population of 209,000 people and growing.
It's home to large warehouse operations taking advantage of electrical usage incentives offered by the county's dedicated electrical services, the Moreno Valley Utility (MVU), which was set up 12 years ago and serves 5,000 customers.
The MVU incentive program for qualifying businesses gives them discounts ranging from seven percent to 26.5 percent, and terms range from five to 16 years.
One of those Fortune 500 companies taking advantage of the electrical use incentive is Amazon, with their 1.25 million square foot fulfillment center that opened in Moreno Valley in September, 2015, employing over 3,000.
More of the residents and businesses in the area are also using solar energy from rooftop-installed panels, for which they get a rebate from the city. "They really like that rebate," Mike Lee, community and economic director for Moreno Valley, says.
MVU provides rebates to its electric customers for the purchase of photovoltaic (PV) systems. Systems 30 kilowatts (kW) or less can receive an upfront incentive of $1.00 per watt, up to $10,000 for a residential system and $50,000 for small commercial systems.
Systems larger than 30 kW up to 500 kW can receive a performance-based incentive of $0.04 per kWh for four years.
Although renewable energy is not the top source of energy in the area right now, Lee says, they are looking at more of those type of those alternatives. "One of the things we talk about is expanding where we buy power," he says. "We are working with a fuel company buying power from green technology sources and utilizing hydrogen as well."
Decisions coming from the top
Business and industry is seeking out assistance in working on their sustainable objectives.
One of those organizations assisting business is the Forum for the Future, an international non-profit working with business and government to solve sustainability issues. It has convened a group of companies that are leading the way in sustainable business practices, called the Sustainable Business Models Group.
The Sustainable Business Models Group comes together to explore how members can create the step-change needed for a more sustainable future both together and within their own businesses. A crucial part of this work is to understand the business case behind sustainability initiatives.
For example, the organization played a critical role in developing sustainability objectives for Unilever, a business that now sends zero waste to a landfill and has all of their U.S. operations purchasing energy from certified, renewable sources.  It's going to be an interesting next few years as these markets continue to expand.
For more information on companies that contributed to this article, please visit: City of Moreno Valley moval.org