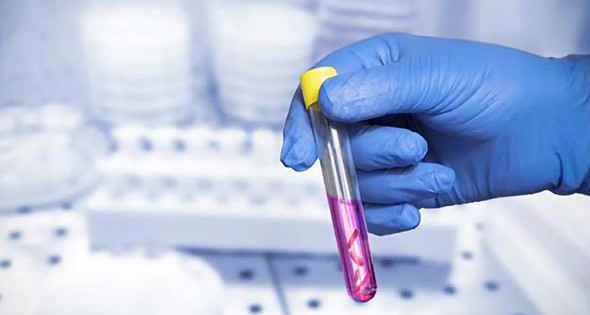 Public-Private Collaboration Aims to Find a New Treatment for Pancreatic Cancer
16 Jan, 2021
At the HudsonAlpha Institute for Biotechnology, casual gatherings can lead to incredible research opportunities. A fortuitous encounter at a HudsonAlpha mixer led to a collaboration that is searching for new ways to treat pancreatic cancer. HudsonAlpha Faculty Investigators Sara Cooper, PhD, and Rick Myers, PhD are working together with CFD Research Principal Investigator AJ Singhal on a Small Business
Innovative Research (SBIR) grant from the National Institutes of Health. The group is working to find a more effective target for pancreatic cancer drugs, illustrating the power of the HudsonAlpha Institute for Biotechnology's unique approach to public-private collaboration.
An Idea over Drinks 
For this project, collaboration between the Institute's Cooper Lab and CFD Research started last year at Science on Tap, a monthly campus event sponsored by HudsonAlpha where people get together to talk research over pizza and beer. Singhal spoke at the event, and he told the crowd about strides he and his team were making in modeling and targeting proteins.
They just needed some ideas for new proteins to target.
After his talk, Singhal found Institute President Rick Myers, PhD, who noted there might be an opportunity for Singhal's group to work with researchers at HudsonAlpha. "It was an incredible moment," Singhal said. "You could just feel it all coming together. This collaboration will define our research into pancreatic cancer drugs, and one day, it might even lead to a new treatment. A better treatment."
Myers put Singhal in contact with Cooper, and the collaboration began in earnest.
Cooper's Lab had a number of novel target proteins identified through their work. CFD Research had the tools to model those proteins and predict drugs that might target them.
A Search for Treatment
Pancreatic cancer is one of the deadliest cancers in the world. According to Johns Hopkins, more than 44,000 Americans will receive a pancreatic cancer diagnosis this year; more than 38,000 Americans will die from the disease.
While pancreatic cancer is more treatable when found early, most cases are not found until far too late, leaving patients without curative treatment options.
"I study many kinds of cancer," Cooper said. "Pancreatic cancer is particularly dangerous and cruel."
The Cooper Lab previously discovered a number of genes were linked directly with patient survival in pancreatic cancer.
One example from that study identified a gene that, if it becomes overactive, makes cells more resistant to drugs by limiting normal stress response that would trigger cell death. Other genes studied by the Cooper Lab control different aspects of the body, like how closely packed cells are or how cells metabolize drugs.
Through its non-profit research work, the Cooper Lab generated a trove of data on genes and proteins related to patient survival for people with pancreatic cancer. The lab's collaboration with CFD Research allows them to use this knowledge for testing potential treatment options.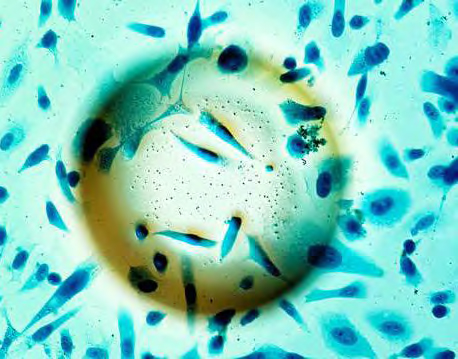 A Way Forward
Not only has the Cooper Lab developed a list of potential targets for pancreatic cancer treatment, but they've also developed the means to test outcomes for those targets. In this case, Cooper and Singhal have honed in on a particular protein—the one that affects cellular stress response.
Using the three-dimensional structure of the protein determined by the team, they can predict which existing chemical compounds might be able to attach to it and render it non-functional. If the protein can be turned off, it could increase the effectiveness of traditional cancer therapies.
The first stage of the NIH grant focus was on finding potential drug molecules. For the collaboration, CFD Research has tested a variety of molecules that could potentially inactivate the protein in question; the Cooper Lab has since tested those molecules to see if they work on pancreatic cancer cells.
Based on the results thus far Cooper Labs and CFD Research have a couple of candidates that they are continuing to characterize to determine 1) do these compounds kill cells the way they think (by inhibiting our gene target), and 2) do the compounds kill cancer cells more effectively than healthy cells. This project has been delayed a few months by time away from the lab this spring due to COVID, but they anticipate having answers to these important questions by the beginning of 2021.
"Collaborating with outside experts is an important way to advance our non-profit research," Cooper said. "We're lucky at HudsonAlpha that we have highly specialized experts right here on campus with us."
"If everything goes the way we plan," Cooper added, "We could walk away from this with a new drug."
HudsonAlpha: A Place for Collaboration
The HudsonAlpha campus is designed to be a place of scientific advancement and collaboration. As an active part of Huntsville, the fastest-growing city in the state and one of the most lauded cities in the country, HudsonAlpha strengthens and diversifies the region's economy and workforce. For our
companies' partnerships or the shipment of their products, HudsonAlpha and Huntsville positions their organizations for success.
About HudsonAlpha:
HudsonAlpha Institute for Biotechnology is a nonprofit institute dedicated to developing and applying scientific advances to health, agriculture, learning, and commercialization. Opened in 2008, HudsonAlpha's vision is to leverage the synergy between discovery, education, medicine, and economic development in genomic sciences to improve the human condition around the globe. The HudsonAlpha
biotechnology campus consists of 152 acres nestled within Cummings Research Park, the nation's second largest research park. The state-of-the-art facilities co-locate nonprofit scientific researchers with entrepreneurs and educators. HudsonAlpha has become a national and international leader
in genetics and genomics research and biotech education and fosters more than 40 diverse biotech companies on campus. To learn more about HudsonAlpha, visit hudsonalpha.org.
About CFD Research:
Since its inception in 1987, CFD Research has worked with government agencies, businesses and academia to provide innovative solutions within the Aerospace & Defense, Biomedical & Life Sciences, and Energy & Materials industries. Over the years CFD Research has earned multiple national awards for successful application and commercialization of innovative component/system technology prototypes,
multi-physics simulation software, multi-disciplinary analyses, and expert support services. CFD Research is an ISO9001 and AS9100 registered company and is appraised at CMMI Level II for services. Learn more at www.cfdrc.com