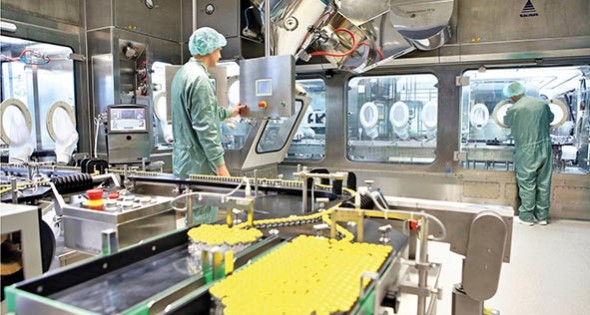 The Resilient and Booming Bioscience Industry
14 Apr, 2017
Innovators and entrepreneurs follow the technology as they go deeper into bioscience development, ranging from small operations to huge enterprises.
One of the most resilient industry sectors in the country, and one that continues an unprecedented growth surge across North America, is the bioscience industry.
It's an industry that actually grew during the 2008 recession, then began fracturing into flourishing subsets that quickly expanded.
Whatever you want to call it – bioscience, biochemistry, biotechnology, biomanufacturing, life sciences – this industry brings with it high-paying jobs and innovative ideas in an industry that encompasses a huge diversity of applications.
In a report from a collaboration between the Battelle Technology Partnering Practice and the Biotechnology Industry Organization (BIO), "Bioscience Economic Development in the States: Legislation and Job Creation Best Practices," five major sectors of biosciences were identified that reflect the size and diversity of this growing technology sector: agricultural feedstock and chemicals, utilizing advances in biochemistry and biotechnology for industrial processes; drugs and pharmaceuticals, producing vaccines, biopharmaceuticals, tissue and cell culture media; medical devices and equipment, producing a variety of biomedical products such as surgical instruments, orthopedic implants, bioimaging equipment, dental instruments and patient care products; research, testing and medical laboratories developing and commercializing new drug discovery/delivery systems and gene and cell therapies; and bioscience-related distribution that specializes in cold storage and highly regulated product monitoring.
The BIO report highlighted new economic development initiatives created in the 2013 and 2014 legislative sessions that focus on key strategic building blocks for all phases of bioscience industry development. The report found that 25 states offer tax credits to angel investors who invest in technology companies including the biosciences; 36 states offer sales tax exemptions on equipment for both research and development (R&D) and manufacturing with several exemptions specifically for biomanufacturing; 21 states invest state dollars in private venture-capital firms that fund small and emerging bioscience companies; 39 states offer R&D tax credits for early stage research that is vital in moving research into commercialization.
Bio big on the mid-Atlantic
One of the largest clusters of bioscience companies in the U.S. is in Maryland.
In 2007, the Maryland legislature and Governor Martin O'Malley created the Life Sciences Advisory Board, a ten year strategic plan to grow Maryland's bioscience cluster. The plan, BioMaryland 2020, calls for more than $1.3 billion in structured investments and is part of an integrated vision of bioentrepreneurial development, enhanced translational and commercialization initiatives, and global partnering.
One city in the state that is working to expand its footprint in this industry by targeting companies and providing incentives is Rockville, located in Montgomery County, which is part of the D.C. metro area. The county, which bills itself as an "epicenter of Maryland's biotechnology industry," offers incentives for these companies to locate in Rockville. Montgomery County was first in the nation with a local biotechnology investment incentive program.
The Montgomery County Biotechnology Investor Incentive Program is a supplemental grant available to investors of biotechnology companies located in Montgomery County.
"That is one of our big tools that we use right now," Laurie Boyer, executive director of the Rockville Economic Development, Inc., says. Having the Food and Drug Administration (FDA) nearby – there are three FDA offices close to the city, including the FDA headquarters in Silver Spring, Maryland – is a key consideration for any bioscience company coming to the area, Boyer says.
MedImmune, a biotechnology company that manufactures and markets formulations used in immunization programs, was one of those. "These companies want it to be easier for them to approach the FDA, take things through clinical trials and then get the FDA approvals," Boyer says.
GlaxoSmithKline developed a large state of the art vaccine research and development center in Rockville in late 2015.
"We also have a great number of small pharmaceutical research and development companies that are kind of quietly doing the work that really help the end consumer when you go to the doctor's office or hospital," Boyer says.
More growth in Massachusetts
But it's not just in the mid-Atlantic where bioscience is big. Up the east coast in Massachusetts, it's getting even bigger.
The state received over $8.5 billion in bioscience venture capital funding from 2009 to 2013, with the National Institutes of Health getting $2.4 billion in 2013 alone. Venture capital investments totaled $7.4 billion in 2015, invested in 531 companies.
The industry in the state grew by 4.2 percent in 2015, for a total growth of 37 percent over ten years, according to a report from the Massachusetts Biotechnology Council. The report also stated that, by May 2018, the industry will increase by 4,325 new jobs.
The state is also carefully building a workforce pipeline specifically for the industry. For example, the Biomanufacturing Education and Training Center (BETC) at Worcester Polytechnic Institute, a pilot-scale biomanufacturing facility that offers customized training courses, opened in May 2013.
The spread of bioscience is continuing outside of the main population areas in the state. One area that connects to a broader swath of bioscience businesses is Franklin, Massachusetts, a town of approximately 30,000 people less than 50 miles from three of the biggest cities in New England – Boston, Cambridge and Worcester.
Bioscience companies in the area include Thermo Fischer Scientific, a lab equipment company with plans for expansion; Tegra Medical, a medical device manufacturer; and Cold Chain Technologies, which produces the packaging material to keep bio samples refrigerated.
There are other smaller biotech companies that may be coming into the Franklin area soon, which are essentially spin-offs from larger biotech companies along the Interstate 495 corridor. "We are primed for those types of companies coming here," Bryan Taberner, director of planning and community development for the town of Franklin, says. "We don't have hundreds of acres of land ready, but we are looking for the research and development companies that can come in and redevelop the buildings that are already here."
The Midwest bio boom
In the Midwest, another biotech center has emerged that has grown as a result of the Mayo Clinic. Based in Rochester, Minnesota, the clinic has over 11,000 active human research studies underway right now, funded by nearly a billion dollars for education and research.
Minnesota currently has approximately 100 bioscience and life science companies in the state, including the headquarters of Medtronics in Minneapolis, one of the largest healthcare solutions companies in the world.
Along the recently completed Minnesota State 610 highway corridor into Brooklyn Park, ten miles north from Minneapolis, there has been $250 million in development over the last three years that is a mix of bioscience companies, including Olympus Surgical Technologies America and the Japan-based Takeda Pharmaceuticals Company.
Takeda is one of Japan's largest pharmaceutical companies. It plans on making a drug to treat ulcerative colitis and Chrohn's disease.
The company's presence represents the first bio pharma manufacturing facility in the state, and Takeda's first manufacturing plant in the U.S. "They like the fact that they are close to the Mayo Clinic, Medtronics and other organizations where they can draw their workforce and take advantage of the synergies of working together in medical technology," Erik Hansen, economic development and housing director for the Brooklyn Park Economic Development Authority (BPEDA), says.
Another business park is being developed in the Brooklyn Park area, just to the north of the State 610 corridor near the intersection of U. S. Route 169, where Biometrics LLC, a medical device manufacturer, will build their 52,000 square foot catheter facility. "We are also seeing some medical offices coming along 610, and we are doing a targeted retention strategy with businesses who have been here since the 1970s to find out who needs to expand, where they want to expand and what resources they need," Hansen says.
Canada bioscience expansions accelerate  
Further north, in Canada, west of Toronto, Mississauga just developed a five year plan for life science development, with input from major companies in the area such as GlaxoSmithKline, Baxter Corporation and others.
The city is looking at developing subsectors of the biosience industry, including diagnostics, health IT and pharmaceutical supplies, according to Susan Amring, the director of economic development for the city of Mississauga.
One biotech company there, Inflamax Research, which specializes in allergy and dermatology, got a grant from the National Institutes of Health, through a collaboration with the Immune Tolerance Network (ITN), to conduct clinical research into the underlying mechanisms of allergy. That kind of grant is a rare thing for a Canadian company, Amring says.
Another bio company, Intercept Pharma Canada Inc., the Canadian subsidiary of Intercept Pharmaceuticals, Inc., moved to Mississauga in 2015 from Toronto. Baylis Medical, a medical device manufacturer in Mississauga, doubled the size of their research and development space, adding 84 jobs.
Mississauga economic developers are also hiring a new bio-sector specialist. "We have not had someone working around a sector specialty in economic development here," Amring says. "We have always had a targeted sector, but getting a sector specialist involved is about actively looking to help develop that sector further."
Looking to the future
The bioscience industry will continue steady growth, with a future that brings new health and treatment discoveries to bear.
As explained in the National Research Council study, "A New Biology for the 21st Century," advances in the life sciences have the potential to contribute innovative and mutually reinforcing solutions to "global reaching, societal challenges related to food, environment, energy and health, and at the same time, serve as the basis for new industries that will anchor the economies of the future."
Based on current advances in biological sciences with a high probability of reaching the market, the Organization for Economic Cooperation Development and Development (OECD) estimates that, by 2030, bioscience innovations worldwide could contribute up to 35 percent of the output of chemicals and other industrial products, 80 percent of pharmaceuticals and diagnostic production, and 50 percent of agricultural output worldwide.