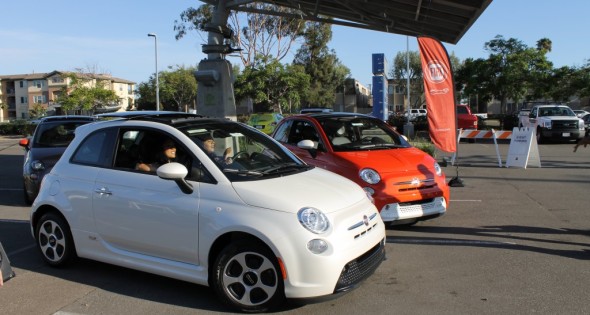 Utilities Embrace Renewables, Especially Solar Energy
26 Feb, 2015
Caption: Electric Vehicle Day — San Diego: A National Drive Electric Week Event, was held in September 2014. SDG&E, Cleantech San Diego, and the Center for Sustainable Energy featured free test drives for the public of the latest EVs on the market. Photo: CleanTECH San Diego
By Rachel Duran
Utilities continue to partner with renewable energy firms to meet RPS goals.
Utility-scale solar energy projects are among the leading renewable energy resources being deployed by investor-owned utilities in order to fulfill renewable-related mandates. Solar energy continues as a leading choice due to the fact that prices for equipment and installation have been falling for the last couple of years.
In addition to meeting renewable portfolio standards (RPS), in regard to renewables and cleantech initiatives, utilities are engaged in developing storage solutions, establishing community solar initiatives, and building infrastructure to support the electric vehicle market, among other activities. They also continue to collaborate with industry partners in order to diversify their renewable energy portfolios.
In California, Gov. Jerry Brown has set a significant goal for energy storage as it relates to renewables, 1.3 gigawatts by 2020. Companies such as electric car manufacturer, Tesla Motors, and others are contributing to the development of energy storage solutions. "Commercial and industrial users are starting to generate electricity and store and use it at different times," says Jason Anderson, president and CEO, Cleantech San Diego. "And more importantly, reduce peaks and hopefully, drive some of the costs of their energy use."
Cleantech San Diego is an economic development organization formed to accelerate the adoption of clean technologies in the region. The organization works closely with San Diego Gas & Electric (SDG&E), the University of California-San Diego (UCSD), the private sector and others to promote the benefits of clean technologies, including what they mean for new job creation and new company growth.
Utilities are critical to the success of cleantech partnerships, such as renewable energy projects, because they deploy and utilize smart grids. They also install infrastructure, such as local charging stations for electric vehicles. In San Diego, SDG&E will join stakeholders in an effort to increase commercial solar rooftop installations in the region. San Diego is already a national leader in residential solar rooftop installations, Anderson says.
What's more, UCSD is home to one of the world's most renowned microgrids, where it generates 92 percent of its own electricity. The university manages the generation and distribution of renewable resources such as wind energy, fuel cells, solar energy, and heat from a waste water treatment facility.
San Diego's utilities and commercial owners are expanding the number of charging stations to support the expansion of the electric vehicle market. There are 12,000 EVs in the region. Anderson says SDG&E is exploring smart charging, where EV owners. "EVs will act as storage, so when they charge at night or charge during the day and come home at night they are able to put some of the power back into the home; utilities are looking at that from a grid management perspective," he says.
Teaming Up for Success
Utilities often take a couple of approaches in regard to renewable energy, either installing renewable energy systems themselves or working with different partners and/or approaches in order to comply with RPS requirements. By following the partner approach, "It gives us the ability to work with the solar development community while focusing on what we do, which is providing power to our customers," says Bret Jones, senior program manager, external affairs, Colorado electric utility operations, Black Hills Energy.
San Diego Region Accelerates Cleantech Innovations
By Rachel Duran

The San Diego region continues to be a national leader in renewable energy and cleantech initiatives, where organizations conduct innovative research in smart grids, data management and water usage. Industry players range from utilities to industry to universities to the military.

"The Navy and the Marines are doing a number of things on their bases around generation, primarily solar generation," says Jason Anderson, president, Cleantech San Diego, which advocates for the region's cleantech sector. The military is researching smart grid technologies and self-sustained microgrids as they relate to not only U.S. bases but also bases established around the world.
San Diego's organizations have also developed innovative research in regard to energy efficiency. For example with energy data management and dashboards to assist building owners and facilities managers in better understanding their energy usage and determine ways to shift loads, reducing energy consumption, and energy bills.
"We also talk a lot about the water-energy nexus as a way to reduce energy consumption, as it relates to the movement of water," Anderson says. "The cost of water is really just the cost it takes to move water. Ways to tackle those challenges center on some of the same technologies as energy efficiency, determining how to reduce the energy required to move water, with the goal of reducing energy consumption and also reducing the price."
For complete details, visit www.cleantechsandiego.org.
Black Hills Energy put a 380-megawatt natural gas fired power plant, the Pueblo (Colo.) Airport Generating Station, in service in January 2012. The plant features a couple of simple cycle units, which "start up in a quick fashion in a manner that allows us to accommodate renewables on our system," Jones says. "The responsiveness of those units allows us to do the necessary balancing for intermittent renewable resources. With solar or wind energy you have to back up the capacity to generate with some form of generation, and natural gas is the best resource to do that with."
Black Hills Energy has 10.5 megawatts of distributed solar generation in its portfolio. "Essentially, we paid an upfront incentive and there was a significant amount of distributed solar generation installed on this system," Jones says. "We saw peak installations for distributed solar in 2010."
In 2013, the upfront incentive was transitioned from a distributed generation to a production-based incentive. This is important in Colorado, where investor-owned utilities are required to reach 30 percent renewable energy electricity sales by 2020. In addition, 3 percent of the 30 percent must come from distributed generation. "This is generation that has been installed on the system by our customers either in the form of solar panels or in the form of wind generation," Jones says.
In Arizona, for the Salt River Project, a diversified renewable energy portfolio is important in meeting a self-imposed RPS. Salt River Project provides power to more than 1 million customers, and water to municipalities, in the greater Phoenix metro. As a political subdivision of the state, Salt River Project is not subject to the same RPS requirements as the state's investor-owned utilities.
Salt River Project's board has set a goal that 20 percent of its retail sales be comprised of sustainable resources (conservation programs, for example) and renewables by 2020. The utility's portfolio consists of solar, wind, geothermal, biomass, landfill gas and hydroelectricity, says Barry Petrey, manager of resource acquisition and analysis, Salt River Project.
The utility purchases renewables from several utility-scale projects, including its first in 2009, which is a 127-megawatt Iberdrola Renewables wind energy project. They contracted with Iberdrola again in 2011 to purchase the output from a utility-scale solar project, Copper Crossing, near Florence. "Twenty megawatts are used to serve the community solar initiative," Petrey says. "This innovative program has been successful; we have 14 megawatts subscribed." Under the program, businesses can offset up to 35 percent of their peak demand for a fixed price of 8.9 cents per kWh for 10 years.
Community scale projects are catching on across the country. Jones says Black Hills Energy will move forward this year with a community solar garden project, which is a partnership with the Clean Energy Collective. "The community project allows customers who live in rentals or those who do not have the ability to install solar panels to access renewable energy via a community solar garden," Jones says. The initial garden will be 120 kilowatts, and Black Hills plans to offer additional projects at a similar or potentially larger size in the next two to three years.
Jones says the utility is also in the process of updating its renewable energy standard, and has plans to continue its distributed generation plan for another three years. The company will also continue to provide incentive rates to small and medium-sized customers.
In February, Black Hills Energy officials were scheduled to meet with the Colorado Public Utilities Commission to determine which approach to take in regard to the addition of 60 megawatts of renewable energy. Three primary alternatives have been identified: a combination of waste to energy and a solar farm; a 60-megawatt wind farm; or a 60-megawatt solar farm.
Salt River Project's officials recently contracted for an additional 45 megawatts of solar energy. "It was an economic-based decision, rather than just to meet our portfolio [requirements]," Petrey says. "The contract for is for 21 years with sPower [from the Sandstone Solar Power Plant near Florence] at 5.3 cents a kilowatt hour, which is amongst the lowest we have seen in the industry."
For complete details, visit:
Black Hills Energy