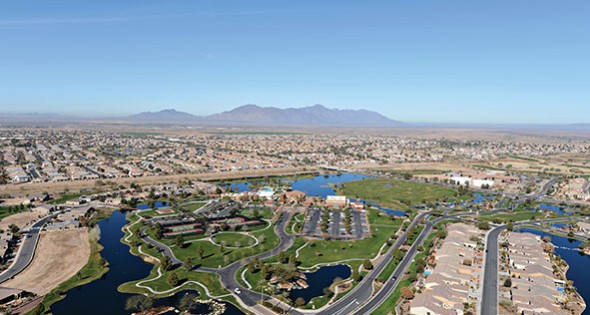 Arizona: Prospering Tech Ecosystem & More
13 Oct, 2017
Governor Doug Ducey's education office emphasizes science, technology, engineering and math (STEM) education at all levels, and many STEM-related companies are moving to the state. The Arizona SciTech Festival is the third largest science and technology festival in the U.S.
Arizona is ranked No. 1 in higher education opportunities. The National Science Foundation ranked Arizona fourth in the nation in conferring bachelor's degrees to students age 18 to 24.
In May 2017, the governor signed a $1 billion bonding plan for the future funding of research and development infrastructure at the state's three public universities: Arizona State University, the University of Arizona and Northern Arizona University.
Financial technology company Upgrade is relocating essential business functions from Silicon Valley to Phoenix and leasing a new 38,000-square-foot office space at Renaissance Center I downtown.
Benchmark Electronics Inc., which designs, engineers and manufactures electronics, announced it is moving its global corporate headquarters to the Phoenix suburb of Scottsdale.
Constant Aviation is investing about $12.5 million in a new maintenance-repair-overhaul (MRO) facility at the Phoenix-Mesa Gateway Airport in Mesa. DuPont Fabros Technology Inc. has purchased 56.5 acres in Mesa's Elliot Road Technology Corridor to build a campus with the capacity for an eventual one million-square-foot datacenter.
Regional Sidebars
Scottsdale

In the age of globalization where talented workers have greater opportunity to choose where they want to live first and where they work second, Scottsdale offers tools that help business and people choose Scottsdale.
While millions of visitors come to Scottsdale to experience the best in art, sports, special events and the natural beauty of the Sonoran Desert, people stay for much more, and businesses are taking note. The rising millennial workforce is demanding unique environments tailored to active and engaged lifestyles, while corporate climate advantages are steering growing companies to Scottsdale.
In the last few years, companies such as Yelp, Weebly, Indeed, JDA Software and GoDaddy have expanded their footprints and embraced Arizona as their corporate location of choice. Scottsdale's top-performing schools, rich cultural amenities and unique recreational opportunities creatively blend together to inspire a sophisticated lifestyle for families and businesses. Named as a best place to live, work and launch a startup, the City's progressive leadership has kept taxes low for both families and corporations and is frequently honored as one of the nation's best run cities.
Companies and their employees are also enjoying a lower cost of living coupled with high quality of life. A professional earning $65,000 in Scottsdale enjoys the same quality of life as one making $100,000 in New York, San Francisco or Washington, DC.
Therefore, it is no wonder that according to Economic Modeling Specialists' 2017 Talent Attraction Scorecard1, Maricopa County is ranked No. 1 of all large counties for attracting and developing talent, with nine percent growth for persons ages 25+ with an associate's degree or above. When discussing methodology in ranking communities, the report notes that, "Part of the answer lies in the local leadership in these communities. Part of it lies in the quality of life they have fostered."
One approach that the City of Scottsdale has taken to assist new and existing companies with talent attraction efforts is ScottsdaleSites.com. This tool, powered by Zoom Prospector, is a website dedicated to providing powerful business information tools for research and market analysis as well as information valuable to prospective workers. "ScottsdaleSites.com goes far beyond a simple database of available sites and buildings. The website also provides dynamic mapping capabilities which includes the ability to view geographic layers of local city information such as bike paths, trolley routes, schools, infill incentive districts and downtown public parking structures," says Scottsdale Economic Development Director Danielle Casey.
Consider that CBRE Research has ranked the Greater Phoenix Metro as No. 17 out of the top 50 markets for tech talent, with a millennial population increase from 2010  to 2015 of 7.1 percent2. The implications are even more focused within the city of Scottsdale, a subset of the Greater Phoenix market, where the computer related workforce has grown 40 percent since 2012 compared to 22 percent in the overall Phoenix Metro and 14 percent nationally. This is why additional efforts such as relocation materials, talent ambassador programs and targeted messaging included in the comprehensive "Work Scottsdale" program located at ChooseScottsdale.com/work is successfully complimenting the drive for tech talent.
To learn more about Scottsdale's community and corporate quality of life, or to download a copy of the Scottsdale Relocation Guide, visit ChooseScottsdale.com.
Sources:
https://www.cbre.us/research-and-reports/Scoring-Tech-Talent-2017
City of Maricopa

By Rachel Hamilton
Maricopa is southwest of Phoenix along State Highway 347, and the Arizona Department of Transportation hopes to break ground this fall on an overpass that will raise the highway over the Union Pacific tracks that bisect the town, according to Economic Development Director, Denyse Airheart.
"It will encourage development south of the tracks," Airheart says, explaining that traffic will no longer need to wait for passing trains. It will also improve access to the southern portion of the city, which includes residences, Maricopa High School and Copper Sky Recreation Complex.
"The City experiences about $368 million in retail leakage annually," says Airheart. To help combat that, Vintage Partners broke ground on over 130,000 square feet of retail space on 15 acres south of Fry's Shopping Center, one of the busier retail areas of the city.
The population is growing as well, and "New home builders are returning to the market. They are delivering 30 percent more new homes per month than they were last year," Airheart says.
Forty-six percent of the workforce holds at least a bachelor's degree, and Airheart says, "Our workforce works in the high tech corridor in the Phoenix area." The city-owned Estrella Gin Business Park has 50 shovel-ready acres to develop into office, manufacturing and warehousing space in an effort to allow more of that workforce to work in the city.
Maricopa does have a thriving agritech sector, supported by the University of Arizona's Maricopa Agriculture Center. The USDA's Arid-Land Agricultural Research Center partners with businesses to "study the best way to develop technology for agriculture in climates like Arizona," Airheart explains.
Maricopa, she says, also targets professional and business services, health and biomedical services, entrepreneurship and small business, higher education institutions and education technology.