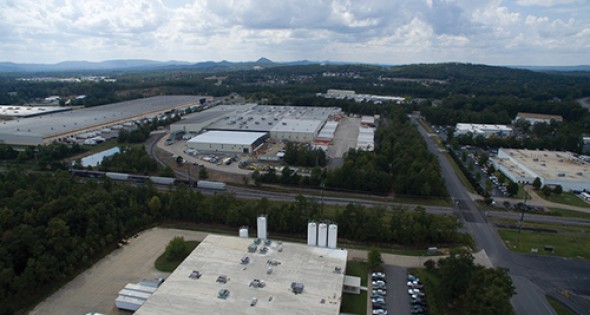 Arkansas: A Dedicated Workforce and Diverse Economy
27 May, 2016
An economic update from Scott Hardin, Director of Communications at the Arkansas Economic Development Commission.
Q-What is the current "state of the state"?
A-Since January 13, 2015, under the leadership of Gov. Asa Hutchinson, the Arkansas Economic Development Commission has signed incentive agreements with 122 new and expanding companies. These companies will create more than 5,600 new jobs while investing $2 billion in the state. The 5,600 new jobs will pay an average of $19.06 an hour. In addition, there are currently 38,000 more Arkansans employed versus January 2015 when Gov. Hutchinson took office. In February 2016, Arkansas' unemployment rate fell below five percent for the first time since June 2001.
Q- What are specific goals Arkansas is trying to accomplish in the short term and long term?
A-One of the top goals is to improve technology skills among the state's current and future workforce so that Arkansas students will be better prepared to enter the state's growing tech sector. Arkansas was the first state in the nation to mandate computer science courses be available in all high schools. Arkansas set aside $5 million to train teachers and launch Gov. Hutchinson's computer science initiative. More than 4,000 Arkansas students signed up for computer classes for the 2015-2016 school year, the first year the classes were mandated, with enrollment climbing 260 percent. What's more, the largest increases have been among girls and minority students. "Of all the big-ticket items we've dealt with this legislative session, this relatively small-ticket item may have the greatest long-term impact," said Gov. Hutchinson.
Q- What are the biggest challenges you see for Arkansas in terms of economic development and growth?
A-Probably the biggest challenge is the perception that others have regarding Arkansas. Few people realize that Arkansas offers just about everything a person could want out of life—from mountains in the north to farmlands in the Delta, with plenty of lakes, rivers and streams for recreation. The people in Arkansas are among the most dedicated in the country. They want to work, which is why the state's unemployment has consistently been lower than the national average. We are home to athletic teams, arts organizations, museums—just about everything you find in a large city, you can find in Arkansas. Our overall cost of doing business is the fourth lowest in the country (CNBC's Best States for Business Report 2016). We are home to seven homegrown Fortune 500 companies, including the world's largest retailer, Walmart.
Q-What are the most recent success stories in terms of economic development? Industries that have chosen to relocate and or expand and what made them select Arkansas?
A-The Arkansas Economic Development Commission has named several sectors "Targeted Industries." One of the industries included in this list is the firearms/ammunition sector, which is currently experiencing significant growth.
Remington Outdoor Company ("ROC"), the world's leading designer and manufacturer of firearms, ammunition and related products, announced growth plans and the creation of 84 new jobs at its existing ammunition plant in Lonoke, Arkansas. "I am proud of the continued growth and expansion we are experiencing at our Lonoke, Arkansas, facility," said ROC CEO Jim Marcotuli. "Our company's ethos of 'pride and precision' is reflected in the quality ammunition our hardworking team members produce every day, and we are all looking forward to continuing this important work with the great state of Arkansas."
In addition, Sig Sauer, a manufacturer of premium ammunition, announced plans to locate a new ammunition manufacturing facility in an existing building in Jacksonville, Arkansas, where it anticipates creating about 50 new jobs.
Q-Is the state providing significant incentives for businesses to locate there? 
A-From cash rebates to community grants, Arkansas offers a wide range of incentives, grants and financing options. Create Rebate can provide up to a five percent payroll rebate; Targeted ArkPlus credits two percent on investments from $250,000 up to $500,000, and research that partners with an Arkansas university receives a 33 percent income tax credit.
Q-Where are the areas of greatest growth within the state in terms of industries and location?
A-The largest region of growth in Arkansas right now is in Northwest Arkansas. A report released in March 2016 by the Northwest Arkansas Council showed that Northwest Arkansas employers expect to hire 3,161 workers and invest $336 million over the next three years, both more than business leaders projected the previous year. J.B Hunt Transport announced in December 2015 that it plans to create more than 1,000 new jobs over the next six years. Along with J.B. Hunt, Northwest Arkansas is home to Wal-Mart Stores Inc. and Tyson Foods—all among the state's homegrown Fortune 500 companies—as well as the University of Arkansas, the state's flagship institution in its university system. The area's economy is projected to grow at 4.2 percent annually between 2013 and 2020, making it one of the top metropolitan areas in the nation according to research by the U.S. Conference of Mayors. Northwest Arkansas, like most of the state, enjoys a diverse economy that can weather just about any economic storm.
Q-How is the state dealing with the need for a well-educated and trained work force?
A-In addition to the Computer Science Initiative mentioned above …
The Arkansas Science, Technology, Engineering and Math (STEM) Coalition is a statewide partnership of business, education, government and community leaders. The coalition plans, encourages, coordinates and advocates policies, strategies and programs supportive of excellence in STEM in order to expand the economy of Arkansas and produce higher-paying jobs.
EAST® (Environmental and Spatial Technology, Inc.) is unlike any other model in modern education. It is a project-based, service-learning oriented program that provides students with high-end technology available in the most progressive fields in the world.
Secondary vocational education is available to every public school student in the state, either at the high school or a secondary area vocational center that serves students from surrounding school districts. Career orientation, which introduces students to different careers and workplace expectations, is required of every student at the junior high school level as a prerequisite for all programs of study/career majors developed by the Arkansas Department of Career Education.
The Arkansas Career Readiness Certificate (CRC) is a portable credential that confirms to employers that an individual possesses basic workplace skills in reading for information, applied mathematics and locating information. Even if a job seeker has a GED, high school diploma or post-secondary degree, the Arkansas CRC further verifies that he/she can handle skills required for 21st-century jobs. To date, the Arkansas Career Readiness Certificate program has qualified more than 59,000 high-skilled positions.
The Modern Workplace program was created to facilitate the connection and communication between educators and industry representatives in an effort to create an education environment that allows our emerging workforce to lead productive lives and satisfy the needs of Arkansas businesses.
Q-What are your greatest assets at this time?
A- Location: Centered between Canada and Mexico, and located in the middle of the United States, Arkansas is strategically placed to reach tens of millions of people easily and cost efficiently. The state has 1,000 miles of navigable waterways; 1,683 miles of Class 1 railroads; approximately 100 public airports; and 16,416 miles of state and U.S. highways. Approximately 40 percent of the U.S. population is within a day's drive.
Workforce: Our unemployment rate consistently ranks below the national average and 44 campuses of higher learning results in an educated workforce enriched by long-term training and primed for 21st-century challenges.
Cost of Living: Consistently below the national average.
Cost of Doing Business: Arkansas has consistently had one of the lowest costs of doing business in the country. Arkansas is a right-to-work state with one of the lowest union membership rates in the United States at 4.7 percent. More than 100 Fortune 500 firms have operations in Arkansas, including seven homegrown companies.
Q-Are there special initiatives or innovative programs that are making a difference within the state in terms of economic development?
A-The Arkansas Economic Development Commission works closely with research universities across the state to support these institutions as they work to commercialize new technologies. In addition, we have close relationships with groups including The Arkansas Innovation Hub. The Hub is a nonprofit organization dedicated to talent and enterprise development, where Arkansas entrepreneurs and innovators find support for success. All of the Hub's programs have been developed with local, regional and state partners.
Q-What are the lifestyle benefits of locating to Arkansas?
A-Because of its central location, Arkansas provides a valuable transportation advantage. Halfway between Canada and Mexico, the Carolinas and California, Arkansas is only a tank of gas away from one-third of the nation's population.
Home to hundreds of lakes, streams and rivers, 51 state parks and three national forests, Arkansas offers a great variety of recreational opportunities. Arkansas enjoys the four seasons in moderation, and the longer spring and fall seasons provide a mild climate.
Local culture, history and the arts are featured in more than 200 cultural institutions in Arkansas, including symphonies, community and professional theater and ballet groups, museums, galleries, and a nationally respected arts center. Pioneer settlements, Native American sites and antebellum homes are preserved as part of Arkansas' colorful history.
Q-Other thoughts or marketing features that you would like to highlight about Arkansas?
A-The Arkansas Economic Development Commission recently launched our new brand campaign…."Arkansas Inc."
The link to the news release below provides more information.
http://arkansasedc.com/news/governor-asa-hutchinson-launches-new-brand-state%E2%80%99s-economic-development-efforts
Side Note
Maumelle
While new industries are always a pursued goal, business retention and expansion is a key component of the Maumelle Industrial Park. In 2015, several industries experienced growth, including the following:
Plastic Ingenuity had a $2.5 million expansion to the existing facility. In addition, Plastic Ingenuity received $64,580 from Entergy Arkansas for Saving Energy. Through energy efficiency incentives from Entergy Arkansas, Inc., Plastic Ingenuity is able to save money by reducing the amount of electricity required for operation. Jess Mellenthin, Plastic Ingenuity's operations manager, stated, "We employ 56 people, and we have been actively engaged in the community for 23 years. The money we're saving on energy can be re-invested in our business, boosting the economy of this area. On top of that, these changes are good for the environment, which is very important to Plastic Ingenuity and our customers."
Kimberly Clark celebrated its 25-year anniversary in Maumelle in 2015. It also began a $50 million expansion to the Maumelle facility. In November, Kimberly Clark Maumelle also celebrated its fourth "Safe Year," receiving another Crystal Eagle Award from Kimberly Clark.
Vital Records Control (VRC) also experienced growth. Vice-President Bobby Horton stated, "As the industry continues to evolve and the demand for secure and confidential information management continues to grow, Vital Records Control of Arkansas also continues to grow with the addition of 15 new team members in 2015 and is excited about an upcoming expansion within our Maumelle facility in 2016."
The City of Maumelle is proud to partner with these industries, as well as many others in the community. Not only do these companies provide jobs, their employees are actively involved in giving back to the Maumelle community and the State of Arkansas.