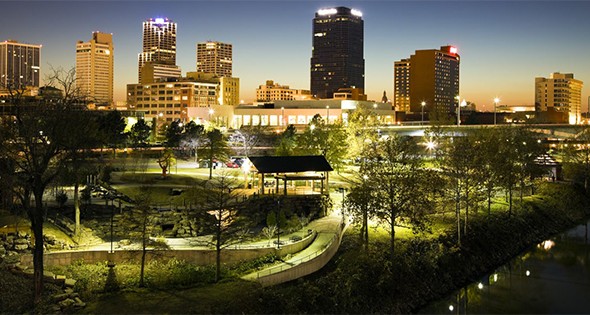 ARKANSAS: When You're in Arkansas, You're in Good Company
14 Apr, 2020
Arkansas has a pro-business government working to make it easier for companies to expand, locate, relocate and thrive within the state. From a technology accelerator to the expansion of the Minority Business Enterprise Certification Program, the Arkansas legislature recently passed several laws that encourage economic development.
The Arkansas Business and Technology Accelerator Act provides discretionary grants up to $250,000 for eligible applicants administering a business and technology accelerator. The Arkansas Small Business Innovation Research Matching Grant Program provides discretionary grants of up to 50 percent of the amount of a federal Small Business Innovation Research grant: up to $50,000 for Phase I and $100,000 for Phase II. Targeted activities include advanced materials and manufacturing systems; agriculture, food and environmental sciences; biotechnology, bioengineering and life sciences; information technology; transportation logistics; and bio-based products.
ARKANSAS: MISSISSIPPI COUNTY
The northeast periphery of Arkansas, Mississippi County draws its name – and its strength – from the epic waterway that runs its length.
For 100 miles the Mighty Mississippi lends its banks to one of the largest counties in Arkansas, infusing this river-rich valley with vast acres of alluvial farmland. Historically rooted in "King Cotton," today Mississippi County affirms itself as one of the most agriculturally prolific regions in the world, cultivating mass quantities of rice, corn and soybeans.
In the manufacturing fields, steel reigns supreme. With more than 11,000 workers at local mills in Blytheville and Osceola (both county seats), Mississippi County dominates steel production on a national scale. Over the last decade, demand for jobs in this industry has grown by over 40 percent.
It's not slowing down anytime soon. Major employers in the area include Big River Steel; NUCOR® Steel; Tenaris (line pipe and tubing); and NIBCO® (flow-control valves and fittings). In 2018 Ratner Steel Supply and Calstrip Steel Solutions opened new facilities in Blytheville, helping create 160 new jobs.
"We're quickly becoming the steel capital of the South," says Clif Chitwood, Mississippi County Economic Developer. "We have a beautiful setting, port access and plentiful resources along the Mississippi River with a very business friendly climate."
Mississippi County is a great mix of small towns with big ideas. In a community-led campaign to keep manufacturing jobs on American – and Mississippi River – soil, County residents reached deep into their own pockets, establishing Arkansas's first-ever Economic Development Tax in 2003.
"The people were willing to reinvest their own money in their own county," says Chitwood. "It was amazing. The funds from that tax have been used as incentives for companies either expanding or locating here. We've been very successful with the program."
In another progressive motion, County administration established the Great River Economic Development Foundation (GREDF) to promote new industry and vocational opportunities. In the 17 years since its inception, the GREDF has generated almost 4,500 new jobs across the county.
Recently Mississippi County became the first ACT® Work Ready Community in Arkansas through the successful collaboration of local businesses, workforce development services, and Arkansas Northeastern College (ANC).
What's next for Mississippi County?
"We want to expand affordable housing in the County, which is already impressive," says Chitwood. "We plan to build residentially at pace with our projected job growth – particularly in the automotive industries – by developing new neighborhoods that offer a warm welcome to the many new families joining our community."
Tourism is also on the rise in Mississippi County. Hundreds of Native and colonial historical sites dot the vibrant landscape. In Blytheville a vintage 1930s-era Greyhound Bus Station is one of three remaining. And the tiny Dyess community, settled by Depression-era Arkansas sharecroppers, is best known as the childhood home of Johnny Cash. Tours of the house and museum are popular among music fans – just an hour from Beale Street, Graceland, and world-famous Memphis barbecue. For more information, visit misscoeda.com.