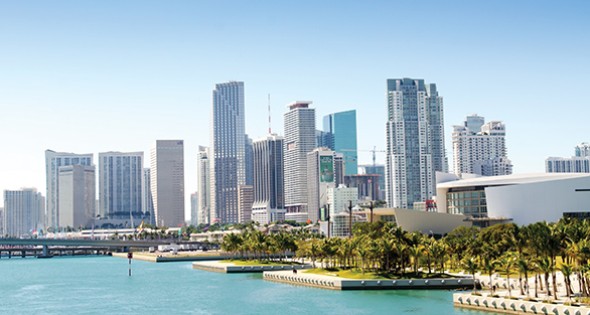 Florida: Competing for Future Job Growth
08 Jan, 2018
Since December 2010, more than 1.37 million jobs were created in Florida, and the state currently has its lowest unemployment rate in nearly 10 years. Despite this growth, Florida officials are focused competing for more new jobs.
To help accomplish this, the new $85 million Florida Job Growth Fund will invest in infrastructure and workforce training needs across the state, which are two major factors that job creators consider when choosing an ideal location.
Florida's economy features a business-friendly legislature, pro-business leadership, incentives and tax advantages. The state consistently ranks among the best for business, and it offers a cost-efficient alternative to other competitive high-tech states.
Florida's multi-modal infrastructure of rail, airports, seaports and spaceports supports more than 19.9 million residents and over 100 million tourists each year.
The state is recognized as one of the top five telecom hubs in the world. The Network Access Point (NAP) in Miami serves as a major switching station for internet traffic coming to and from Latin America. Florida also has some of the fastest and most widely available wireless networks.
Florida is a leader in attracting foreign direct investment (FDI), ranking sixth among all U.S. states in employment by majority foreign-owned firms. Merchandise trade valued at $142.8 billion moved through Florida's airports and seaports in 2016.
Florida has the third largest workforce in the U.S., made up of more than 9.7 million workers, including nearly 267,500 high-tech workers. The state is ranked fifth in the nation for high-tech employment by TechAmerica's Cyberstates report.
Regional Sidebars
By Rachel Hamilton
Indian River County
Indian River County is on the east coast of Florida on Interstate 95, which runs north up the Eastern Seaboard into Maine. "We're three hours from 90 percent of Florida's population," says Indian River County's Economic Development Director, Helene Caseltine.
Indian River Industrial Park, which is privately owned, has approximately 90 acres of land available. Approximately 10,000 acres of additional privately-owned land along the interstate is also available, all of which is "not as expensive as the more urban areas but certainly convenient as a location," Caseltine says.
The county is focusing on warehouse distribution, manufacturing, and scientific and professional services—such as research and development for companies like Triton Submarines LLC., which manufactures luxury personal submersibles, as Caseltine says, and will expand over the next two years, adding 20 to 30 jobs.
Triton has partnered with Aston Martin Lagonda Ltd. to design and build a new line of luxury submarines, called Project Neptune, that will have the famous Aston Martin aesthetic. "The folks at Aston Martin were bowled over by Triton and wanted to be part of it," says Caseltine.
Piper Aircraft Inc. is also hiring new employees. Piper's facility in Vero Beach is now producing M-Class single-engine luxury airplanes and selling in Europe as well as South America, she adds.
Indian River County is one of Florida's retirement and tourism destinations, due in no small part to ocean-side activities available year round, as Caseltine says. The county's population of year-round residents is roughly 150,000, with a two percent growth per year for the last decade.
Graduating high school seniors, says Caseltine, do sometimes leave the area for college, but "when it comes time to settle down and raise a family, they come back to Indian River County."
For businesses, Indian River County "is a convenient location with a low cost of doing business," says Caseltine. "We also do offer local incentives." The county's Local Jobs Grant is a performance-based program that offers eligible new and expanding companies an incentive for creating high-paying jobs. The county and its municipalities also offer a tax abatement program for eligible businesses.
City of Sanford
Sanford is northeast of Orlando on Interstate 4, and the town is growing. "We're seeing more activity now than we've seen in several years," says Economic Development Director Bob Turk of the Sanford Economic Development Department.
"Finally, Sanford has reached the point where we've been discovered," says Director Sonia Fonseca of the Community Redevelopment Agency "What's happened is that Orlando has grown so much, and we're right in between Daytona and Orlando. […] we have so many things going for us and we're actually now starting to come into our own."
The 5.3-acre Heritage Park Project redevelopment in downtown Sanford represents an investment of over $50 million, Fonseca says, noting that the last of the 23 buildings in the project is expected to be completed by the end of 2020.
The Heritage Park Project is the centerpiece of Sanford's redevelopment, Fonseca says, but it is surrounded by other projects that will be adding office, retail, restaurant and residential space, as well as at least two new luxury hotels to the city.
Craft breweries have become "a home-grown industry," says Turk. "We just happened to be at the right place at the right time. We have available buildings that are perfect for thi s— to rebuild and rehab these structures to be part of our entertainment district."
"We've got a wonderful river walk along Lake Monroe," Turk says. The St. John's River feeds the lake. Wild manatees spend the winter in the waters of the St. John's River in nearby Blue Springs State Park.
Visitors in Sanford can use the SunRail commuter train or Amtrak Auto Train to connect to Orlando, and free shuttle services connect to downtown Sanford, Fonseca says.
Sanford hopes to add shuttle access soon to the Orlando-Sanford International Airport on the east side of town. Allegiant Airlines is "completing the construction of their simulation training center for the eastern U.S." in a 43,000 square-foot facility next to the airport.
"We have an excellent workforce and one of the best public education systems in the state," Turk says. "Seminole State College has a lot of programs to prepare our workforce for the marketplace." Seminole State's Sanford/Lake Mary campus offers four-year degrees in several areas including construction, nursing and information systems technology.