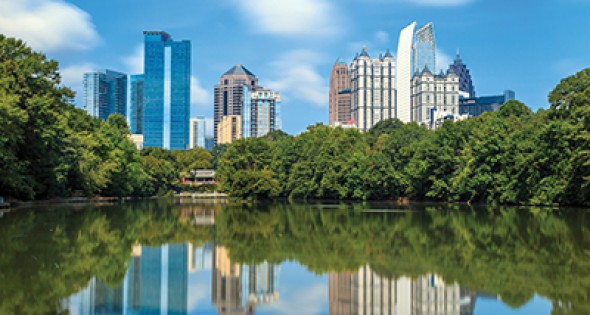 Georgia: Attracting Jobs and Tourism
20 Sep, 2016
By Lori Culpepper
Georgia consistently ranks as a top state for business for many reasons, including the access it provides to global markets through air, sea, rail and highway networks. This includes the fourth-largest and fastest-growing container seaport in North America and the busiest, most efficient passenger airport in the world.
People are constantly coming and going in Georgia, and the state's workforce is no exception. It is made up of more than six million people and is constantly refreshed by the 90,000 graduates from 80 colleges, technical colleges and universities across the state, including nationally ranked Georgia Institute of Technology, Emory University and the University of Georgia.
Georgia's diverse economy is reflected in the state's pro-business framework, cutting-edge research centers and organizations such as the Centers of Innovation and Quick Start, which consistently ranks as the top workforce development program in the nation.
In 2013 and 2014, Georgia was named the No. 1 State in the nation for Business by Site Selection magazine. The magazine also named Georgia the No. 1 Most Competitive State in May 2014, and CNBC named Georgia America's Top State for Business in 2014. Industry giants such as the Home Depot, UPS, The Coca-Cola Company and Delta Air Lines choose Georgia for the headquarters.
Despite all of these positives for business and the economy, Georgia Governor Nathan Deal saw a challenge involving the job skills gap employers said they continued to encounter. Looking at job openings, Deal realized that most of them could be filled with a better trained technical workforce. Over the past three years, the state identified eleven areas where students will receive a 100 percent tuition HOPE Grant to obtain that training. These Strategic Industries Workforce Development Grants cover 140 programs.
The Georgia Department of Economic Development's Workforce division recently launched a grant and scholarship program designed to strengthen Georgia's skilled-trade workforce through its Go Build Georgia program (GBG). This is a partnership between the Go Build Georgia Foundation and the Career, Technical and Agricultural Education Division (CTAE) of the Georgia Department of Education (GDOE) to award Go Build Georgia Grants to GDOE middle and high school institutions for GBG-aligned special activities.
According to the Georgia Department of Economic Development's Tourism division, the state welcomed an estimated 102.4 million visitors in 2015, which is an increase of 3.7 percent. People are visiting destinations all over the state, from the North Georgia mountains to the beaches of the Golden Isles and historic Savannah. Kevin Langston, deputy commissioner of tourism at the Georgia Department of Economic Development, says these increases did not happen by accident but are a result of the strong alliance between state and local tourism industry partners.
Visitor spending in Georgia has also seen record highs as the state's tourism industry generated $58.9 billion in business sales including direct, indirect and induced impact in 2015, up 3 percent, according to the U.S. Travel Association and Tourism Economics. Georgia's tourism industry is also a significant driver of jobs across many industry sectors, employing an estimated 439,000 Georgians.

Meriwether County
By Rachel Hamilton
Meriwether County, Georgia, is home to Warm Springs, famous for its connections with President Franklin Roosevelt. Tourism is a large industry for the county, with hundreds of thousands of visitors per year, according to Jane Fryer, executive director of the Meriwether County Industrial Development Authority.
The county has seven towns, which Fryer says are small but "beautiful and historic." The mostly rural county does have an industrial park. While "manufacturing growth has been slow," according to Fryer, the county does fall within the larger regional automotive corridor.
"We're 22 miles from the Kia plant," she explains. "We've got three of the major Korean suppliers in our park. We've got strong industry that not only serves Kia but GM and other automotive manufacturers too."
Interstate 80 runs through the northwest corner of the county, connecting it to Atlanta's Hartsfield Airport just over 40 miles away.
Mondo America, a producer of antilock brakes and power steering apparatus, has a plant just on the Georgia side of the interstate in Meriwether County. "They've got the manufacturing facility and a foundry that casts [a brake part]." Fryer explains that prior to the construction of the foundry, the company had been importing that part from Korea.
Dongwon supplies door frames for automobiles in Meriwether County, and Custom Trucks and Body Works make ambulances.
Western Georgia Technical College has a branch in Meriwether County, and it provides training in welding and advanced manufacturing programs, Fryer says. The training is available in dual-credit courses for high school students. "It's a very big help in the workforce development area," she says. "We have a lot of state incentives. Local incentives are considered based on jobs created and investment."
Toombs County
By Rachel Hamilton
Toombs County, Georgia, is just south of Interstate 16 and just over 80 miles from the Port of Savannah. "We are a small community, but we have the good fortune to attract international and national brands for distribution and manufacturing," says Bill Mitchell, executive director of the Toombs County Development Authority.
Toombs County is home to Tumi Luggage, which has been partially purchased by Samsonite. It is also home to Oxford Apparel, Dot Foods, Chicken of the Sea and U.S. Pet.
Part of the county's success is from the nuclear power plant, according to Mitchell. Hatch Plant, just over the river by the southern border, began operations in 1975.
"During that time, a lot of high tech people moved in to build the plant," Mitchell says, explaining that the plant still requires maintenance and provides high-tech jobs.
"It was a community that wanted to grow and work together," he says. "That desire and some funding that comes to the development authority allow us to do some things that small rural communities don't always have the money to do."
The Southeastern Technical College is "very supportive of technology, medical and other aspects of education," says Mitchell, noting that the college has eight regional branches within 30 miles of Vidalia, one of the county's largest towns.
Yarrow Industries makes bags for onions and other produce. Vidalia onions are grown in the area. "The onion has made us pretty popular as a national brand for sure," Mitchell says.
"It is a small community that has worked together to make things better for our residents," Mitchell says. "Look at the housing, the medical community, the education community—both in [secondary and postsecondary]—we have here, and I think you'd be impressed by what a small community can do."
City of Valdosta, Lowndes County
By Rachel Hamilton
Valdosta is the county seat of Lowndes County on the southern border of Georgia with eight exits to Interstate 75.
"Workforce development has been a huge focus in our community as it relates to STEAM," says Andrea Schruijer, executive director of the Valdosta-Lowndes Development Authority.
STEAM, which stands for science, technology, engineering, art and math is part of "Valdosta State University's strategy to encourage our younger generation to be more interested in core learnings," Schruijer says. The university's new STEAM Center for Applied Creativity and Innovation opened its doors in May 2016.
"It's now open to all our elementary schools locally as well as regionally," says Schruijer. The center serves kindergarten through undergraduate students in its initiative to spread STEAM education. The center can host robotics competition, tutoring camps and other events that encourage students' growth in STEAM areas.
"Valdosta is one of the smaller metro areas in Georgia. To know that we have those types of resources available is a huge incentive to companies," Schruijer says.
The economy in Lowndes County is diverse, she adds, citing its manufacturing and distribution businesses as strengths that pulled the community through the recession without major closings.
Manufacturers in the county include Saft Batteries, Packaging Corp. of America, Martin's Famous Pastry and DuPont Chemical. Lowe's, Dillon's and Smith Drug all have large distribution facilities in the county.
"Our community saw in the 2008 recession that we needed to increase the availability of industrial land," Schruijer says. The county now has three new industrial parks: Westside Business Park, Miller Business Park and Bassford Business Park. "One of our goals is to make sure we partner not just in getting you here but in helping you succeed in the long run."
Georgia Ports Authority
By Rachel Hamilton
The Georgia Ports Authority covers both the Port of Savannah and the Port of Brunswick to the south. The Port of Savannah has two terminals, Garden City and Ocean, which provide synergy for each other, according to Stacy Watson, general manager of economic and industrial development for the Georgia Ports Authority.
Garden City Terminal is the fourth largest container port in the U.S., and Ocean Terminal offers breakbulk roll on/roll off. The ability to offer both container and breakbulk with railroad access in Savannah is "a logistics advantage that you won't find in many other areas," says Watson.
Port-dependent manufacturing includes Mitsubishi Hitachi Power Systems America which manufactures turbines and other large units for power generation, according to Watson, who says, "They can weigh 200 to 400 tons, so they have to move them to customers. We have the capability, the equipment and the expertise to handle that type of freight."
Georgia Quick Start benefits companies in Savannah as well as statewide. "If a company qualifies, they pretty much get free workforce training and help with hiring," Watson says.
Cold storage is an emerging industry in Savannah. "We actually are the number one port for refrigerated exports," Watson says, "but there's an imbalance there. For every three we export, we import one."
The Ports Authority support efforts by companies like Nordic Logistics and Warehousing, LLC which is "looking more aggressively for imports," he says.
The Ports Authority works closely with the Georgia Department of Transportation to ensure trucking can access the port efficiently and get back onto the roads—Interstates 95 and 16 are nearby.
"We have the ability to grow here," Watson says. "We do about 3.8 million TEUs. We can handle close to 7 million TEUs. We're constantly investing in infrastructure upgrades, not only to meet the demands of what's going on today but to anticipate future demand."
Polk County
By Rachel Hamilton
Polk County is northwest of Atlanta on Georgia's western border and has four existing industries that are "currently expanding or reinvesting," says Rachel Rowell, president of the Development Authority of Polk County. The expansions come with more than 220 jobs, which she notes is significant for a community of about 40,000.
"Because we are a smaller community, we are able to take a very personalized individualized approach to each project," Rowell says. "We're able to take care of our projects and that leads into being able to take care of our existing industries after they come here."
"We are very conveniently located for the automotive sector," she says, listing the county's proximity to Honda, Toyota and Mercedes plants. The county has a diverse range of industries as well. "It's incredibly diverse—office furniture, aerospace, metals, chemicals."
"We're able to suit a variety of manufacturers' needs," Rowell says. The county has a rail system and four-lane highway structure that allows companies to "avoid the Atlanta area" with its traffic, or to access the international airport and the inland port in Atlanta.
The industrial parks in Rockmart and Cedartown both offer fiber internet as well as all utility infrastructure. There is also a spec building of 100,000 square feet on 18 acres.
Polk County's workforce can now benefit from their newly opened College and Career Academy. Three industries are currently sponsoring programs, one for engineering, physics, and chemistry. Students can work on internships or work studies that allow them to integrate their experiences into the classroom.
"Interns will be able to transition into a full time job, or pursue higher education and come back. They can contribute what they've learned to their hometown businesses," Rowell says.
Polk County is also part of the Greater West Georgia Joint Development Authority, an area of seven counties that can offer regional assets to businesses.