Georgia: Diverse and Strategic
17 Oct, 2018
With a pro-business climate Georgia reaches global markets through air, sea, rail and highway networks. This includes the fourth largest and fastest-growing container seaport in North America and the busiest, most efficient passenger airport in the world. Large logistics companies such as Delta Air Lines, UPS, SAIA and Manhattan Associates are headquartered in Georgia, as well as internationally-recognized brands like The Home Depot, The Coca-Cola Company and Gulfstream Aerospace Corporation.
Georgia's workforce is made up of more than six million people and is constantly refreshed by the 90,000 graduates from 80 colleges, technical colleges and universities across the state, including nationally ranked Georgia Institute of Technology, Emory University and the University of Georgia.
The Peach state's diverse economy is reflected in the state's pro-business framework, cutting-edge research centers and organizations such as the Centers of Innovation and Quick Start, which consistently ranks as the top workforce development program in the nation.
Georgia's Centers of Innovation provide over 1,500 businesses each year the technical industry expertise, collaborative research and partnerships to help the state's strategic key industries connect, compete and grow globally. The centers provide services that assist companies in developing new products, services and markets through partnerships with state, federal and private institutions that comprise Georgia's Innovation Ecosystem. This ecosystem includes the state's universities and technical colleges.
Key industries throughout Georgia are advanced manufacturing, aerospace, agribusiness, arts, automotive, contact centers, data centers, defense, digital entertainment, energy and environment, film and television, financial services, food processing, information technology, life sciences, logistics and transportation and tourism.
Georgia Ports Authority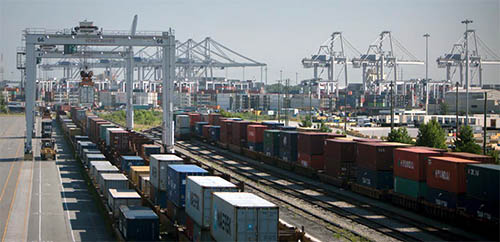 The Georgia Ports Authority is expanding rail options, starting construction on its $126.7 million Mason Mega Rail Terminal. The expansion will double the Port of Savannah's rail lift capacity to 1 million containers per year, and open new markets spanning the Midwest.
The improvement will combine the current on-dock CSX Transportation and Norfolk Southern rail terminals into one facility, providing capacity to build 10,000-foot long unit trains on terminal.
These longer trains will also expand Savannah's market territory by making direct service over greater distances more attractive for Norfolk Southern and CSX. Target markets include Memphis, St. Louis, Chicago and Cincinnati.
"This project is a game changer," said GPA Board Chairman Jimmy Allgood. "Our team estimates the Mason Mega Rail Terminal will slash rail time to the Midwest by a good 24 hours, and present a viable new option for many manufacturers, shippers and logistics professionals."
Statewide, the Mason Mega Rail project will take 200,000 trucks a year off the road as a greater percentage of GPA's container trade moves by rail.
For the nation, improved rail capacity at the Port of Savannah will open up a newly viable gateway to the world for major markets across the American Midwest.
Customers will start to see results from the project by the fall of 2019, when Norfolk Southern will have the capability of building 10,000-foot long unit trains on terminal. By the end of Calendar Year 2019, CSX capacity will begin to expand, and by the fall of 2020, CSX will handle unit trains.
The Mega Rail Terminal is the latest in a series of projects designed to make Georgia the transportation and logistics hub of North America – which include the recent announcement of 50 percent completion of the Savannah Harbor Expansion Project, a $10 billion statewide transportation improvement plan, and the Appalachian Regional Port (ARP), a new inland terminal in Northwest Georgia.
The ARP offers customers across North Georgia, Northeast Alabama, Tennessee and Kentucky a more cost-effective option to move cargo to and from Savannah's container port. CSX Transportation will provide a direct, 388-mile rail route to/from Garden City Terminal, offering an important asset to help offset a shortage in motor carrier availability.
GPA Executive Director Griff Lynch said the Appalachian Regional Port will help port customers in both the retail and manufacturing sectors save time and cut supply chain expenses.
"The benefit of rail is the lower per-unit cost moving containers to and from the coast and North Georgia," Lynch said. "In addition, the ARP will serve as a nearby source of empty containers for manufacturers across the region, offering a significant savings on repositioning the equipment needed to move exports."
Opening Aug. 22, the new inland port will handle import and export cargo. The facility sits on 42 acres in Murray County, with on-terminal rail service. The site is adjacent to U.S. 411 and features easy access to Interstate 75.
The Appalachian Regional Port is located in an industrial belt, including the production and export of carpet and flooring, automobiles and tires. The terminal offers an initial capacity of 50,000 containers per year. A 10-year development plan will then double that capacity.
Liberty County Development Authority
By Jean Bowick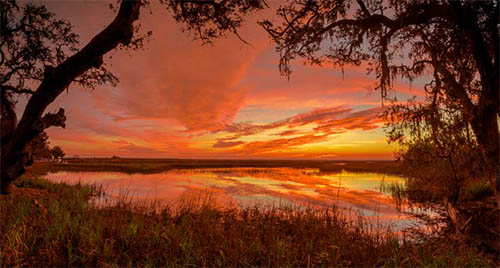 Blackbeard's treasure has yet to be found in the tidewater marshes of Liberty County, Ga., but the riches that built this grand coastal colony are as abundant as sea oats along St. Catherine's Sound.
Founded in 1777, Liberty County was "Old South" long before the Civil War. Home to two signers of The Declaration of Independence, Liberty was first in Georgia to fly the Stars and Stripes, and its historical import is nobly tendered in vast acres of wetland and live oak.
The beautiful shoreline, engraved by inlet creeks and barrier beaches, is diversely blessed with cypress trees, indigenous artifacts, and delectable Georgia White Shrimp. Just 30 miles north lies the Port of Savannah – the fastest-growing port in the country – handling the high-volume demands for international supply and fulfillment in Liberty County.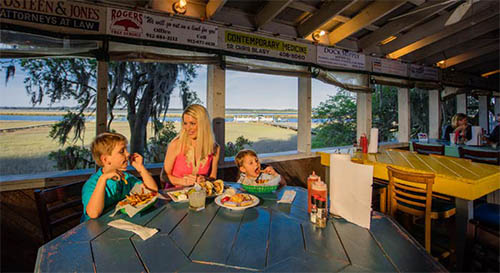 "Seventy percent of our economy originates in foreign distribution and investments," says Ron Tolley, CEO of Liberty County Development Authority. "With help from the World Trade Center Savannah, it's much easier for companies to attain a Foreign-Trade Zone, which establishes a duty-free area surrounding the port, an enormous tax benefit for companies importing items for distribution and resale."
Major distribution centers are principal employers in the area. National and international corporations like Target, HUGO BOSS, Design Group, Hankook Tire, and Tire Rack® have established – and enlarged – their distribution locations in the region. SNF FLOQUIP®, global leader in industrial polymer production and wastewater treatment, recently invested $7 million to double the size of its facility at Midway, one of the County's five industrial parks. HUGO BOSS expanded its facility from one level to three, growing in capacity from 165,000 to 330,000 square feet.
"We've been fortunate that most of our companies enlarge or even double their footprint through growth and acquisitions," says Tolley. "Businesses continue to do well here. It's a tremendous vote of confidence, when over and over again, companies choose Liberty County to maintain and expand their operations."
Trade Port East Industrial Park, the County's most ambitious park project to date, is currently and proactively being developed. Just half a mile from I-95, Trade Port East inhabits a Georgia Business Opportunity Zone, which earns qualifying companies huge incentives – up to $3,500 per job – for five years. Additionally, brilliant collaboration between municipal leaders and Liberty County Development Authority rendered groundbreaking tax abatement incentives; permanent branch campuses of Savannah Technical College and Georgia Southern University; and a general aviation airport partnering with Fort Stewart.
With 3,000 workers and 20,000 troops, Fort Stewart is the County's largest employer. Fort Stewart, home to the Army Flight Training Center and the 3rd Infantry Division (specializing in advanced strategy and weaponry), steadily augments the local workforce with expertly trained recruits. Their active duty complete, former Army personnel from all corners of America make their home in Liberty County – an honor befitting the soil of great patriots and industrial innovators still compelling revolution.
Meriwether County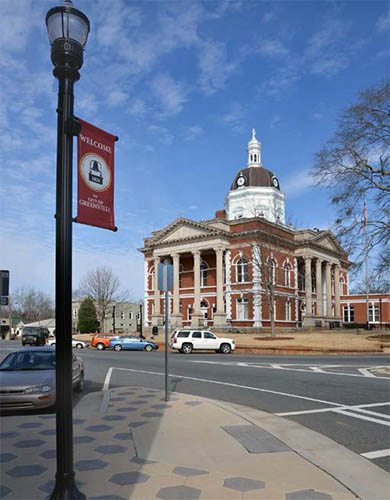 Just 35 minutes away from Atlanta, 22 miles from Kia Manufacturing of Georgia in Westpoint, and easy access from other population and industrial centers such as Columbus and Macon, Meriwether County is a great place to live, work, and invest.
With a population of just more than 21,000, this western Georgia county is poised for growth, thanks to the area's major transportation arteries and burgeoning auto industry sector.
"Meriwether County is probably the northernmost county of any of the suppliers for Kia, and that's due to the company's just-in-time delivery strategy," says Jane Fryer, Executive Director of the Meriwether County Development Authority (MCDA).
Currently, the county boasts four industrial parks, the newest, Meriwether Park, being located on Highway 54 in the northern part of the county. Many of the county's Kia suppliers, like Dongwon Autopart Technology, operate out of the park, while others appreciate the park's easy access to the world's busiest airport, Hartsfield.
Meriwether County, historically, is a rural county with a vibrant agricultural and small business community, but its place in American History also makes it an attractive tourism destination, particularly in Warm Springs, a town of less than 500 in the southern section of the state. "Warm Springs is where President Roosevelt came to cure his polio," explains Frey. "So, we have the Little White House here, which brings 100,000 people a year to our community." Hollywood has also come calling with the producers of the Walking Dead filming much of the series in the county.
With a nationally recognized rural hospital in the area, quality education, low housing prices, and easy access to jobs and entertainment resources, Meriwether County is a community on the rise.
Valdosta-Lowndes Development Authority
Valdosta-Lowndes County is a vibrant and premier location for business development opportunities. Located midway between Atlanta and Orlando in the heart of South Georgia, Valdosta-Lowndes County is strategically positioned for businesses to access and serve the global market. Here, we make it easy for small, medium-sized and large companies to establish healthy roots for success. The Valdosta-Lowndes County Development Authority continues to foster relationships with existing businesses to ensure growth and prosperity.
With eight industrial parks, Valdosta-Lowndes County, Georgia has the perfect fit for almost any industry. Each park has its own unique attributes, from rail served for plastics and manufacturing to parks situated near Interstate 75 and just north of Interstate 10 for distribution and service industries. Three of the industrial parks, Bassford Business Park, Miller Business Park and Westside Business Park are recognized as GRAD sites, Georgia Ready for Accelerated Development.
Valdosta-Lowndes County, Georgia has a favorable business climate as Georgia is a right to work state, fast-track permitting, competitive warehouse cost and low property tax rates.
Valdosta-Lowndes County is a great place to do business and the Valdosta-Lowndes County Development Authority (VLCDA) is here to help whether you're expanding, relocating or just starting up.